Dining Out. Primary tabs
Whenever we go to Carvoeiro for a holiday we tend to visit Colombos restaurant on a regular basis; either for a breakfast or lunch but mostly for an evening meal. Of course we do eat at other restaurants and recently enjoyed very good meals at "Roma?s" and "L?Orange" and I would highly recommend them.
But, it?s at Colombos particularly that we feel most "at home?. We have got to know the owners Marcos and Eugenia and their staff Anette and Nelson very well and its become almost like being with family. We are always given a very nice welcome and when I sit down there I immediately feel at ease.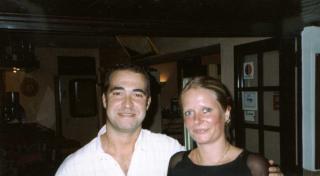 Anette & Nelson
It?s also a very good place to sit and watch the world go by and this is what I would do. With a cold drink at my elbow and pen in hand I would observe and take note and nearly always "something" would happen to catch my attention.

As well as "happenings" we also got to know the people at work outside the restaurant, like the local taxi drivers, especially Carlos with the silver hair who we have known now for a few years and always greets us with a ready smile.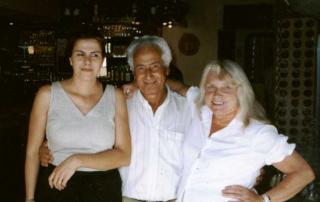 Eugenia (owner of Colombos), Carlos & Ellie (right).
This summer we made a new friendship with "Medu", the young African man who sold his animals of carved wood on a small stall set up under a palm tree outside "Smilers". We got to know this young chap quite well, chatting to him on a daily basis as he patiently set out his wares each day and just as patiently packing them away again, often well past midnight, in the hope that he would sell "just one more" before he made his way home for the night!

Now and again we would buy Anette and Nelson a drink and they would come to our table and drink to our good health; this we really enjoyed, as they are such nice young folk.

One day we went into Colombos at lunchtime. Inside and near to the bar sat "Medu" eating a light fishmeal. We said "Hello", and then as we were going to have a beer with our lunch, Hub offered him to join us. Medu smiled and thanked us. Then looking a little awkward he said, " I would love to have a beer with you but I am a Muslim so not allowed to drink alcohol"
Then looking slightly embarrassed he went on to say, "I have sometimes had a beer but I always feel bad afterwards and then I have to make my peace with God!"
We said it was no problem and we respected his faith. But then I said "Well. How about a coffee instead?"
His face broke into a big grin and he replied,
"A coffee would be good. Thank-you!"

It was the last evening of our holiday and we were trying to decide where to spend it. We'd already been to "Roma?s" that week and were just deciding on a last meal at l'Orange when Hub said oh lets go to Colombos, we feel at home there and can relax amongst friends for our last evening. So Colombos it was!
When we arrived Marcos, the owner was sitting at the table by the door. Hub jokingly said "what you doing at our table?"
With that, he jumped up and held out the chair for me, saying that he "always" had the same table at "his" favourite restaurant, so understood how we felt.

We were half way through our meal when the sound of laughter from the top of the steps caught my attention. At the table sat 4 people. A middle-aged lady, another I suppose in her 70s and a younger couple about 30ish.They were really having a good time laughing and joking and I immediately recognised the "scouse" accents of Liverpudlians. The middle-aged lady shifted her feet and as I looked I noticed that she had both legs bandaged to the knee!
The dressings looked fresh and new and I guessed that she'd recently been in an accident.

After a while she got up and walked down the steps. As she came close to us I smiled and said, "What have you been doing?" and pointed at her legs.
She laughed and came up to us and as she did so I said, "I?m sure I recognise you. Weren't you in the Farmacia a week or so ago?"

She looked a bit puzzled saying no she didn?t remember that. But then said "I?ve been in and out of the hospital and to the doctors this past week. In fact, that?s where I?ve spent most of my holiday!"
With that she looked down at her legs and roared with laughter.
It turned out that her legs were covered in large mosquito bites. In fact she had 150 of them! They had turned septic and she'd had to have every one of them "lanced" at the hospital and also had injections. I said that was terrible and I thought her very brave to come out and "get on with it" as I?m sure Id have stayed indoors.

She just shook her head, laughed again and said, "Oh well, I?m on holiday and we're still enjoying ourselves!" Then went back to join her friends.
During our coffee I went up to their table to wish her well, as we were leaving for home the next day. I ended up sitting and talking to them for nearly half an hour! They were such a friendly lively foursome and great company. As we talked the lady introduced her son and his wife. Then she went on to tell of how her daughter-in-law had been bitten badly too; that she'd had over 50 bites on her face and as also had treatment for them. I felt so sorry for them but amazingly, they weren?t sorry for themselves! Their good humour was overwhelming and certainly infectious!
I asked the lady?s name and when she replied "Ellie"! I laughed and said that was amazing coincidence and introduced myself. I said how I wrote on CVO.COM and although her son used a computer sometimes he said he'd never heard of it!

Well needless to say, I told them all about this site and before I left them the young couple said they would definitely be looking it up. These lovely folk also told me of the cost "so far" of their Hospital/Doctors/Farmacia bills. It was 269 Euros, which I believe is around 185 sterling! After wishing them good luck for the rest of their stay I also hoped that no more of their hard earned cash would have to be spent on health treatment!

Before we left Colombos that night we had a last drink with Nelson; we were leaving the following afternoon, so we wouldn?t see him again that holiday. The bar was very quiet so we were able to have a nice long chat with him and during the conversation we mentioned that we really wanted to see Seville. We had only ever been on the outskirts of that city during a long drive to Gibraltar and longed to see the place properly. Well. As soon as we mentioned the name Nelsons eyes lit up and he went on to say how he had visited the city quite a few times and that he loved the place and it really was beautiful, especially the main square and that he hoped to get back there some time in the near future.

That evening we had a rather delicious dessert after our dinner. It had been made by Cabek, a young Portuguese who was often chef there and was boyfriend of waitress Anette. It was "Mango Mousse" and a perfect after dinner sweet. I asked Anette if Cabek would give me the recipe but unfortunately, he had flown to England that night. But Anette said it wasn?t a problem. That she would phone him that night.

The next day (our last) we went to Colombos for some lunch. Anette was just going off duty but before she left, she went inside and then appeared with a small slip of paper. She had kept her promise and called Cabek in London and he had read out the recipe over the phone! So I now have that recipe written down in my own cookbook!

A great holiday and although spent in a lovely place that we are proud to call our second home; its the "people" that count. They made it special and we came away happy that once again we had made more new friends!