French Leave
 
After going into St. Valery and having a last half hour by the river Somme, we started on the main route out of the town when suddenly, the campervan's engine spluttered and stalled and then finally came to a complete halt. No matter how much Hub tried, the engine would just not start up again. We sat at the side of the road, just metres from the riverbank, not knowing what to do. Then I said "Ill go and call Raymond. Maybe he can call someone out to help us"
Hub nodded in agreement, so I walked back along the riverbank to where there was a phone kiosk. Raymond answered and was astonished to hear my voice but when I told him of our predicament he told me not to worry; to stay where we were and he would phone a garage and get someone out to us.
I went back to give the news to Hub, who was by, now not in a good mood! He was moaning that we had come all that way from Algarve and now, of all times, just as we were on the last leg of our journey, the camper gives out. As with most of us Brits, I thought a nice cup of tea would put us in a better mood.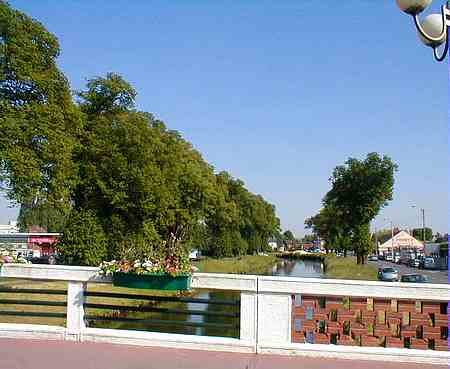 We waited almost an hour, then, a large breakdown truck drew up at the back of the van. Hub got out and I went with him. Hub doesn't speak French but strangely enough he often gets responses from French people by speaking English with an Inspector Clouseau accent (of The Pink Panther fame), which I find astonishing. I use my best schoolgirl French but Hub often has more luck using his own 'style' of French!
The two men who came with the truck lifted the bonnet of the camper and for quite a while they examined the engine and then sat in the van revving it but nothing happened. It seemed absolutely lifeless. Neither of the men spoke any English and my French is limited. But then lady luck smiled on us. As I stood trying to understand what one of the men was saying to me, a young man walking past stopped and then said to me "Can I help you?"
He introduced himself as Eric and said he had spent quite some time in England. I seemed to recognise him and he then told me that he worked at the camp site in St Valery. So that is where I'd seen him.
After chatting with the two men from the garage he translated for me. There was no way they could repair the campervan; it would have to be taken to their garage in Abbeville to carry out the repair work.
I thanked Eric for his help and he went on his way.
Next thing we knew, one of the men was driving the camper up onto the back of the large truck and then invited us to step into the large cabin of the truck. Soon we were on our way into Abbeville.
One of the men drove the truck whilst the other, an older man wearing a cap sat next to Hub and I. I managed to hold a 'fractured' conversation with this man; telling him that we had driven all the way from Algarve in Portugal and we seemed to understand each other. But I noticed that all the time we were talking, he kept glancing at Hub. I have to say at this point that Hub, having dark hair and colouring, was sporting quite a deep tan.
When there was a lull in the conversation, the Frenchman nodded towards Hub saying "Espagnol (Spanish)?"
I laughed and said no, he was English and that he was 'mon mari' (my husband). Hub looked at me with a puzzled expression, until I explained what the man had said.
Actually, we did have a joke about that afterwards. I said maybe the Frenchman thought Id got 'friendly' with a Spanish waiter and that I was taking him back to England with me!
At last we were in Abbeville and pulling up by the garage. Hub and I jumped down from the truck as the Frenchman drove our camper off the back of the truck into the garage. I managed to ascertain from the Frenchman that the repairs would take some time and as it was lunchtime, we decided to explore Abbeville and get ourselves something to eat.
Apparently Abbeville had once been an old picturesque town with many historic buildings but in the early days of world war two, it had been severely bombed, mostly to ruin, in just one night. So as we strolled through the town what we saw now was quite a modern place.
One of Abbeville's famous churches is St Vulframs, which has a Gothic frontage; the other spelling of this saint is 'Wulfram', who is supposed to offer protection against dangers from the sea.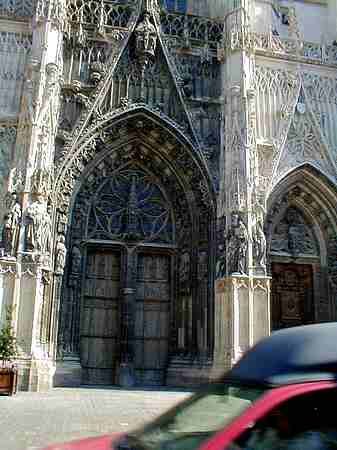 As I recall there was a market that day and we browsed amongst the stalls but then, as we both felt hunger coming on we sort out a small café. The owners were very friendly and I bravely tried out my French ordering two 'croque- monsieurs' and two large café au lait.. Croque- monsieur is a kind of Welsh rarebit except it has ham in with the cheese; it's a favourite lunch of ours when in France.
Abbeville is a town of the Somme but although the river flows through nearby St Valery sur Somme, in Abbeville it becomes a canal with pretty grass banks on either side.
After our satisfying lunch, we had another stroll around the town. Hub kept looking at his watch. It was now getting into later afternoon and he said "Looks as though it will be late by the time they've finished the camper and it will be dark soon. Do you think it would be a better idea to camp in St Valery for the night, and then get on the road again tomorrow?"
I agreed to this. I don't know why but I was feeling tired and the thought of travelling on the road to Calais in darkness suddenly seemed exhausting to me!
After another walk around, we headed back to the road where the garage was situated. The men were just finishing the repair works to the camper and so we waited in the garage. Finally the work was finished and we paid the bill, which again was surprisingly low in comparison to what we paid in the UK. This reminded us of the time on our way back to Algarve, when we had to spend a night in a garage in Chartres and of how the repair work on the van there was also cheap.
We thanked the men and then made our way back to St Valery sur Somme and as soon as we reached the town darkness was spreading across the sky.
Hub drove the camper through the town and along the road where Raymond lives. At the far end of that road and virtually opposite the town's fire station is the entrance to the camp site. The lights were on around the entrance and we pulled up by the campsite offices. These are situated in a large old building which is also a hotel.
As we walked into the office, who should be sitting there but Eric! He smiled and said good evening; asking how we got on and then we booked in for the night.
We were so tired that I think I made a simple supper of omelettes and large cups of tea and seem to remember that we retired early that night.
After a lazy morning, I wandered up to the washrooms and had a lovely hot shower.
As I came back there were some children playing near our camper. I said 'Bonjour' and then I ended up having quite a chat with the kiddies who were very friendly. They seemed attracted to our campervan and asked if they could sit in it. I love talking to children anywhere, as they are so refreshing and although these young French kiddies didn't speak any English I did manage a conversation with them and felt that I had made some friends.
We didn't go to see Raymond again but as a gesture of thanks for his help, we pushed a little box through his gate containing a small gift and a thank-you note.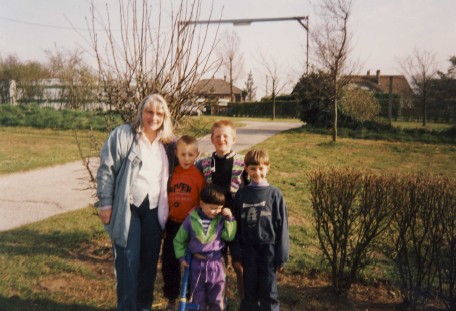 Eventually we left St Valery sur Somme and made our way back to Abbeville to get onto the main road to Calais. As we passed Le Moulin we saw something quite strange to us opposite the restaurant, it was a horse -drawn caravan the like of which we had never seen before; Hub thought it was a Gipsy caravan but I thought it looked more like a holiday caravan.
Soon we were heading towards Calais and the ferry which would take us homeward bound to England and family.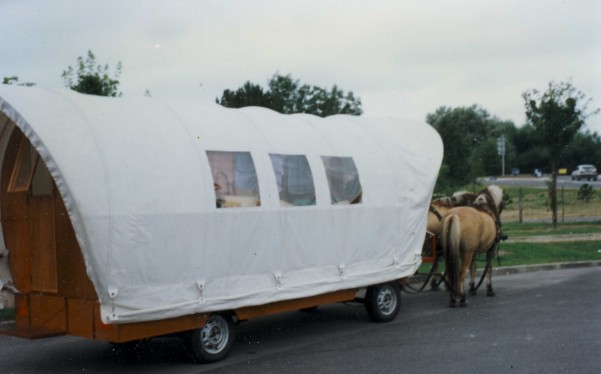 We last saw Raymond a couple of years ago when we spent Christmas in Northern France. We travelled through the tunnel and drove through to Brittany but then made our way back to St Valery for the Christmas Eve and Christmas day, staying in a small hotel. Raymond was not at all well and we felt reluctant to leave him; he had always been such a good friend to us.
In recent months I've tried his telephone number but the number is not available now.
I can only think that Raymond has passed away; he would be about 90 now. The house was to go to his step-daughter, so maybe she has sold it.
 
I would like to dedicate this short tale to Raymond, our French ami.