Back To Business
 The apartment where I stay in Carvoeiro overlooks a busy little back road and has a kind of cliff face opposite. I spent quite a bit of the day sitting on my small balcony with a cool drink, just lazing in the warm sunshine and watching the birds that circle above; pigeons that seem to come from a tiny sort of shack on the cliff top. They circle high above the apartment block and then go back to roost at the small dwelling. Its from this little shack that the cockerel crows and whenever I hear it I think of our time in the countryside and of the old Portuguese woman who kept chickens just along the road from where I worked the large garden…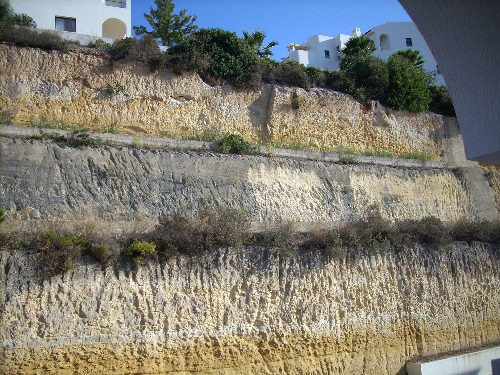 It is around Easter time in '94 and we had just arrived back at our workshops, after an 'interesting' long drive overland from England. I hadn't slept well that night and woke early to the sound of old Miguel's dogs. Feeling somewhat drowsy, I grabbed my wash bag and towel and very quietly let myself out of the campervan, making my way over to the washroom next to the workshop's office and indulged in a cool shower in order to wake myself properly.

When I got back Hub had a kettle on and Jamie was starting to stir. A knock on the camper's door startled us but on opening it we found old Miguel beaming up at us and holding out his hand. Jamie jumped down from his lofty bed above the cabin and was soon outside chatting to Miguel (we always called him 'Senhor' Miguel out of respect). He seemed genuinely pleased to see us. As we chatted about ourselves and the business (he in broken English and we in 'fractured' Portuguese!), Jamie asked where Belo, the little Chihuahua-type dog was? Miguel looked sad and went on to tell us that Belo had run out of the main gates one day into the busy road and was knocked down and killed.
Jamie was upset at this news. Belo had been considered his dog by all the workers as he used to follow Jamie around all the time and they had played together. Belo was also a hero. He had killed a large Adder that had been troubling the workers who picked the fruit. We always found it amazing that such a tiny dog had killed this large snake. My thoughts went to Calado, our young Portuguese carpenter lad, who had been called up for army service; of how he had teased me with the body of the dead snake when he learnt of my snake phobia!

But now Belo was gone and we all felt rather sad. However Miguel said they had another dog called 'Sputz' and he took Jamie to meet him. We couldn't tell what breed the dog was; it was what one might call an 'all sorts'! But it was a nice little dog and Jamie soon made friends with it.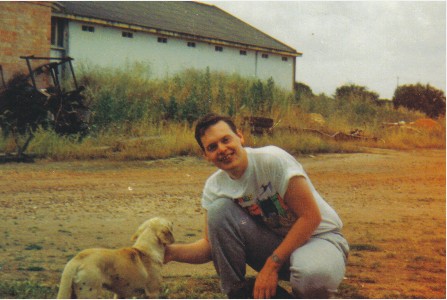 Carlos and Maria turned up later that morning in our old Renault van with their two boys, Miguel and Ricardo who were on school holidays and I can tell you all, that it was quite a tearful reunion as I greeted my old friend.
Carlos had done a good job. The business had been running well with some good orders and lots of repair work. Apart from the robbery that took place soon after we reached England, all had gone smoothly. Young Miguel, Carlos' son, was a teenager now and had been helping his dad out at weekends and was showing promise as a good carpenter.

Maria asked me to have coffee with her one morning and when I said Hub would drop me off in Lagoa, she said "No. I pick you up here". I looked at her puzzled, then she laughed and said "That's my surprise. I drive now!"
It was very strange having Maria drive me to town but she seemed very good at it and quite confident. We went to the little café in Lagoa's park and ordered toasted sandwiches; Maria laugh when I told her how much I had missed them. But there was a sadness in her eyes, sort of anxious look; I had noticed this when we met at the workshops and I wondered what was wrong.
Somehow or other we got round to talking about the church. Although Maria belonged to the church choir she wasn't a regular churchgoer and only went on special occasions. She didn't like the local priests and moaned constantly about them turning up at her house and asking for donations. I could understand this as they didn't have much money to spare with two growing boys. But her sad look was nothing to do with the priests. She told me her story.
One day, after shopping in the high street she had walked back to her house when suddenly a notice caught her eye. It was outside a small building and advertised a meeting for the 'Seventh Day Adventists'. Maria was a modern young woman with an open mind; she took note of the date and time of the meeting.
Under pretext of going to see the lady she worked for, she went along to the meeting. She became very interested in this movement and decided it was what she was looking for, in answering her religious questions and so she went along to several more. The last time that she went, Maria was sitting in the small hall listening to a speaker when suddenly there was a loud noise as the door burst open. When she looked round who should she see but Carlos and his parents. They walked straight up to her through the packed hall and demanded that she leave the building and as she stood up they literally frog-marched her out of the hall. She told me it was obvious that she had been followed and as she spoke tears sprang up in her eyes as she said how embarrassing it had been for her, with everyone in the hall looking at her. But I think there was more to it. She was quite a strong-willed woman and she had felt hurt and humiliated at being treated this way. I must say that I felt anger at a grown woman not being able to choose her own religion. But I forgot, that although it was 1994, Portugal was still a macho country and still a place where the husband's word is law and in this case Carlos had his parents there to aid him, whilst Maria's own family lived a long way off close to Lisbon. She had no choice but to give up going to those meetings.
 
When I told Hub he was angry too as he liked Maria. She had been a wonderful friend to me and had often helped us with the business acting as an interpreter. But he also told me it was none of our business what went on between husband and wife. Trouble was, I could see a change in Maria, there was resentment and I felt that life between her and Carlos would not be the same again. I can't say that I blamed her for feeling that way, though I took Hub's advice and kept my feelings to myself.
I recall Hub dropping me off in Lagoa one day to do some shopping, saying he'd pick me up on his way back; this I was going to enjoy! I could have a nice, leisurely stroll around the town, then have a little rest and a coffee in the park. Of course I headed for the street we had lived in and sat in the nearby park (the one with the 'Nossa Senhora' shrine). Gazing up at our top floor apartment and wishing myself in there once more. My eyes wandered to the left and the flat roof of the large house next door and memories wafted back. I recalled the young man who used to practise his Karate on that roof on hot summer nights. There he would be in his white outfit, throwing punches and kicks at an invisible foe and then, when he'd exhausted himself, would stretch out on a wide ledge and sleep beneath the stars.
I remembered his father, who on celebration nights such as New Year, would come out onto the roof terrace and let off rockets from his hand up into the midnight dark sky.
I wanted to be back in that apartment but there wasn't much chance of that, I expect it had been let to someone as soon as we moved out.
Having coffee with Maria one day, I asked her if Carlos had done any repairs for Sally lately? But she shook her head saying "No. Shop is closed. Sally has gone"
I was quite shocked to hear this. Somewhere in the back of my mind I had half hoped that I might be able to get my garden job back again; it was a vain hope I know but I had thought it possible. But now all hope of that had gone.
The school Easter holidays were nearing an end and soon we were delivering Jamie back to Faro airport. Jeff was to pick him up at Stansted, in order that he could return to school and his studies. Although I had dreaded the moment he was to go and knew we would miss him dreadfully, I didn't feel quite so bad after we had a long chat with him.
He had met up with old school pals in Silves but he told us he didn't feel the same about the place anymore and that he was glad to be going back to England; that there was more going on for him there, not just school and his mates but facilities, like cinemas, theatres and most of all for an academic like him, libraries and museums. When I heard this I felt some relief; at least he would be happy and I was sure he and Jeff would probably have a good time living together.

We were still living in the campervan and I was getting a bit fed up with the cramped conditions. The weather was warming up and I missed having a garden very much. We were on a hard standing next to the workshops and we had beautiful surroundings of lemon and orange groves but there wasn't much privacy; you could say that we were at work 'all the time'!
In town one day, I decided to go to the farmacia to get myself some sun protection cream. My skin had started to tingle in the increasingly warmer weather. Having very fair skin I knew that was a sign that I should be wearing a sun cream.
The farmacia was quite busy and I waited near the door. The chemist was serving a woman and advising her on something; the voice sounded familiar. As she turned and came towards the door she smiled at me, then looked shocked,
"Ellie! What on earth you doing here?"
It was Sally.