Sunshine Break
I came through passport check-in at Faro feeling tired after my very early start but in anticipation of 11 days sun, warmth and a complete rest. Normally I would be planning what to do during my holiday but this time I felt different. I felt exhausted. I put this down to a few things: firstly our dreadful wet summer in UK, 2 months of almost solid rainfall, with our own home having flood waters up to our door and around the gardens : of my own health, in being diagnosed with arthritis and having to take regular medication: and last but my no means least, of my oldest son being badly beaten on his way home from work in the early hours. This had taken its toll on all the family; a very upsetting experience. Happily he recovered well, so with my mind more at ease I was ready for a lazy, relaxing time; Hub had given me his blessing to go ahead and enjoy myself.
 
I stood at the carousel as the luggage came around. There were just a few pieces left then it came to a halt. My bag was nowhere to be seen! I asked the young lady if there was more to come and she told me "no". When I described my bag to her, she said she thought she had seen another woman going off with it. Well this was a good start
and I was soon in a sombre mood. As luck would have it, there was a bag left behind with the owner's name & mobile no. on the label; also the name of her holiday hotel in Vilamoura.
After filling in the form at Lost Property, I made my way through the exit and I was soon on my way by taxi to Carvoeiro.
In my apartment I called Kteee and she was very helpful and gave me a few ideas of what I could do.
I rang the Vilamoura hotel, only to find out that the person who had taken my bag was now returning with it to Faro airport!
After a rest, I headed to Colombos for a cold drink, then managed to do a deal with one of the older taxi drivers for a return trip to Faro and back. I've never had such a fast journey in my life! The driver got me there in just over half an hour. It was quite hair-raising but he seemed a very competent driver and although it was a very 'speedy' journey I somehow felt quite safe. The driver waited as I had to check-in through security again and I can't describe the great feeling and relief it was to have my bag with all my belongings back with me once more.
I was so tired, that it took me a few days to recover and I just totally relaxed into Carvoeiro's laid back life-style, sleeping in late, having a peaceful sunshine breakfast on my little balcony, going to the beach to soak up the wonderful sun and sea air; I could feel the tension falling away. Then, my biggest treat of all, dressing up and dining out each evening; I revel in this luxury of not having to cook.
A few days before my trip to Algarve, I had received a message from webmaster Steen. He told me that he had bought me a new digital camera. I was so pleased, excited, like a child anticipating a Christmas present. I was to collect it from the Dancône ice cream shop on the Saturday afternoon.
On Saturday a friend gave me a lift into Alvor to meet up with Susana at her Magna Carta bookshop. We had quite a merry time talking and catching up with each other's news. However there was an accident on the outskirts of Alvor which held us up, so in consequence I was late getting back to Carvoeiro.
When I went to the Dancône shop, I was very pleasantly surprised when the lady working in there brought out a sweet little bag that held my new camera and also a large pack of French chocolates (which were delicious!) along with a very nice, kind note from Steen.

On Sunday I had a date with a couple who have recently moved out to live in Algarve along with their young son Jack 11. I met this little family in winter of last year. Richard and Carole ordered my book and as they were travelling down to my part of Lincolnshire, for young Jack to visit the local aviation centre, we met up in my local town of Spilsby. It was then I heard of their plans to live and work in Algarve.
 



Please find these and more photos in large formats here
[opens new window]
Sunday was another lovely day and we decided on Colombos for lunch. I took along my camera to show them. I asked Richard's advice on how to use it. But it wasn't Richard or wife Carole who gave me the knowledge, instead it was young Jack who easily and with great knowledge, showed me how to work it. Young people amaze me today with their 'know how' of PCs and other gadgets. So Jack became my tutor and set the camera up for me to use. But he was itching to get to the beach and I thought he at least deserved one of the delicious Dancône special ice creams for his efforts.
Soon we were sitting on the seawall eating our cones and I learnt of how Richard and Carole were happily settling into to their new life in Algarve and Jack into his new school; a very nice young lad, who I'm sure will have a very bright future. The hours flew by and soon I was saying goodbye to this happy little family and wishing them every success in their new country. It isn't easy adapting to life in another country and learning a new language but if anyone can make a go of it, I feel certain that Richard, Carole and young Jack will. I wish them every success. It was great meeting them.
 
Richard and Carole weren't the only couple I knew who were starting a new life in Algarve. One night, as I entered Colombos for dinner, I was about to sit at one of the pavement tables when a friendly voice called "Ellie?"
It was LizzieH, a member off www.forum.carvoeiro.com. We'd never met before but had corresponded a few times via PMs and even before that, quite a way back, we had exchanged emails.
After dinner I was invited to join Liz and her husband Geoff for coffee and it was during our conversation I learnt they were almost ready to come to Algarve to begin their new life there. I sensed their excitement and eagerness for the coming spring when they could settle into their new home to let their new life adventure begin. A very nice couple, who, to my mind, had done the sensible thing of coming to Algarve on many visits and had prepared their home and themselves for this stage in their life. A very enjoyable evening and I have to confess that I felt a little envious of them. Liz and Geoff, I wish you every success and lots of happiness for March next year!
Hub and I had been discussing the next stage in our lives and that means in February next year, we are putting our home here in Lincolnshire, up for sale.
So, I decided to go and take a look around Lagoa, just in case we changed our mind about moving to France. I wanted to try to get a feel of the place; of how it might be to live there once again.
Knowing that I would be doing quite a bit of walking, I went in search of a walking stick. A friend at Colombos had told me that there were some available at the Chinese shop, just past Safari bar. So I went along there and managed to buy a very sturdy stick for just 2 euros-50; a bargain!
As I waited for a taxi, a voice called to me and I saw it was forum member Dalcassian (Joe) and his wife Nell eating lunch at Smilers. I had bumped into Nell & Joe in the square earlier in the week and had lunch with them; a lovely Irish couple from Dublin and who are more friendlier than the Irish? So I joined them for a drink before heading off to Lagoa.
Whilst sitting in Lagoa's park eating my sandwiches I looked up and noticed a couple of people I knew who lived there; Linda and Joachim. We sat and had coffee together, catching up on each other's news. When I told Linda about looking for property she directed me to an agent that's situated below her apartment. I looked at 2 properties in Lagoa. One was a fully furnished cottage available for a very reasonable rent, the other was a renovated cottage for sale.
The cottage for rent was very nice but the staircases were narrow and steep, so I couldn't see Hub being comfortable with that or myself, the way my leg is now. But the cottage for sale had been renovated very tastefully in an open plan fashion, with a long sitting room and a small cloakroom off. A large full fitted kitchen and dining area with a lovely open fire place. The marble stairway was new and wider, leading up to 2 good sized bedrooms and bathroom. There was an outside staircase up to a large roof terrace; this staircase was from the patio doors of the main bedroom as well as from the ground floor.
As these cottages were near the outskirts of the town, their roof terraces gave one fabulous views of the open countryside that stretched across to Silves. That brought back nice memories for me; of our old 3rd floor apartment, where I had made a container garden on the roof and where I would often stand looking out over Lagoa in the early evening light.
I didn't get home until late that evening as I had to wait quite some time for a taxi; in fact a young black couple with their baby boy, who were in front of me, took pity on me and let me share their ride back to Carvoeiro.
The next morning I was suffering. I knew I would be. Viewing the cottages I had done a lot of climbing stairs and now my hip and leg were telling me Id done too much. So after some pain killers and then making a sandwich lunch, I made my way to Carvoeiro's little bay for a day of sun, warmth and relaxation.
My holiday went very quickly and soon it was Thursday; I would be going home on Saturday evening. The thought then occurred to me, that during a discussion on the CVO restaurant forum, I had said that I would give the restaurant O Boteco another try. This restaurant must have one of the best views around Carvoeiro. I had visited it just twice before. Once, when we lived in Lagoa and my oldest son and his girlfriend were staying with us and then again about 2 years ago, I had gone there for a solitary lunch. Id had no complaints about my meals or service, so thought I'd try it out once more.

Thursday was beautiful and hot as I made my way slowly up past the Dan Cone shop, up the steep hill, stopping to give my leg a rest now and then and to take in the sumptuous views of sea and sky over this blessed little place.
O Boteco was quite busy but there were a few empty tables. The waiter came up to me immediately and took my order for sardines with salad and potatoes. My drinks of pineapple juice and water were quickly brought to table, along with bread, butter and sardine paste.
I had to wait a while for my lunch but I didn't mind that as I was quite happy to gaze out at a hot blue sky that came down to meet the white tipped waves and of course, a wonderful chance to use my new camera.
My lunch arrived and boy was it a large one! Six large sardines, with a simple salad and potatoes. By the time I had finished up with a white coffee I was full to bursting!

I then took a stroll on the cliffs, looking down at the bay far below I felt a slight vertigo and though on previous occasions I have walked the many steps down to the beach, there was no way I could manage it this time.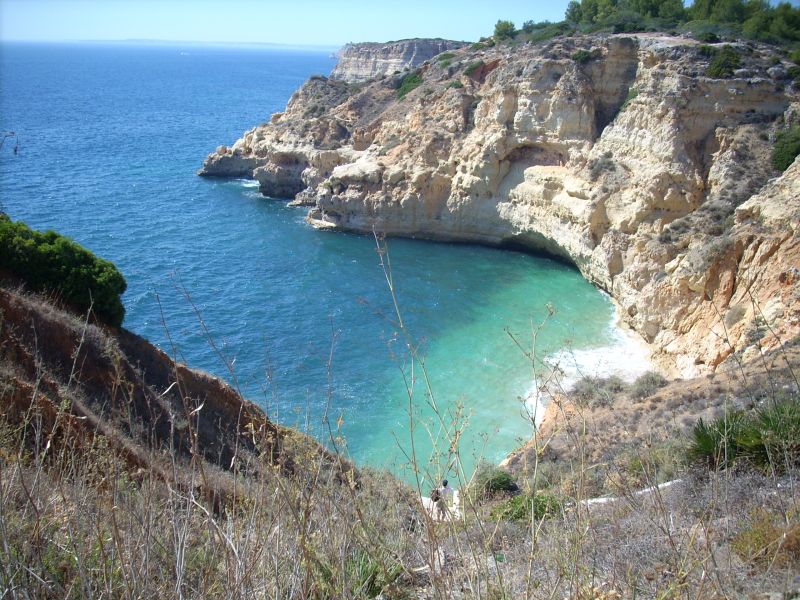 Please find these and more photos in large formats here
[opens new window]
After a rest on Carvoeiro beach, I made my way up to Algar Seco; I had promised to look out for a villa, where forum friend Jan / Canada is going to stay for her spring holiday. I didn't have any luck finding it, so I continued walking along the cliff tops until I reached Carvoeiro's church. It was very hot and I eagerly sort the shade of the old archway and the short path between the lifeguard building on one side and the church next door. The colour of sea and sky and the flowers close to the church were very pleasing to the eye; all startlingly beautiful yet its so restful a place that I sat there for some time.
 




Please find these and more photos in large formats here
[opens new window]
Friday night and it was my last one in Carvoeiro. Determined to make the most of it, I dressed and wandered down to Colombos for my dinner. I always feel sad on my last day, not only because of my attachment to the village but of leaving the good friends I have there. I had a nice meal and a drink or two, chatted with Pedro and boss Marcus. Once more I had a pavement table; I noticed a couple close to me and that they had been there each night. I nodded good evening to them.

At about 10.30pm I was thinking of leaving and went to pay my bill. On saying goodnight to Marcus, he asked if I was going home and when I said yes, he told me that Geninia, his wife was on her way there and would I stay till she arrived. I didn't need asking twice; Geninia has become a good friend and I always enjoy my chats with her.
Geninia arrived and we sat at the bar; the place was starting to empty and once more I said I thought Id better go home, but Pedro said they were closing the kitchen and they were going to have a drink and I was invited to join them all.
We all drew up chairs around a pavement table; there was Geninia and Marcus, Pedro and myself and the couple I'd said hello to earlier. I was introduced to them and I was surprised to find they were Londoners like myself; Eileen and Phil were Eastenders from Bow. We had a lot to talk about, of living in London, how it was when we were young and how cosmopolitan it is now and of course I told them all about Carvoeiro.Com !
Drinks started to appear in front of me, my favourite Port, bought by Marcus and Phil, one after the other and soon the night took on a rosy, hazy glow! It turned out to be a very merry evening indeed and of course there were lots of laughs too.
Looking at my watch I saw that it was 1.30am. Marcus had said he would have to be careful as the GNR do their rounds after a certain time, to make sure the bars were closing but we seemed to go on for a long time into the early hours and I was thoroughly enjoying myself. Then Eileen and Phil said they were making a move and hailed a taxi, as their villa was at the top of Estrada do Farol; on asking where I was staying they insisted I went with them and so I was delivered safely to the door of my apartment building.
I can't remember what time I got to bed that Saturday morning but all I will say is, my last night in Carvoeiro was a jolly, happy one with great company!