House on the hill
This topic came up on Carvoeiro.com a good few months ago now and I think may be right in saying that it must rate as having one of the highest 'postings' ever!
When Dalcassian, a Dublin member of the forum, posted this topic I was immediately drawn to it, as when we were in residence, over a decade ago I could remember that we sometimes took a walk up to that point and sat on its 'birds eye view' patio and pondered on what that old house must have looked like when in its prime?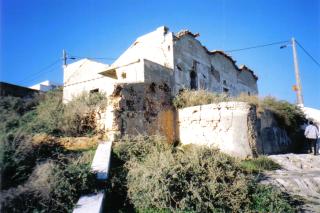 Dalcassian, or Joe as I came to know him, had a dream. The dream was to one day own that house, to refurbish it and bring it back to its former glory. On a New Year visit, I took a walk up to the house and had a good look around. Whilst taking the photos that I had promised Joe, I could really get a real 'feel' for the place; its sturdy walls, although damaged and scrawled with graffiti still seemed mighty strong to me, the proof for all to see, as it has withstood the test of time and all that the Atlantic weather could launch against it for maybe three quarters of a century or more!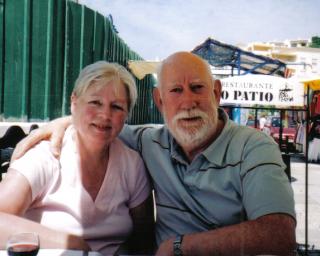 A few weeks after my return from that holiday, I was very pleasantly surprised to receive from Joe a 'photographic re-construction' of the house's interior. It was spot on and looking at it I could well imagine someone sitting in that armchair, looking out through that window with the perfect view over Carvoeiro's lovely little bay.
 
But it was now May and I had been in Carvoeiro just a few days. Saturday arrived and by lunchtime I was ready to go meet Joe and his wife Nell at O'Patio's in the square. When I arrived the restaurant wasn't too busy; just a few customers and as I sat on the centre bench I looked over, my eyes searching for Nell and Joe (he said he'd be wearing a certain hat..) but I couldn't see a 'hat', instead I saw a couple perusing the menu. Suddenly the man, with distinctive silver beard looked over to me, gave a slight nod and smiled. I 'mouthed' the word 'Joe'? and he came over to greet me.
 
We all agreed on the fresh dressed crab for lunch and with first shy moments over with, we soon fell into conversation, Nell and Joe being so easy to talk with we chatted on about so many things but of course the main theme centred on that house up the hill! Joe had spotted it on their very first visit to Algarve over 20 years previous and I suspect even then that his 'dream' of that old house was set into motion and he could see the potential for a wonderful holiday home. Nell showed me old photos of that first visit, of these two lovely friendly Dubliners along with their two young daughters enjoying the wonders, that an introduction to the beautiful Algarve can bring. It was great to see pictures of CVOs square as it was in the early 80s and where cottages once stood there are now shops and restaurants, O'Patio being the oldest!
The crab lunch was delicious, although Nell and I had a struggle using the crackers, which we gave up and resorted to use of fingers! Nell told me of how, when they had fresh crab in earlier days, she would use what she described as a 'wash stone' to crack the legs and get at the delicious meat inside. I had to agree that it sounded an infinitely much better idea than the method we had just tried!

We talked for literally hours, mostly about each others family and connections to Algarve and I thoroughly enjoyed every minute. We had met at about 12.45pm and parted company around 4.15, as Joe and Nell had to walk back up to their hotel and get packed, ready for their homeward journey the following morning. It had been such a fun and enjoyable lunch that I was a little sad to see them go but we promised to stay in touch and we have.

Here I would like to say a big thank-you, not only for a delightful lunch and good company but a special thank-you to Joe for giving me the inspiration for my book cover. This came after a long struggle of trying to find a 'suitable' picture. An e-mail from Joe said "Have you thought of using an 'artist's impression'?"..

I did and the result will shortly be in print. Thanks Dalcassian! Just had another thought.. wouldn't that 'House on the hill' make a good pic for another literary adventure....?