A New Life 3: Introductions
The next morning we were ready and standing at the gate when Bill showed up in the truck and we followed him as he headed for the EN125. We passed the International school at Porches, past the Casa Grade pottery and the artisan village. Then Bill turned off to the left taking the country road into Algoz. I liked the look of Algoz, it looked a lively little town and I started to get butterflies in my stomach as I knew it wouldn't be long before we were at the workshops.
It was a beautiful sunny day and already quite warm. Just before we left the town I noticed some women at the lavabos (the public wash area). We had to slow down for traffic and that gave me the opportunity to have a look. The ladies were chattering and laughing loudly as they stood, with their arms, elbow deep in soap suds and though it looked like hard work they seemed happy. I felt a sudden pang and longing for my daughter, my mother and sister back in England and some feminine company and 'girl talk'!
Within ten or fifteen minutes Bill turned off the main road and drove along a wide red dirt track. Following this round, he pulled up in front of a huge white stone barn. We parked behind him, then clambered out and stood staring around us. My first sight was row upon row of lemon trees not twenty metres from the workshops doors. I do believe it was that precise moment that I became aware of Algarve's unique brilliant light! The clarity of the atmosphere accentuating the shiny lime-green leaves on the fruits trees against a backdrop of the bluest skies, almost hurt my eyes. So I wasn't at all surprised to learn at a later date that Algarve was a very popular destination for artists.
A railway track ran directly alongside workshops and lemon grove, separated only by a straggly line of gnarled old olive trees. Bill pointed out a long factory-style building, saying that was where the fruit was sorted and packed into crates. As he showed us round the back of workshops there, in front of the site managers old stone house, we saw yet more rows of trees but this time it was oranges.
I Looked up at Hub saying, "Its wonderful and exactly as I imagined. You described it perfectly!
Jamie's voice suddenly called out "Here boy! Come on boy!"
He'd been trailing behind us and turning to see who he was talking to I saw him bend down and scoop up a tiny Chihuahua-type dog. Bill said he belonged to the site manager Miguel but as I watched Jamie stroking and making a fuss of the dog, I could see he'd made a newfound friend!
"Right" said Bill. "Come and meet the boys"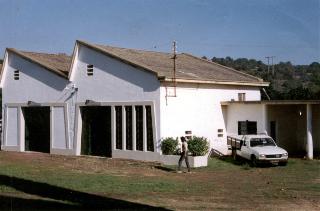 Joao in front of the workshops and truck.
He pushed back the huge green doors and as he did so, the clean resinous tang of new wood filled the air ,that of pine most tangent. The floor space was half covered with stacks of it in varying lengths, widths and shades. We trod in sawdust, a thin layer of which seemed to cover most surfaces. Around the walls stood benches and shelves piled high with tins of paint and varnish of every colour and stain imaginable!
On a raised platform to the back of the shop was displayed a superb fully built modern kitchen-a real showpiece. Hub asked Bill if it was an order? He replied "No", it was an example for potential customers to view.
I stared at Bill saying, "You made it?"
There was wide grin on his face as he answered "Of course"
I remember saying" Its perfect!"
His reply was they offered nothing less. The business (now becoming 'our' business) name, stood for quality and the perfect finish was down to mostly one man: Carlos, the chief carpenter and a professional to his fingertips.
We could hear the loud hum of machinery as Bill opened the adjoining door. We followed him through and saw 'our lads' for the very first time. Soon as they saw us they stopped working; we stood there eyeing each other curiously, all of us feeling equally shy.
Carlos stepped forward, a small dark man with his hand outstretched and welcoming smile and although we were all a little nervous, we managed to say "Hello, how are you" in very hesitant Portuguese.
Next came Joao, tall and gangly with shoulder-length dark hair. His English was excellent and Bill told us that he often acted as interpreter to converse with Carlos, customers and the other workers on the site.
Then came John, an English lad, fair haired and blue-eyed, who'd been there on a 6 months work permit but this was almost finished. He would be returning to England soon and Bill was in the process of interviewing young men to find a suitable replacement.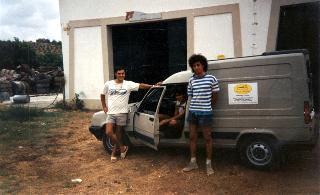 The gang; Carlos on the left, Joao in the van and Calado on the right.
While Bill and Hub went into the office to talk business I wandered around outside trying to take it all in; this new life we were embarking on. Those lads inside their would soon be our employees. We would be responsible for providing enough work, not only to feed ourselves but to pay their wages. A big responsibility! I heard Jamie's voice again and saw him wandering amongst the lemon trees still holding 'Belo' and I thought 'We've got to make it work for his sake alone'.
                        
Our 'temporary' home-the holiday apartment in Carvoeiro turned out to be very nice. It was clean and comfortable with the added luxury of a tiny swimming pool in the back garden. Carvoeiro, being small and compact, was the ideal place to get to know the locals and also try out the language! Local shopkeepers were very friendly and though we made many mistakes with this difficult language I don't recall anyone laughing at our efforts. In fact it was the reverse, with most going out of their way to help us.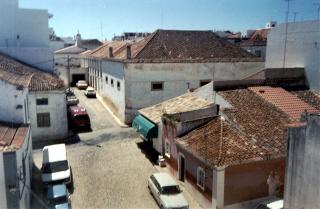 View from the apartment.
We visited the workshops daily, conversing with the lads and other workers there and it was during this 'interim' period that we became aware of the Portuguese hospitality. Within 2 weeks of our arrival we were invited to an alfresco meal with all the workers on the site. But that day we were moving into our new apartment in Lagoa and I wondered if we would make it in time for the midday  lunch. But I needn't have worried. The apartment was already beautifully furnished, so all we had to move in were our clothes and personal possessions. However it was a '3rd floor' apartment, with 3 flight of stairs to negotiate each trip! But by lunchtime we were finished and ready for a good meal.
The lunch was superb! We sat at a makeshift table made from a board and trestles. This, Miguel's wife  Paola spread with large white paper tablecloths. Then we were served platefuls of grilled sardines, green crispy salad of lettuce, peppers and onion and huge slices of red fruity tomatoes. We had glasses of local Algoz wine and finished off with 'bicas', the small cups of black coffee, accompanied with a dish of marzipan sweets.
After such a lovely 'welcome to the site' meal, we reluctantly left this wonderful company and made our way back to spend the first night in our new home.
It was a lovely apartment, more luxurious than we'd ever hoped for. Two nice size bedrooms, very spacious living/dining room, large kitchen with a large balcony leading off it and two bathrooms. There was also a small staircase that led up to a wide roof terrace and it was here that I found myself in the early evening. It was that certain time of day, when the sky is that special deep blue, just before dark and the stars begin to shine.
I took a look around and realised that I had views across Lagoa in 3 directions. On two sides were a sea of red-tiled rooftops, with white minaret chimneys of the old dirty-white stone houses. The third was a quite spectacular vista out towards the open countryside. It was then that, although feeling very happy in our new home, I felt, just for a few minutes, a little unnerved. It was so completely different to the small country village we had left behind in Kent. But the new friends we were starting to make here and the open air lifestyle in this wonderful climate would surely bring us much pleasure and fulfilment? I heard Hub and Jamie's voices and laughter from below and thought "We're now Lagoans and its up to us to make it work!"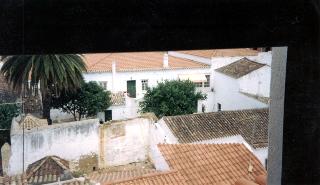 View from the apartment.
As I prepared supper that evening, I was a little pre-occupied. Jamie was starting his new school on the Monday and I hoped, prayed that he would settle in okay. It would be very different to the huge school he'd attended in the UK. This was a very small private college with ages ranging from 10 to 18yr old boys and girls; that in itself would be a change as he'd been to a 'boys only' school in England. But at the interview, all the staff had seemed very friendly and welcoming which was very reassuring.
Over the weekend Bill phoned to say that he'd chosen a new carpenter to replace John who was leaving for England the end of the month. He asked us to come along and meet the new lad on Monday and have lunch with them all.
Monday dawned bright sunny and very warm. We dropped Jamie at the college on the edge of Silves, then went to Carvoeiro to while away a few hours shopping for food and clothes until midday, when we made our way out to the workshops.
As we pulled up outside the workshops, Bill's cheery face showed around the door.
"Bom dia you two. Come on in. I've got someone I want you to meet"
We followed him through the work area to the cool shade of the office and there, perched nervously on the edge of his chair, was a rather worried looking young man of about eighteen.
As we entered, he jumped up, his face having gone slightly pink and one hand reached up, anxiously fiddling with his thick dark brown curly hair.
"Hub, Ellie. Meet Calado, your new carpenter"
Calado hesitantly put out his hand saying, somewhat shyly,
"Muito prazer Senhor", as he took Hubs hand.
Then turning a bright red, he took mine saying,
"Muito prazer Madam" (pleased to meet you).
He did speak a little English and we greeted this very shy young man, saying we hoped he would be happy working for us and wished him good luck.
Introductions over, Bill took him through to where the other lads were working. He was to be apprentice to Carlos and we felt sure he would do well. We now had 4 employees but in a couple of weeks John would be leaving and by then, Hub would be starting to really take over the reins of the business. But Bill would be around for a while in case we needed any guidance.
After lunch, Bill said he and Joan wanted us to come to tea with them on the following Sunday. We said that would be nice and asked what time? He said "Be at Vilamoura around 3.30pm".
We stared at him as Hub said "Vilamoura?"
"Yeah. Ill show you around the boat!"
"Boat!" we both answered together.
My stomach flipped at the word 'Boat!'. Boats meant water!
"Yeah. Had it some months now. Anyway, come along and we'll tell you our plans"
"Okay. We'll be there. Where do we look for you?"
"Il be  there and give you a wave. We're bang in the middle of marina"
On hearing these last words, I knew I would spend the rest of the week worrying and dreading the approach of Sunday!