We turned up
We turned up at the huge "barn like" workshop one hot sunny mid-morning

,

a beautiful spot in middle of lemon groves and railway at the back to find great rejoicing going on amongst our workforce of 3

.

Bella, the little Chihuahua-like resident dog, was being feted & fussed over and being called "heroi" [hero] when we asked why Curly haired Calado disappeared into barn and returned carrying something very long & dark, then held it aloft in front of me shouting "Cobra, Bella matar [kill] cobra !"

I jumped back in horror as I have a real fear of snakes, Calado saw the look of fear and I noticed gleam in his eye!

When we returned in late afternoon I went over to water the huge red geranium planted nearby. As I was doing this I felt a movement by my foot, a stirring of the dry dusty soil. I looked down and to my horror a slithering black serpent with lighter markings was coiling near my foot. I let out this tremendous scream and leapt up onto the low wall shaking with fright!

Shouts of laughter erupted from the barn and 3 grinning faces appeared round the door pointing at the snake, seeing it more clearly now, I was relieved to find it was a long piece of hose that they had made up to be a "cobra".

But they were lovely blokes really and I laughed with them, the next day they made up by preparing us a wonderful barbecue on their old oil drum; sardine, cavala, salad and lovely Algoz wine, they waited on me like a queen - lovely memory!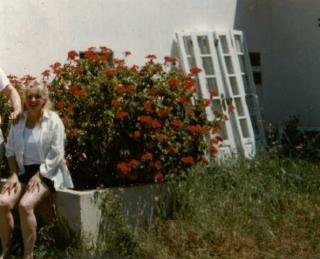 That Geranium was an absolute beauty. Our lads, the Portuguese carpenters thought me "mad" to keep watering it they would say: "But why? You can't eat it!" That is Portuguese logic for you and very sensible I'd say.