The goatherd
I was sitting in Lagoa park one sunny afternoon on my recent holiday and I got to reminiscing of how it was some 10 or more years ago. There was no pedestrian's area then but a busy main road going through the town, always lively, always something going on! I don't know why but I suddenly thought of the goatherd that often stopped the traffic as he drove his flock through Lagoa and out into fields on the way to Carvoeiro. One thought led to another and I recalled our move to the villa near Porches and a much closer contact with another goatherd.
We had lived in Lagoa for almost two years, we loved it and the people but the offer to live in a beautiful villa as 'caretakers' was one too good to refuse. It had a lovely garden and swimming pool, there was plenty of room with a large kitchen we could eat in but there was a 'bonus' in it for me. The villa also contained an electric piano, one which I would have full use of by kind permission of the owners! Hub knew that would have the biggest 'sway' with me, for although I had a small portable keyboard it had been a few years since I had played the 'full size' keyboard of a 'proper' piano! Within the month we were packing up our belongings and making the move to our new home.
Carlos and Maria helped with the move and very soon we were settled in; it was a cosy, homely place with comfortable sofas and armchairs and bright cheerful rugs covering the tiled floors. It was springtime but at the merest excuse, a small drop in night temperatures and we revelled in the comfort of a real log fire! The sitting room doors opened onto a patio where we could eat breakfast in the early morning sunshine and the raised rockery garden beyond the pool was bright with spring-flowering bulbs and low growing, sun-loving shrubs. Altogether a very beautiful home.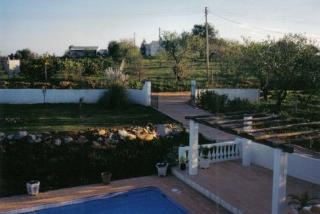 After such a long time it was wonderful to have a piano at my disposal once more and I started to re-organise my working week. As usual I went to my garden job each day but I worked a little bit harder on two mornings so that I could spend those afternoons playing and practising.
It was during one of these leisurely afternoon sessions that I first heard the goatman, in fact I was so lost in the tune I played, that his harsh cry quite startled me. The piano stood alongside the patio doors of the sitting room; the weather was so mild that I had pushed them open a little, so his voice seemed very close by. I jumped up and hurrying outside I was brought to a complete standstill. The goats were everywhere! My immediate thought was for the flowers, these creatures eat anything and everything. Flowering shrubs and oleanders grew close to the wrought iron gates and already two billy goats were up on hind legs and starting to make a feast of them!

The goatherd stood outside the gates yelling and whistling through the gaps in his blackened teeth. But all in vain. The creatures continued to roam freely nibbling at every growing thing in sight and as a couple headed round the side towards the back garden, I panicked at the thought of them attacking the precious herb garden. Bad enough if it was my own but it wasn't. I was guardian of this place and they had to be stopped!
 
I beckoned frantically to the goat man to come in; he hesitated seeming afraid to enter. But I was insistent, left for very much longer I was terrified I wouldn't have any garden left to protect!
I called out to him "Its okay.. no problem" and again beckoned him to come in; he finally entered and with much shouting and use of stick he managed to round up his flock and soon all were heading out the gate and continuing along the lane.

But now this had happened I knew we would have to be more careful in future, making sure the gates were kept closed especially when we were out, as we had no wish to return to a half-eaten garden! Bad enough if it were our own property but worse still for one supposedly under our care.
One extra warm sunny evening I had gone up onto the villa's flat roof terrace. I wanted to breathe in some cooler air and catch the last rays of sunshine, when once again I heard the cry of the goatherd. My eyes flew to the gates and saw with relief we had remembered to close them. But my attention was drawn to the goat man once more as his cries were now loud and angry! He was coming along from my left, shouting at the top of his voice, his long stick waving before him in great wide sweeping arcs as if signalling to someone or something. But there was no one; this time he was alone, not a goat to be seen. He started to run along the lane shouting, yelling and all the while his stick jabbing the air as he sped past our gates.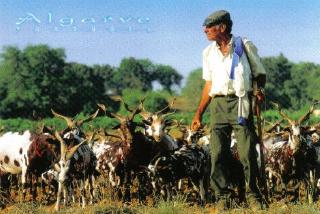 By this time Hub and Jamie were outside in the garden wondering what all the commotion was about. I ran down to join them and we watched, as the goatherd, now really frantic, approached a wild piece of scrubland about 30 metres from our villa. As we moved closer we saw the goats. They were literally all over the place. Some were on the scrub, others in the roadway and more than a few were nibbling away at the flowering hedges of a nearby villa. Then we heard a shrieking noise followed by a high pitched cackling that then turned into hysterical laughter. In alarm we looked in the direction of these maniacal sounds. There in the midst of the scruffy piece of wilderness was a shabbily dressed woman, a dirty tatty scarf covering her head, as she sat amongst the tangled grass and weeds, rocking back and forth, the half crazed laughter emitting from her lips as she slapped her legs, seemingly caught up in some mad secret joke known only to herself.
 
By now we stood very close to this scene of pandemonium wondering what on earth was going on! The goat man was striding towards the woman, who continued to mock him with hysterical laughter. He erupted with rage, shaking his stick furiously at her and gesticulating at his marauding goats, who by now were completely out of control and taking not the slightest notice of his loud commands, as they continued to roam at will.
Watching all this we felt worried but also rather helpless. The goatherd was in such a violent temper Hub thought any minute he would attack his wife, so he approached him rather tentatively and in hesitant Portuguese asked if he could help? The man was so surprised at Hub's presence he stood quite still and silent for a moment, then suddenly started up again, shouting and pointing the stick at his wife, who still sat chuckling and swaying in the long grass, totally in a world of her own!
We made out some of the words that flew from his gap--toothed mouth: 'Mulher' (wife). 'Louco' 'Doido' (Crazy); other words followed. What we understood was, his wife was mentally unbalanced and whilst he'd sat eating his supper that evening she had driven the goats from their home, letting them run wild. The goats were his living but he also had a demented wife to care for; we felt such pity for this tormented man and the deranged woman who was still seated amongst weed and wildflower, now singing and laughing, completely oblivious of the chaos she caused.

Our presence seemed to calm things a little and as the goat man bent to help his wife to her feet in an unexpected gentle manner, we tried to help by 'shooing' the goats towards him ,doing the best we could to herd them all into one place. Within about 15 minutes there was some semblance of order; the goatherd, with one hand gripping his wife's arm, the other waving his long stick he began to drive his flock before him and shaking his head apologetically he finally made his way back along the lane.

We followed behind, wandering slowly back to the calm of our pretty villa and serene gardens and as I walked into our tiny paradise I reflected on the wretched life of that poor couple. Their life held no luxuries, mostly it was one of hard labour and not a little torment and I realised how lucky we were to have a clean, comfortable home, warmth and good food, but above all we had good health, both mental and physical. I went to bed that night counting my blessings.

The goatherd became a familiar sight along our lane and we often exchanged a few words of greetings. On the odd occasions his wife would appear with the goats scattered all around her and soon afterwards her beleaguered husband could be heard and seen giving chase along the lane after her and more than once we were around to lend him a helping hand!