Algarve Antics & Gib!
We had returned to Algarve after almost a year back in the UK. The journey overland had not been without its little 'adventures' and although very tired we were delighted to be back in our old home once more. I say in our old home but that wasn't strictly true. We had no 'home' as such waiting for us; no return to our smart apartment in Lagoa or the beautiful villa near Porches. Our journey had been undertaken in a campervan and this was to serve as our home for a while. We camped at our workplace on a hard standing in the lemon groves that surrounded the workshops. So you could say that our work was just a short step from home!
 
Jamie had been with us for a few weeks but then he'd returned to UK to take up studies for his forthcoming exams, living with his older brother at our house in Essex. I was beginning to get grumpy about our living conditions and this was to get worse when, after a couple of days rain I had an attack of sciatica, a miserable lower back and leg condition.
I had my first sciatica attack when we'd lived in our Lagoa apartment. It came after a few weeks of incessant rain when the apartment had becoming very damp; this in turn affected our clothes, even the bedding. Every evening we'd had to place clothes in front of the gas heater to 'dry off' so that they were okay to wear next morning. The doctor told me that it was the very damp conditions that had brought on the sciatica.
Now I was suffering again and what with trying to keep the camper clean and making up beds each night, it started to get the better of me. I told Hub I couldn't take much more of living this way.
 
Strange how, when you feel at the end of your tether 'something' happens, something completely out of the blue and lady luck smiles on you once more!
I was waiting in the Lagoa farmacia one day; there was a small queue in front of me, when suddenly I heard a voice that was familiar. A woman with her back to me was talking to the pharmacist then, as she turned and glanced at me she said
"Ellie! What on earth you doing here?"
It was Sally, the woman who had employed me, taken me on and given me my first chance as a gardener.
We both burst out laughing. I was as shocked to see her as she me. Anyway, we made our way to a nearby cafe for a coffee and a chat to catch up on news. Sally had retired from her agency and since her marriage was just happy to be at home. I told her our circumstances and asked, what were the chances of me getting some garden work? I said, although I was happy to be back, I was thoroughly fed up of living in the campervan. She sat in silence for a few minutes, slowly slipping her coffee.
"You know the villas still empty? Where you worked the garden?"
 
I was surprised at that news but apparently, since our stay in England there had been no offers on the place. A Portuguese man, elderly chap, had mowed the lawns for a while but it had got too much for him and now the garden was overgrown. Sally still had the keys to the place and kept an eye on it for the owners who lived in South Africa.
"How would you fancy your old job back?"
Before I could reply, Sally went on to say,
"I wonder? It's just an idea but, could you and Hub live in the annexe?"
I thought back to all the times I had sat in the annexe's kitchen, out of the high heat of summer after a hot mornings work; of the delicious ice cold water from the tap that came from a borehole, Jamie called it 'the best water he'd ever tasted'; and it was!
"Do you mean as caretakers?" I sounded breathless, excited.
Sally went on to say that she would telephone the owners and put the idea to them. It would kill 2 birds with one stone: I could work on the garden and Hub and I could keep an eye on the place for them. The bonus would be that we'd have a proper roof over our head and it would be rent free!
 
I was so excited when I told Hub about it that evening. But he told me not to get my hopes up as the owners might say no. He seemed a bit doubtful, saying how isolated it was and whether I'd feel lonely living there but I was so sure of it all that I didn't really listen.
In a few days, Sally handed over the keys to the annexe and we moved in. There were 2 small bedrooms, a cosy little sitting room, small kitchen and bathroom. In the sitting room there was a log burning stove and a telephone was still connected. Sally had some extra good news for us. The owners agreed to pay me a small wage for the gardening; the equivalent of £100 (in escudos) a month; not a large sum but it would give me some pocket money!
 
How good it was to sleep in proper beds again, to sit out on the verandah for breakfast beneath the shade of the beautiful yellow Mimosa tree. When we phoned the kids they were delighted with our good fortune.
One day we were driving to the paint store on the road to Guia and we needed petrol. Hub pulled into a petrol station and after filling up he was about to drive off when a figure jumped out in front of us and someone banged on the driver's window. A black tousled head grinned at us; it was Joao. He looked terrible! Hub told him to get in the back of the van and as we drove along he told us his sorry tale. The factory work hadn't worked out and in the end he'd lost his job. He looked really down and out and in need of a good meal. After picking up the paint we went for some lunch. He needed work and asked Hub if he would take him on again. We needed an extra hand so Hub decided he would give him a trial. Have to admit we did feel sorry for him but he had to promise to turn up on time and to make the effort to get on with Carlos. He started working for us again the following week.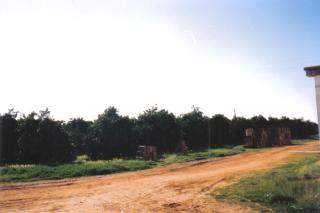 Late one Friday night, we were sitting watching a film when I thought I heard the sound of a motorbike. But then all was silent. Suddenly there was a bang on the door of the annexe that really startled us both!
"Who the hell is that this time of night" Hub dragged himself from the armchair. I glanced at the clock, it was after midnight. As he went to answer the door, I followed behind clutching the small iron poker in my hand. Opening the door we could see 2 slouched figures under the dim outside light.
"Ola boss!" Joao's white teeth glowed in the gloomy light. Slouched against him, with equally silly grin on his face was Carlos.
"You say call in for drink sometime. We here!"
I tried to stifle a giggle as Hub replied "Yeah I know but I didn't mean at Midnight! Come in before you fall in"
As they both collapsed onto the small sofa, I went to make some black coffee.
"How did you get here?" Hub sounded grumpy
"On bike" slurred Joao.
"You drove here in that condition? You must be crazy!"
"No. Its okay boss. I drive okay"
"But why so late?"
"She lock him out" he pointed at Carlos, who by now lay back eyes half closed.
I placed the mugs of black coffee in front of them.
"What? Maria locked Carlos out?"
"Sim madam. She say he too much drink and she don't want him there"
Hub and I exchanged helpless looks. What should we do?
With Joao sleeping in the spare room and Carlos tucked up on the sofa I went to our room to call Maria. She was very angry and I suspected there was more to it than Carlos having a few too many; to tell the truth it was very out of character for Carlos to drink so much. But that's another story....
"Fancy a few days away?"

This was a big surprise and I asked if the work would be okay, Hub went on to say that everything was going well and Carlos and Joao were working okay together again. A large order of garden furniture was almost complete, so yes we could manage it.
"How about seeing Gibraltar again?"
I didn't need asking twice. I loved Gibraltar. All the British shops : Boots, Woolworths, W.H.Smiths, Marks and Spencers, Brit supermarkets and others. Yes I wanted to go alright!
 
Hub had telephoned Gib. and booked 2 nights at a hotel in the centre of town. We left very early on the Friday morning. The weather was good and I looked forward to the drive. Soon we were heading over the border and into Spain towards Huelva, the van pointing in the direction of Seville. I would loved to have stopped and spent time in Seville but we just touched on the outskirts, where we stopped for petrol. I remember that we stopped close to Cadiz and had a picnic lunch overlooking the Costa de la Luz (Golfo de Cadiz) and how impressive the views were. Then followed the coastal road round until we came in sight of the Rock!

It was always fascinating to me, to queue up to cross over the 'border', the frontier point from Spain into Gibraltar; on the Spanish side were stern-faced armed Spanish police, on the other side stood an unarmed smiling British bobby ! Then motoring across, part of which, is the airport runway. Again I noticed the bustle, the smells, the noise, in comparison to the relative quiet of Algarve; once again that came as a bit of a shock. We eventually managed to find our hotel. It was in a good location and our room was pleasant enough. It was late afternoon and after some quality shopping, stocking up at Sainsburys, Marks & Spencers and storing our goods in the back of the van, we went out for dinner.
 
It was amazing the amount of different nationalities we saw walking about, each distinct in dress, Arabs from North Africa, black folk from other parts of the African continent in full ceremonial dress, Jews distinct in there black hats and ringlet-styled sideburns or wearing the skull cap, the Kippah. I loved the multi cultural mix and feel of it all, the fact that these people lived, worked side by side in the British protectorate. Of course, many Spaniards come to work in Gibraltar too.
The next day we visited the military part which was most interesting, reading of the important part that Gibraltar has played in history. Then Hub asked if I wanted to go see the 'Barbary Apes' again? I wanted to! As we came to the area where drivers were lined up, waiting to take visitors up the Rock, who should we see but Arthur! He had been our guide before and oddly enough he recognised us. I recalled how I had asked Arthur his nationality, he said he thought of himself as British but his English mother had given birth to him on board ship at sea, so he didn't quite know where he came from!
 
Before long we were seated behind him and off on our climb. The views are breathtaking and when we stood near the top it was wonderful to look out and see the coast of Africa. We bought bags of nuts and soon the Apes that live on the Rock, were congregating around us. I was okay but wasn't to keen when one decided to perch on my shoulder!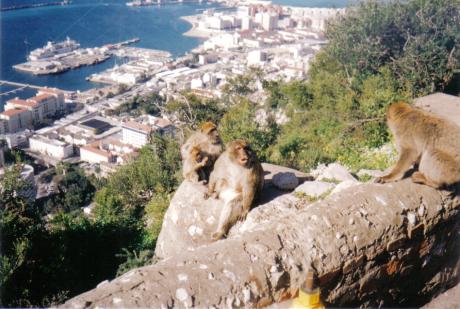 We also had a short tour inside the Rock in St Michael's cave and were told of how this was used during WW2. The very top of the Rock is out of bounds as it is still of military importance and strictly 'hush hush'!
In the bay far below, Lord Nelson had been brought there after his death at the Battle of Trafalgar in 1805, in which the French were defeated but one of their snipers had fired on and killed our most famous seaman. His body was preserved in a cask of brandy on board HMS Victory, before the long voyage back to England and a hero's funeral; some say, ironically, that it was French brandy!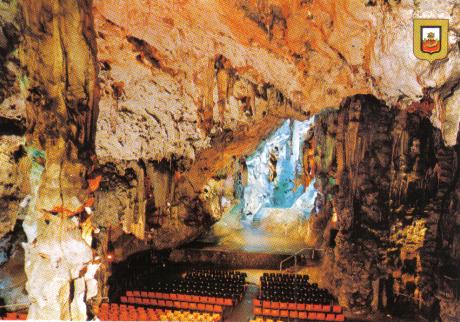 The next day was Sunday but there were still some shops open and we bought some more provisions, making the most of our last few hours there before the long journey back to Algarve. It had been a thoroughly enjoyable couple of days and like before, I had felt akin to the place; that it was a tiny piece of England.
We have been back to Gibraltar since then. The last time was on a more recent holiday, when we drove home to England from Algarve via Gibraltar and through the centre of Spain and with an older Jamie helping out at the wheel!