Homeward Bound
As we trundled along in the campervan, heading over the border into Spain, my head was full of misgivings. Yes, we were going back to England and to our family but as before, I was leaving a part of me behind. What were we going to do once we got back home? I glanced at Hub and although I felt upset at leaving Algarve behind, I noticed that he had a very relaxed look on his face; as if a weight had fallen from his shoulders. I knew then that he was glad to leave and I felt certain that once we got back to England, he would put the business up for sale.
I didn't know how I felt. I was longing to see my family, specially my pregnant daughter, yet I felt a tug for Portugal and its people. It's a place where I've always felt at home and I knew when I got back to England life would not be the same.
We were soon going through the border into Gibraltar and once more it made me smile at seeing the gun- toting, stern Spanish policeman on one side and a smiling British 'bobby' on the other side. We stayed at a centrally located hotel that we had booked for two nights. When I think back I remember the room vividly that we stayed in, with satellite television and I recall watching the television comedy series 'Are you being served'. I also remember the 'smells' that wafted in through the open windows, of spicy Arabic foods. I love the mix of peoples in Gibraltar and walking out to dinner seeing Arabs in flowing white robes, of black Africans in robes of vibrant colours, of Jewish people in their distinctive 'kippah' skull caps. Many Spaniards work on the Rock too.
We bought some goodies in the shops, food and drink to fill up the camper's fridge, but this time we decided to forego a visit up the Rock to see the Barbary Apes and so we didn't see our old taxi friend Arthur this time.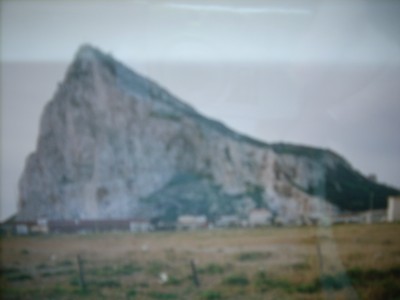 After our two day visit, we left the Rock and Hub drove the camper through, what we call 'No man's land', the kind of desolate, scrubland that sits between the Rock and the Costa del Sol coastline and then onto the E15.
Although it was very early spring, we noticed, on passing through Marbella and Malaga, that they were quite busy with holiday makers. As we approached Almunecar we saw the sign for the E902 which would take us inland.
On turning inland I noticed the bright sunlight bouncing off the high snow-capped peaks of the Sierra Nevada and found this quite a breath-taking sight! Hub drove the camper onwards until we reached the outskirts of Granada but all through that journey I kept glancing to my right, fascinated by those snowy peaks.

I recall that we pulled over and parked near to a roadside restaurant and treated ourselves to some lunch; from what I recall it was tortillas Espanha and large white coffees..

We were now driving on the E05 and fast approaching the region of La Mancha; Don Quixote country. Getting closer to Madrid Hub decided to pull into a petrol station and fill up, whilst I browsed in the attached supermarket buying a few sweets and some knick knack souvenirs for the children. The man in the supermarket wished us a safe journey and as I wandered outside into the park that surrounded the station I noticed a metallic statue and on closer inspection found it to be one of the famous 'Don Quixote' and Hub took a photo of me looking up at him.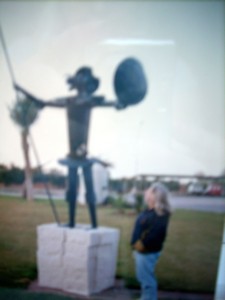 We didn't actually go into Madrid but from what I could make out this beautiful City seemed to be divided into two, with an older and also a more modern part, with houses springing up on the outskirts.
As we got underway again I snuggled down in my seat next to Hub with the map open on my knees. The light was starting to go a little and I felt a drowsiness coming over me.
"Hey look at this!"
My eyes shot open, "What?" I said, half asleep.
But I didn't need an answer for suddenly we were enveloped in mist which then became deeper and we found ourselves in thick fog.
"Great! Just what I need! We're in strange country and now lost in fog!" Hub sounded tetchy and a little alarmed.
We drove some distance with just our headlights showing up the road in front of us.

Then suddenly, from what seemed out of nowhere, some tail lights appeared in front of us. As our eyes focused we could just make out the rear end of a large truck.
"I'm going to stick with this bloke" said Hub, "He's bound to be heading for a town or city"
We seemed to drive for ages with only the dim lights of the truck in front of us and hoping that it would lead us to somewhere we could camp for the night. We couldn't see anything either side of the road as everything was shrouded in thick mist
.
I looked down at the map on my knees, perusing it with my magnifying glass and to my surprise realised, that if we kept going we would soon be approaching the town of Burgos. When I told Hub, an expression of relief passed over his face and his hands, at last, relaxed on the wheel. We knew Burgos and its catchment area.

Burgos had been the first Spanish city we had stayed in when we had left England to start our new life in Portugal. We had stayed at the El Cid hotel, close to the Cathedral and been kept awake most of the night by the chimes of the Cathedral clock. I had bought a small book there about the local hero El Cid. Now we were heading back to this once Castilian capital.

"I know, let's go find the Picon Del Conde motel. What do you think Elle?
We could have a room and bath and relax for the night. Refresh ourselves?"
I nodded in agreement. I had noticed as we had moved into the centre of Spain how it had become colder; but then I had to remember it was still only early February. Central and northern Spain did become very cold during the early months of the year and I recalled our very first trip to Portugal, when we had seen black bulls standing in fields covered in frost; how surprised we had been at this sight!
I shivered a little and the thought of a hot bath and a cosy bed for the night suddenly became very appealing to me.

As we drove through Burgos it was good to be out of the fog and into the bright lights of the City. The Picon Del Conde motel is near the N1 at Monasterio De Rodilla and very soon we were pulling into the parking area outside the motel. Being so early in the year we had no problems in booking a room for the night. So after a light meal and hot baths we were soon tucked up in bed, exhausted from our long drive from Gibraltar. It was a twin-bedded room and because it felt quite cold, I craftily chose the bed closest to the radiators..
We slept in late the next morning and so missed breakfast. As I got up to make my way to the bathroom I felt a cold rush of air from the slightly open window. Going over to close it, I looked out and was astonished to see that white covered the surrounding landscape; it had snowed during the night and a thick blanket of snow was covering everything in sight!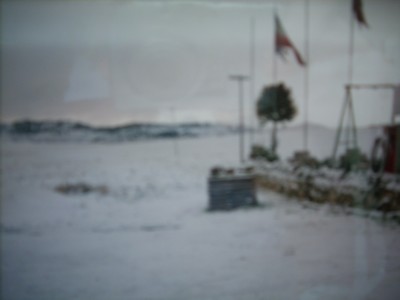 On going down to the bar area, we asked the owner (he didn't speak English, so I used French) where we could buy fresh bread. Once again he said he would fetch some for us as he was going into town; he offered to make us sandwiches.
Before we left the Picon Del Conde, he gave us a bag which contained two large baguettes filled with the local cured ham. The people who run this motel are very nice and I would recommend it as a place to stopover. The young owner's elderly father was helping out in the motel and before we took our leave, he pressed a tiny tissue-wrapped object into my hand. When I unwrapped it, I found a tiny jar made out of cork. The younger man said his father was very good at fashioning objects out of cork and he wanted me to have it as a gift. I still have that little cork jar.

The main road was clear of snow and so we made good progress and were soon entering and passing through the Pyrenees.
As we came into France Hub decided to avoid the route towards Bordeaux; this was always very busy. Instead we drove through the countryside and then picked up the N10 at Angouleme, drove towards Poitiers and onto Tours. From Tours we joined the N138, the last stretch of the motorway into Le Mans.
Hub started fidgeting in his seat and he looked tired. Then he turned to me saying, "I wonder if the Green7 hotel is open?"