Strange Happenings
As we travelled into town in our old second jalopy, I stared down at the shopping list that her ladyship had put into my hands. I was expecting to see something like smoked salmon, fillet steak and other luscious goodies but instead I saw smoked Haddock! 8 pieces, a few boxes of large free range eggs, some French sticks and more butter.
I say more butter as his lordship had butter on absolutely everything!
So from my reckoning, the Saturday lunch had to be poached Haddock with eggs. Don't know why but I found this a bit strange. When my father was alive, my childhood memories were of him having this meal for Sunday breakfast, or sometimes my mother would make it for supper. It seemed odd to me that his lordship was offering this as a lunch for his guests. But I couldn't question it. My job was simply to cook it then serve it in the garden.
 
Saturday morning Hub and I, helped by Jamie, arranged two outdoor tables, sheltered by large sun parasols, in the small rose garden. It was a sweltering hot day and I thought the meal they had chosen was quite unsuitable in all that heat.
We laid up the tables with fresh tablecloths and cutlery and I picked a few blooms to put in small vases for centre pieces. It all looked very nice but by midday the heat was bearing down and I noticed some bees around the rose garden and more alarming, lots of tiny black flies!
Sir's guests arrived and we made sure the wine was in the ice buckets and a tray of glasses was set out in the main large sitting room, for their pre-lunch drinks.
I was in the kitchen preparing the Haddock and getting the poacher ready for the eggs. I had to see when they were ready to go out into the garden, as timing was all important for this meal. Hub was working in the garden with Jamie, so I was alone and once more feeling nervy.
I poached the Haddock in milk until it was just soft and put the eggs on to cook. Id taken the baskets filled with chunks of French bread to the tables but was leaving the butter in the fridge till the last moment. Id set out the trays to carry the food, then, when the guests were all seated, I called to Hub to give me a hand.
All I can say is we looked a very peculiar lot as we carried out the food. I was in long shorts and sun top, Hub and Jamie were in scruffy rolled up trousers, tee shirts and boots! There were the six guests and his lord & ladyships sitting there all smiles and in their summer finery as the three of us went round handing out plates of Haddock with poached eggs, on top of which I had placed knobs of butter, which was starting to melt under the fierce heat. To my horror as we placed the dishes in front of each person, tiny black flies started to descend and 'float' on the surface of the, by now, runny oily butter!
Hub, Jamie and I made a hasty retreat back into the kitchen and sat there having cups of tea, with me worried about the lunch and what the guests, one of whom was a judge, thought of the meal. I moaned at Hub saying it was a disaster and fancy them wanting such a meal on such a hot day. I was full of woe.
After about an hour, we went to clear the plates to make way for a simple pudding of, from what I recall, was strawberries and cream. To my amazement, the plates were empty, cleared of every morsel of food and they were all sitting back chatting and laughing.
"Thank-you Ellie" her ladyship smiled "That was very good indeed"
Everyone nodded and smiled. I returned a weak smile but as I saw the bees and black insects flying around, I almost broke into giggles. Once again I saw the comical side of it all, with the guests sitting there dressed very smartly, yet Hub, Jamie and I all looking casual and quite scruffy, waiting on them and with flies and insects buzzing around their heads, I was on the verge of laughing out loud.
Taking the dirty dishes back to the kitchen, I collapsed onto a chair and went into hysterics. Hub stared at me, asking what was so funny? But I couldn't speak, howling with laughter at the 'silliness' of it all and at that point I started to hiccup loudly!
I remember we had the next day off as the family went out to the Yacht club for lunch. The weather was good so, with all the beds made and the Manor tidy, I decided to work on our own little garden but whilst I was digging my trowel hit a large stone and my wrist twisted quite badly. In agony, Hub put a cold bandage on it for me and I simply relaxed in a deckchair, my intended work over for the day.
I must have been dozing when I heard a voice, calling for me and Hub and as I sat up, who should I see coming round the side of the cottage but her ladyship. I thought they were out for the day but obviously not, as she went on to ask if we could go and give them a hand. I couldn't believe it. There we were having a couple of hours break and now being asked to work again.
Following Madam round to the front of the Manor, she led the way over to the small lake behind the stables. We were astonished to see all the family, including Sir wading about in the water with fishing nets. Sir asked Hub if he could put on some waders, which were in the summerhouse and lend a hand to skim the pond weed on the lake's surface. Hub was rather annoyed but said okay, only not to expect myself to do it as Id injured my wrist.
"Oh that's fine but perhaps Ellie could go and get us some iced drinks" her ladyship smiled at me "Ill come and give you a hand"
In the kitchen I laid out enough glasses for the family; the lady of the house found some Lemon Barley water and proceeded to make up a large jug of iced Lemon. Then she went outside again, leaving me to fill the glasses using one hand. I was obviously not going to get anymore help, so I carefully shifted the tray of drinks onto one hand and supported it with my injured one. The tray was heavy and as I carefully picked my way over to the lakeside, Hub, who was now wading about in the weed-filled water, looked up and seeing me struggling hastily left the water and hurried to rescue the tray from me; just in time as it happens, as I was in great danger of tripping over and spilling the lot of it!
Once again, we sat exhausted in the cottage that night. Jamie had gone to bed. We were both very fed up. Hub was really grumpy. He had spent most of his life in the Fire Service and quite a few years as an ADO officer in charge of a section in the City of London, a position he had worked hard to attain, yet here he was doing menial tasks. He also resented, hated the fact, that after my bringing up 3 children, I was cooking for and waiting on people.
When we thought of our business in Algarve it seemed so wrong that we were here, in this strange environment, when we should have been out there, enjoying the life that we had got so used to. However, there was one bit of good news. Sir had told us that they would all be in London the following weekend, so we would have some real time off. But then he suddenly came out with a statement that had Hub in almost panic!
First of all he asked if the Rolls was in good order and Hub said that it was running perfectly.
"Jolly good show. We must have it working well and you'll have to give it an extra polish for the wedding"
Hub and I stared at him.
"Wedding sir?" Hub said
"Yes, you know, the one we're hiring out the Rolls for; daughter of a friend of the family. Didn't you know?"
"No sir. You didn't mention it"
"Oh I must have forgot. You'll have to wear your best bib and tucker and the hat"
Once more Hub stared at him.
"I'm sorry sir. Do you mean I'm hired out as well?"
"Course. The two of you go together"
"When is this wedding sir?"
"Two weeks from next Saturday"
Sitting back in the cottage, Hub couldn't believe what he'd been told. I recall him swearing about it, saying he felt like a horse hired out for work; he was fuming and what made it worse, Sir hadn't even given us any warning.
The following weekend seemed pure luxury; the whole family were away. I'd called Jeff and he invited us to his place for the weekend; he'd invited Lesley and Ray along too, so at long last we could all meet up as a family once more.
I remember on the Saturday night, we all went along to a favourite pub of ours, in the village of Canewdon and enjoyed a really good family time together. The next day, we went for a drive to Leigh- on -Sea, where all the beach fish restaurants are and once again had a great time. But as I strolled the beach and felt the hot sun, I was once again transported back to Algarve and my melancholy swept over me once more.
Going back to the Manor that Sunday night, I had felt sad at saying goodbye to Lesley and Jeff because I had no idea when we could meet up again.
Our life at the Manor was a hard one with all the family there and the work seemed non-stop. The day of the wedding arrived and Hub was quite nervous. He looked very smart in his uniform and cap but said he felt an idiot! I must admit our life was rather strange; it was like events came upon us and we had no say in it.
Hub was to take the bride and groom to the church, then afterwards deliver them to the reception hall in town and that was it. Jamie and I went along to have a peek at the wedding and to chat to Hub whilst the ceremony was going on, then we went into town where Hub was to pick us up and we would buy fish and chips for dinner. There was something slightly decadent in taking home fish and chips in the back of a Rolls Royce!
The wedding was a very posh affair but when we met up with Hub later and we climbed into the Rolls, on asking how it went, Hub burst out laughing. Then went on to tell us that after the wedding and on taking the bride and groom to the reception, the bride had taken off her tiara and slung it onto the seat next to her, kicked off her shoes, moaning that her feet ached and said loud and clear,
"Thank God that's all over!"
Then pulled a pack of cigarettes out of her new husbands pocket and lit up!
We all had a good laugh at that. It had seemed such a grand affair but that was all shattered at this, quite rough, image of the bride!

The older girl had returned to her flat in London and I wasn't sorry to see her go. She was never very friendly towards us and it was one less to wait on. By the end of the following week the school holidays would be over; Jamie would be off to school and the younger girl back to boarding school. Then a few days later her ladyship would be motoring back to Spain once more. I looked forward to that time with relish.
Meanwhile, we did get a mid -week day off when Sir and his lady took the youngest girl out for the day to visit her grandmother. I'd had my weekly chat with Maria and she gave me her report of the happenings at the workshops and of life in Lagoa. It all seemed so far away and though I enjoyed our chats, with Maria always cheering me and making me laugh, when it ended I felt deflated and often miserable. I thought of our carefree lifestyle in Algarve, of all our friends there, the beautiful weather, the great beaches and glorious coastline. I would picture us back at the workshops, in the wonderful outdoors surrounded by the orange and lemon groves with a hot blue sky overhead. The vision of being back there kept me going over those difficult months.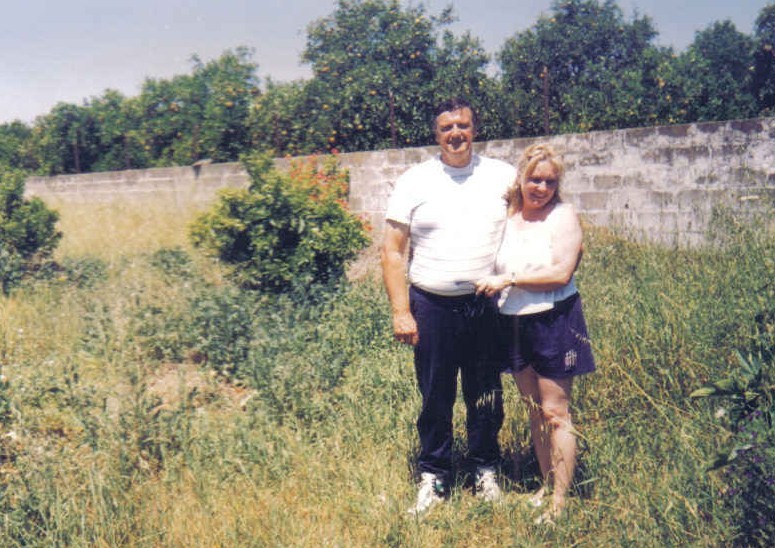 Hub and me standing outside workshops in the lemon/orange groves
I felt quite lonely at the Manor; to me it was a lonely place, neither warm nor welcoming. Our cottage, although small had a similar feel. I did everything to make it homely but it never felt like home. I was still experiencing the 'something in the dark' at the cottage; I never had a full nights sleep in that place and always woke in the middle of the night with the feeling of an invisible, yet tangible presence. Hub never woke at all and although admitting there was something spooky about the place, he slept soundly. But Jamie was experiencing the same in the annexe; of 'something' watching him and he never liked the place.

I can't be exact but I'm pretty sure it was that day when I experienced a rather strange happening. Being alone at the Manor, the housework finished, Jane having gone home and Hub and Jamie gone off out to the cinema as I recall, I decided to have a practise on the grand piano. Music like gardening, has always been a balm to my nerves and I've always found it wonderful therapy; a total relaxation. I had found a couple of my old music books and so I sat down ready to play and enjoy my couple of hours of freedom.
I was absorbed in the music and in my 'fanciful' imagination was 'giving a concert '! (it was quite easy to do that in those sumptuous surroundings). Suddenly, there was someone standing behind me; standing so close I thought I could hear breathing. My hands froze on the keyboard and I was afraid to turn around, expecting any minute for a hand to touch my shoulder. My heart pumped quicker and I slowly turned. There was no one. I looked across at the door which moved slightly almost closing. I had left it open; wide open. I always did. When I was alone in the Manor, I left all doors open. It was like having an escape route but what from I don't know.
I went through the doorway and into the large hall. There was nothing. All was quiet, with an almost deathly silence. But there was that sense of someone watching; I always felt that in that huge lonely house. I thought of the young girl, of the supposed 'grey shape' she had seen going around the upper staircase; of the older girl saying she'd sometimes seen a figure and I had goosebumps.
Looking all around at the old oak furniture in the hallway; the suit of armour standing guard by the massive oak front door, I could have been in another time and felt alone in the world. I tried to calm myself, laughing at my own silliness, thinking it was all pure imagination. Going back to the piano, determined to continue playing but I couldn't concentrate. A few minutes later and it was back. Someone, something was in that room with me..