A New Life 4: Minding Our Own Business!
In a few short weeks, we would be taking over the business fully. That meant, we would be 'going it alone' and without Bill's guidance, we were both feeling a bit nervous and edgy at the prospect. But I had something else to face, which to me was equally nerve racking and that was having Sunday tea on Joan and Bill's boat! It had been on my mind all week. I'm not a good sailor and though the boat would be moored I still didn't welcome the thought of eating on a boat that would be bobbing up and down!
Sunday afternoon came around and we arrived at Vilamoura' s harbour just before 3.30pm. I was feeling nervy but when I saw the marina filled with boats of every size and so many colours before us, I was quite overwhelmed. We knew Bill's was a sailing boat, so we strained our eyes towards those with sails in the centre and soon we saw him; long arms waving in the air, then beckoning us towards him. He was there; bang in the middle of this colourful flotilla!
My heart sank a little then as I thought, "Yes. You would be right in the middle of things!" and I knew I would have to negotiate my way along the floating "bobbing" walkways to reach Joan and Bill. But hanging onto the rope handrails I gingerly made my way along behind Hub and Jamie and at last reached their boat without any mishap. We had a delicious 'English' tea of sandwiches and Joan's lovely homemade cake, all laid out 'picnic style' on deck. Conversation turned to travelling and they told us their plans of seeing different parts of the world, after they'd handed over the business to us.
Hub and I were astonished on hearing this. We thought, after all the years of running the business they would want to settle down, relax and enjoy their beautiful villa and gardens. But no, this was the last thing on their mind. Bill explained that they had already done a bit of sailing but so far only around Algarve coastline and the curve of coast that is called 'the Spanish Algarve'. That had taken them to Cadiz, Gibraltar and along the Costa del Sol. But now they had much more adventurous plans. In a months time, they would begin with a trip to the 'Canaries' and after a few weeks there, they would sail to the 'Azores' (they had flown there once and fell in love with Madeira). After that, they were determined to go on to the Caribbean and tour the different islands.
Despite my early fears of being on the boat I found myself very relaxed in their company. They were wonderful hosts and were fast becoming very good friends and as we said our goodbyes, I felt a little sad that they would soon be leaving and said as much to Joan. She kissed me and said "Don't be. Enjoy yourselves. We'll be back for visits. So you haven't seen the last of us yet!"
It was about this time that my good friend Maria came into our lives. She was Carlos' wife and I met her when he asked us round to have drinks with them one Saturday evening. A nice little family, with their two sons Miguel 10 and Ricardo 6,they lived quite close to Lagoa's main church, in a small but cosy, typically Portuguese house. Meeting them was to change our lives. We all became really good friends and with the children around, it helped to lessen the pain of missing our own family back in UK. We became regular visitors to each other's homes and although they were quite a bit younger, Miguel and Ricardo made instant friends with Jamie. Their friendship also helped to ease the period of those first few days when Bill and Joan finally sailed away from Algarve.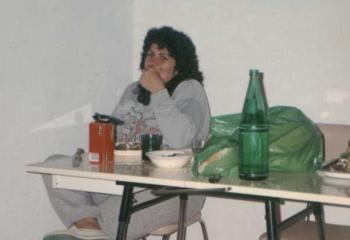 Before Bill left, he made sure we were introduced to old customers as well as potential new ones. He also left us a very full order book and we were very busy from the word go!
The business didn't only cover orders for furniture (house and garden) and customised fitted kitchens (it wasn't called "Fabricamos Cozinhas" makers of fine kitchens, for nothing!) but we also covered repair work, from fixing garden gates, making new shelves, to putting new knobs and hinges on cupboards! (this side of it brought much needed cash when orders were down). Bill and the boys had made "show pieces".. display kitchens that on show at various places, including Lagoa. I think we only 'advertised' in local papers once or twice; most of our business came by 'word of mouth'; satisfied customers passing our name to friends and the business started to flourish.
Many things took me by surprise when I was in our apartment. I was standing at the large sink on our balcony one afternoon doing some hand washing, when I heard a plane. It seemed very close and noisy and suddenly it was there! Dipping so low, that it almost clipped the rooftops and I actually saw the pilot, as I stood there, my arms up to the elbows in soapsuds, completely started by his sudden appearance. Then he was gone. Out over the fields, whizzing around but then he banked and made his way back, to fly 'through' the avenue of rooftops once more. On asking a local man about this. He said "Oh. Its a German resident who enjoys flying. But after a while, we got used to seeing 'The Red Baron' (as we christened him!). He soon became a very familiar sight and sound!
'Morning sounds' were another event we had to get used to in Lagoa. One morning it would be the 'bin men' waking us. This was usually early, around 6 am and there was no chance of getting back to sleep once they started to hoist the large refuse bins in the air and then very noisily lower them back to the ground!
Other mornings, it would be market day. Again this would have us awake very early as vans and cars made there way to Lagoa's indoor market, which was only a few streets away from our home.
If I was at home during the mornings I would also hear the bakers van. He would usually sound his hooter around 10 in the morning and though I never went down to purchase myself, I would look out to see the Lagoan ladies hurry from the small stone houses below me, often with brightly coloured 'Pao' (bread) bags swinging from their fingers, in order to buy the freshly baked bread and rolls. One day, the hooter sounded but it came out as a dying squeaky sound (it had collapsed!), so the baker ended up crying out 'Pao' instead!
Another regular street sound came from a rather elderly gentleman who cycled round the local streets on a rusting squeaking bicycle. When he got to the beginning of our road, he would get off the bike and pushing it along, would cry out the word 'Bwen'! ..We gathered that the 'Bwen' was the grass like bunches he had tied to his crossbar. I never found out until a few years later, whilst watching an African cookery programme, that 'Bwen' was a herby vegetable usually added to stew or casseroles. Wished Id known it then! I could have bought some!
When we finished work for the day we would drive back home to Lagoa via the country route from Algoz. This journey took a little longer than by the 125 but it was a more pleasant route through some short winding lanes and on very hot days it gave us time to unwind and relax for the evening.
One evening, as we approached the outskirts of Lagoa, we found that the traffic had come to a complete halt. After about 15 minutes, the cars started to move a little but at a snail's pace. I heard a mans voice cry out and as I leaned out of the van I saw an elderly man carrying a long shepherd's crook, which he was waving towards a herd of goats. I say a herd but they weren't in a herd but scattered at various intervals across the busy road, running and leaping in front of vehicles. The man cried out to them in vain as they moved towards the front gardens of local homes, the largest of these creatures standing on hind legs, with necks craning upwards as they chewed on leaf and flower alike. Goats are reputed to eat 'anything'! But I was still shocked to see them chewing on beautiful rose flowers! I also noticed that a few of the animals were limping, which on reflection wasn't surprising, considering the way they ran around, narrowly escaping death from on coming vehicles!
I remember this first sighting of the goatherd and his flock and that it took us at least half an hour to get to our apartment. A long time, considering it was situated on the edge of town! But I had a secret admiration for this old gentleman. For despite his regular weekly battle against all the odds (not least, the hooting and shouting he had to put up with from impatient drivers) he continued to pursue his right to take his animals (his livelihood) through the town and out to the countryside near to Carvoeiro, where they could graze. This evening event in Lagoa slowed everything to walking pace. He was making a statement of "I was here before you and your motor cars. This is my country too" ..and I loved it!
It was Bill's last day at the workshops and the official 'take over day' for Hub. Carlos and the boys were arranging a special lunch for us all and that included Joan and Maria.
We arrived early and was surprised at seeing Bill standing by a boat that had been hoisted up onto a stand. Carlos was examining the vessel, his expert hands running over its varnished exterior.
"You haven't gone and bought another one have you Bill?"
Hub joked.
We went to join them and Bill then explained the boat belonged to an American friend of his. It was only the size of a rowing boat but had a small outboard motor. Bill said his friend used it for some sea fishing but had recently gone out at night to fish (which was illegal then) and had 'run aground' on some rocks. Carlos then pointed out a gaping hole which would have been below the water line. The American wanted the hole fixed and the boat re-varnished. This was our very first job; an unusual one. One we would be responsible for!
Although we had a lovely meal and lots of laughs, it was tinged with sadness for everyone. Bill and Joan were such a great couple and had become firm friends. Bill was also very popular as the 'boss' and with the other members on the site. It would be a hard task for Hub 'filling his shoes' after so many years of Bill being in charge. But he and Joan had made things easy for us and I was sure we would make a good go of it.
It was a couple of weeks later. Bill and Joan had departed on their boat; promising to send postcards from their various 'ports of call'.
Carlos and the boys had mended and re-furbished the American's boat and he was well-pleased by the work, taking several of our business cards with him and promising to 'spread the word' of our business.
The boys had started another order for half a dozen sun beds and couple of small patio stools. We dropped in one lunch hour to see how they were progressing. Three sun beds were complete and they looked very nice. They'd been stained with a dark oak finish and were now dry and ready to be delivered.
Hub stood looking at them, his head on one side and a quizzical look on his face. Then said,
"Elle. Sit on one". I did so. Then,
"Now lie back on it". Did so again. My arms didn't rest on the bed but dropped to the ground and my feet were almost over the end!
"They're too bloody small" Hub erupted. "Too narrow and too short!"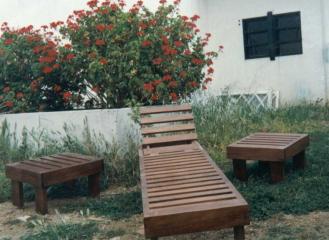 He called out to Carlos, asking who had taken the order and details for the sun beds. When Carlos looked at the book he told Hub it had been John, the young English carpenter, who'd recently returned to England. Then Carlos called Joao and he confirmed it was John.
Then Hub 'lost it!
"Didn't either of you notice the size as you were making them?"
He was furious at the waste of not only material but of good working time. Joao scuffed at the soil with his shoe, his eyes to the ground.
"I think I know what happen "he said quietly.
We listened as he went on to say that 'John' had trouble with drink and he must have had 'one too many' when he'd worked out the measurements. Apparently, before we had arrived, he'd also turned his jeep over one day while 'under the influence' and had a very lucky escape, suffering only minor injuries!
There was nothing to be done except for the lads to start all over again with the order. The 'too small sun beds' remained at the workshops, used only by the lads during their lunch breaks and occasionally myself. When I got the time!
We knew, just from this small experience ,that running the business wasn't going to be easy and it wouldn't all be 'plain sailing'!