Roadworthy
When on holiday, I love to walk around Lagoa alone. It is a reasonably quiet town; well quiet in comparison to when we lived there. So I always find this a very pleasant experience and being alone I can concentrate, go where I like, stop when I like and if I'm lucky, will find someone to chat to amongst the locals.
It was on my recent holiday that I did this and I concentrated particularly on the area of streets that run below and behind our old apartment. The back road is one that I used to look down on when hanging out the washing on the roof terrace; so this is where I walked first. It is all so familiar to me and although there are still a few rundown places its quite a neat little street. But there was one house, at the farthest end, which always stood out from the rest. A handsome Portuguese house, it belonged to a couple we did business with and who became good friends. They had refurbished it, adding a new roof and repairs to walls that were more than a foot thick and where Jamie helped out with paint jobs on school holidays.
We also had a hand in some of the internal work carried out. Our carpenter lads put in new floorboards, made new bedroom furniture, also made and installed a modern fitted kitchen. It was a beautiful home and so cool in the hot summer weather, with huge wooden ceiling fans.
There was one interesting feature bestowed by nature and that was a tall Fig tree that grew out of a front wall facing the road. The roots must have been well-established in the house foundations and it produced luscious fruit which friend Amy would often share with us.
However this recent holiday, as I approached the house it looked different and as I drew closer I saw that it was boarded-up. The house name plate had gone and the whole façade had a dusty, deserted look and the Fig tree was no more.
On previous holidays I had ventured to knock there but had never been lucky enough to find anyone at home and now I was beginning to wonder just how long they had been gone? Anyway, it did seem that they had now gone for good and as I passed by I recalled the happy hours Hub, Jamie and I had spent in that lovely house with our English friends, whether taking tea, coffee or something a little stronger and the laughs, hopes, dreams we had shared.
 
After my little tour I diverted and went along the main road of Rua Mauzinho Albequerque, walking past the Taberna 31 restaurant that was once owned by my friend Luis and around the back street that brings you out opposite to the Bombeiros (Fire) station. Hub and I had looked in on the station many a time whilst in residence; he forever interested in the Fire Service. Three years ago, whilst on holiday and when the fierce fires were raging in Monchique, we had called in to leave a small donation and had a most interesting chat with the young woman sub-officer there. We spent some time talking and we came away with some leaflets and a Lagoan Bombeiros flag that she gave us for a souvenir.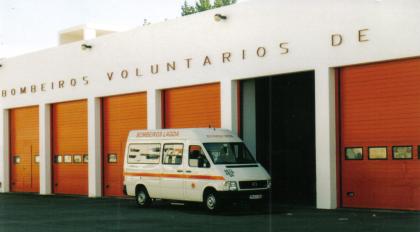 As I went along this short road I heard men's voices, Portuguese raised voices and looking over I saw 2 men in overalls in the forecourt of a garage fixing a car. My mind drifted back and another old friend came to mind. Zac was a Portuguese mechanic in Lagoa and he became a friend because of our old BMW car. We loved that car, having travelled out from England in it, we had held onto it as long as possible during our first few months of residency. But having to do so much driving around for the carpentry business the poor car was beginning to take a real hammering and as we often used the back roads to go to the workshops it was the exhaust that took most of the battering with the rough road surfaces and often the very deep pits in the road.
Carlos put us onto Zac and he always came up trumps in fixing it. But it couldn't last. One day, after a particularly nasty bump in the road, we took it round to Zac and as he looked at the 'knackered' exhaust, he shook his head. It was too 'dodgy' to try to fix it again he said and so it was the end of the road, that was that. Not long after this, our beloved BMW was sold and the little grey Renault van took its place, which of course was much more suitable for our business needs.
I seem to remember that Zac gave up on the garage business and if any repairs were needed for the van, we would take it to another garage situated nearby the old Lagoa cinema. I thought again of the time that Jamie and I had sat in the van as Hub had gone over to see the garage owner about new tyres and as he had done so, a large shape had flown skimming his head and into the garage and settled on a perch. It had turned out to be a large brown Eagle and was the garage owner's pet !
After my walk that day, I made my way to the bus station to wait for my ride back to Carvoeiro. I sat looking across to the busy 125 road, at the endless flow of traffic and as I stared a camper van drove past and was held up at the lights. It looked a little familiar, it was very similar to the Bedford camper we had taken on our return trip to Portugal, but obviously was a newer edition.
I had to wait a while for the bus and my mind travelled back to that time and our return journey. A time which was full of excitement. We had been back in UK about 9 months or more and now we were all set to make our way back to Algarve and hopefully take up the reins again with our carpentry business. The camper was a bargain buy, modern with toilet and shower and could sleep 5. We had fitted it out with new flooring, curtains, cushions, making it cosy and comfortable for our overland trip to Algarve.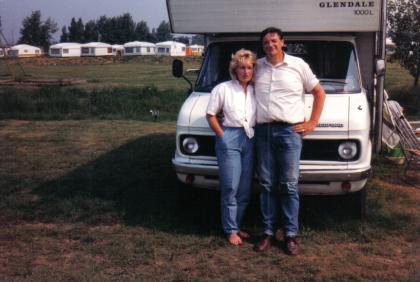 Ellie, Hub & the campervan
All had gone well. We had stayed a few days in north France at St Valery sur Somme in Picardie. There we had met and made friends with our old French 'ami' Raymond, who lived in a large and very pretty house which he and his wife Maude had named 'Sunny Cottage'! They were real 'Anglophiles', and Raymond spoke excellent English. That was a short but most enjoyable time and we relished Ray's warm and welcoming French hospitality and were sorry to leave there! But we had a long journey ahead of us.
 
Our next stop along the way was to be Chartres. I had a longing to see its wonderful Romanesque Cathedral. One that art historian, Emile Male, had described as 'The mind of the Middle Ages manifest!' It is an awesome building and contains over 150 stained glass windows. During world war 2, these windows were dismantled piece by piece and kept safely, then reinstated in peacetime.
After a long rest we had decided to travel during the night and as we drove the road towards Le Mans, Hub was just saying how well the van was doing (isn't that a temptation to fate?) when there, on the lonely dark road, the engine started to splutter. Then suddenly all was okay and smooth going. Another 10 minutes and once again 'spluttering' and there was a slight smokey smell. It continued like this on and off and seeing a petrol station ahead, Hub decided to pull in to investigate!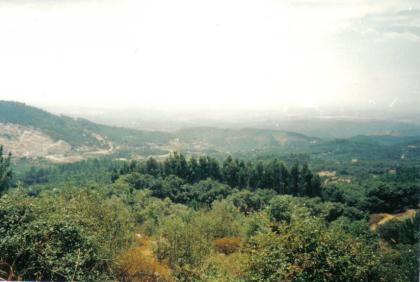 Monchique hills
After trying different things and with no good result, Hub went in to see the manager of the station. He came over to have a look. This man was immaculate! He wore clean white shirt, a silk cravat and his hands looked like they'd never seen grease in their entire life!
He climbed in behind the wheel and tried to start the motor and failed. He looked at the engine, shook his head then said he would telephone for a mechanic. We sat and waited. Half an hour ticked by. It was getting late. We were stranded with nowhere to camp.
A breakdown truck arrived and we saw 3 figures emerge, an older man with 2 youths.
One of the youths got in behind the wheel and kept revving the engine and every now and then he shouted ' Bete'! (beast) at the van! But nothing happened. He got out and the other young man came over to try. As he approached and under the glare of yellow light we could see that this man was quite disabled. He had a twisted spine giving him the appearance of a humped shoulder. He walked with slight limp. Climbing up into the van, he also began to rev the engine. The older man came over and spoke to him but the young man answered with noises no words, nods and hand signals…..he was deaf and couldn't speak. Hub and I looked at each other. We had no prejudice against the young chap but we were starting to become very dubious as to whether we would get our van fixed and get back on the road.
There was a conference amongst the 3 men. Then the older man spoke to me in French. He said we needed a couple of spare parts for the engine and that it couldn't be done tonight. I told him we were worried as to where we could spend the night?
Then he took us completely by surprise. He would tow us back to his work yard in Chartres and we could spend the night there. We had no choice. The truck towed us, in the usual undignified manner, back to the yard. There we were shown a washroom and toilet for our use. The men bade us a 'Bonne nuit' (goodnight) and left, locking us in the yard for the night!
As you can imagine, it was all rather spooky and surreal. The glaring overhead light was left on and I remember that we felt very cold. Neither Hub nor myself slept a wink. I lay awake worried, thinking 'What if a fire breaks out?'..we were locked in!
As usual Jamie slept soundly (remember? This is the boy who slept through a strong earth tremor in Algarve!)
However, the French mechanics were as good as their word. The first thing next morning, they were there and soon had the van fixed and working. The bill was surprisingly low (compared to the UK) and they didn't charge for our stay in their yard.
A strange night had turned into a nice day and we had met with kindness. As we left to resume our journey to Portugal our French mechanic friends waved us off with a smile and 'Bon Voyage'!