Family Fortunes
We drove out to Julie's place on the outskirts of Alvor. We had some trouble finding it but after asking along the way we eventually turned up at their villa.
It was in a beautiful spot and as Julie showed me around the bare gardens at the back I was amazed at the view they had. The garden was slightly elevated and you could see right across to the Alvor Estuary; wonderful. I told Julie how lucky she was to have that unbroken view and she replied saying she hoped that nothing would be built there to spoil it!
 
As I walked around and made notes John chatted to Hub about the indoor work. To save money they had bought ready-made doors but Hub said that Carlos, being the superb carpenter he was, could add his own design and with some nice door furnishings they would look very good.
Julie wanted a herb garden by the back door and as we talked I recalled the herb bed Id had by the back door of Len and Janet's villa; I felt very nostalgic thinking on that and sad at the same time with Len now passed away.
During my time of designing and working on Julie's garden, Jamie came along a few times to lend a hand.
One day he went off to meet up with some of his old college friends; they were going on to visit his Portuguese tutor who lived up by Silves Castle and close to the cathedral.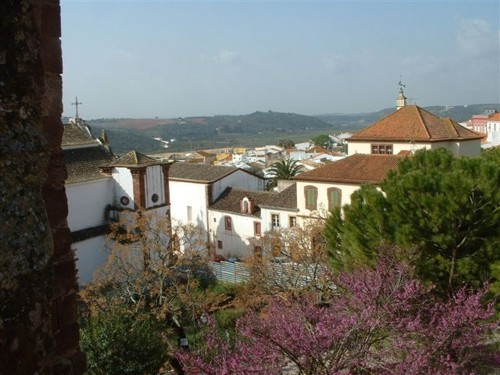 Cathedral from the castle battlements
When he came home that evening I asked if he missed living in Algarve. He said he missed the sunny, warm climate and some of his Portuguese mates but he was happy to be living back in the UK. Always an academic from his early years he enjoyed the libraries, theatre, museums that England had to offer and that he was happy to be back there.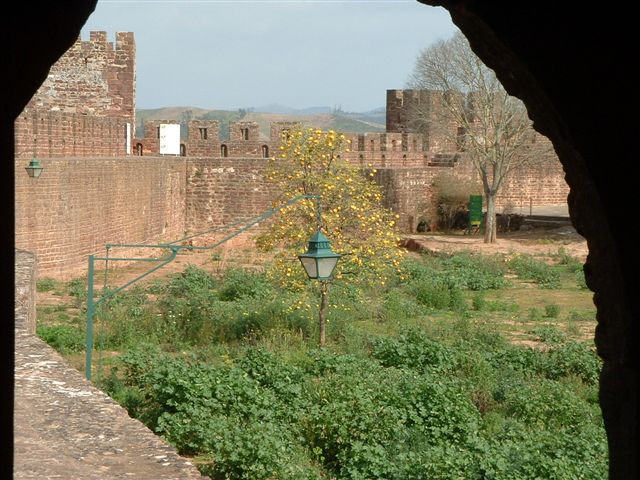 Silves castle through archway
All too soon Jamie's holidays were over and he was flying back to the UK. I pondered a lot on his words to me and felt slightly worried. If he had no intention of coming back to live in Algarve, we would only see him at holiday times. Could Hub and I really settle back here and be content with all our family back in the UK?
 
The weeks passed by and we were into November. The nights were starting to cool, so now, in the evenings, we lit the wood burning stove and sat cosily by it with the TV murmuring in the background.
It was on such a night as I sat watching a programme with Hub dozing on the sofa that the phone suddenly rang in the bedroom. Hub woke with a start saying "Who the hells that this time of night?"; it was late and nearly our bedtime. I went to answer it; on the other end was our daughter Lesley.
"Hi Mum!" her voice sounded bubbly so I immediately relaxed. "Are you sitting down?"
I said that I was sitting on the bed.
"How do you fancy being a Nan?"
After a few seconds I found my voice.
"Is that true, you're expecting?"
Lesley laughed and I heard her talking to Ray in the background.
I told her it was lovely news but how did she feel about it? She said they were very happy. As I asked her that question, I remembered when I'd become pregnant with Jamie after a gap of about 6 years. My own Mother had asked the same question 'How did I feel about it?'
I had told my Mother that we were happy about it and here was Lesley telling us the same! The only thing that mattered was they were happy.
But I also thought how young we were to be grandparents! Again my mother-in-law's voice came to me. When I told her I was pregnant with my first child, she had said 'jokingly' that she was too young to be a grandmother; like me, she had been in her mid 40s.
Lesley said apart from a little morning sickness she was fine. We talked for a while and she told me about some names they had thought of : Sancho if it was a boy and Olivia if it was a girl; then I went back to Hub who was now wide awake.
"I guess that was Lesley, as you don't call the boys darling" he said smiling.
I replied "Yeah, you're right…….granddad!" and I laughed out loud.
"You're joking?" he blurted out
I shook my head, saying it was true.
"But I'm too young!" then winked at me.
When we went to bed that night I found myself unable to sleep. The news from Lesley had caught me unawares and I found myself wanting to be with her, to be close; I felt that she needed me. But at the same time I felt a thrill at the thought of being a grandmother; of another little person coming into our family.
 
A day or two later, I remember that we went into Silves to have some lunch at a pastelaria within walking distance of the riverside. Afterwards we walked back to the river and sat on a bench shaded by the trees a little way along from the old Roman bridge; there we talked over Lesley's news and as we did so, found ourselves getting quite excited about it. During our talk Lesley told me that the baby was due towards the end of May / beginning of June; a lovely time for a baby as all the summer months lay ahead.
Of course the first person I told was Maria and she was as excited as me! She spoke of them visiting us and of how she would love to see the new baby. As she chatted on I found a little voice inside me saying this wouldn't happen; suddenly I wanted to be with my family and I found it very difficult to concentrate on my garden work.
However during these times of feeling a little homesick my great friendship with Maria gave me strong support. Whenever we met we would have lots of chat and always with some laughter.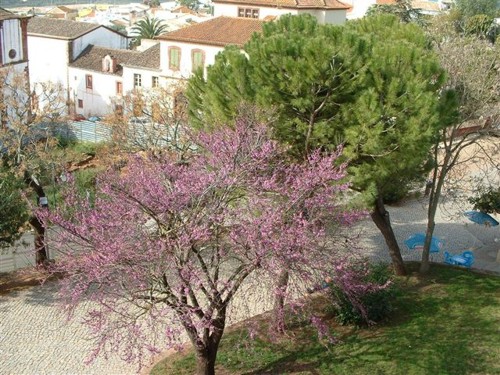 Silves castle overlooking cathedral
One day Hub had an order come in for a new bar to be made for a restaurant at Vilamoura. We got the usual jokes from Joao, who instantly thought Hub meant a barmaid and drew a curvy woman in the air giving a loud whistle. It was to be a good job and well paid. The owners of the restaurant had been good friends of Bill, the chap we bought the business off. When Hub told me about it and that we would be going to look at the place, my mind wandered back to Bill and the boat that he kept moored in Vilamoura harbour.
I recall us going there one day to meet up with Bill to have some lunch. Bill had arrived before us and had already ordered his lunch. Whilst waiting for ours, Bills meal duly arrived. It was in a bowl and on telling Bill to go ahead and eat, he did just that and started to chew and suck on something. Hub said "Good God Bill, what on earth have you got there?"
Bill's answer was "Its chicken feet stew"
My stomach suddenly felt squeamish at the thought.
"You're kidding?" replied Hub
Bill said no it was chicken feet stew and seeing my look of horror, held out the spoon to me "Want some?" he chuckled,
I quickly drew back as he went on to say,
"Its okay, the feet have been washed and the nails cut"
Then they both had a good laugh at the expression on my face!
 
The weeks moved on and we were suddenly in December with thoughts turning to Christmas. Since the children had grown up Christmas didn't seem very important to me; however I have always liked the religious side of the event.
Speaking to Jeff one evening it seemed very likely that he and Kody would be going to her Mother's place at St Vincent on the Grenadine Islands. Lesley said she and Ray would just have a quiet time at home but Jamie would be coming out to us for the festive season.
Although Maria and Carlos lived up by Lagoa's large main church neither of them were church goers and Maria's long feud with the local priests went on. She always objected to the way they would simply turn up at the door, asking for funds for the church; this she objected to quite strongly. But in saying that, she was a member of the church choir and had a beautiful singing voice; she invited us along for the special Christmas service and to hear the singing. Hub wasn't too keen but I said we should go along to support her.
 
Thinking of Christmas food I remembered the English butcher we had found, quite by accident, whilst driving to look at a carpentry job in the Vale de Lobo area and wondered if he was still there.
We had parked up to look for the business and there, opposite on a corner was a butcher's shop, with a large notice in the window written in English as well as Portuguese.
I remember us going in there and seeing a vast range of English goodies on sale including: cheese and onion pasties, pork sausages, chops and steak as well as turkey.
The owner was a Londoner and we had quite a long chat with him and ended up buying quite a few large turkey breasts, along with pasties and sausages!
The turkey had been far too much and after cooking it I had taken some over to the Portuguese lady opposite who had at least six children.
But this time with just Hub, Jamie and myself for Christmas lunch, I decided to buy some fresh chicken from our local butcher in Lagoa.
One evening the phone rang and it was Sally; her news startled us a little, for she told us that a couple were coming to view the villa. Hub and I sat quiet for a minute then I said,
"If the couple like this place and want to buy, it means we will have to move out!"...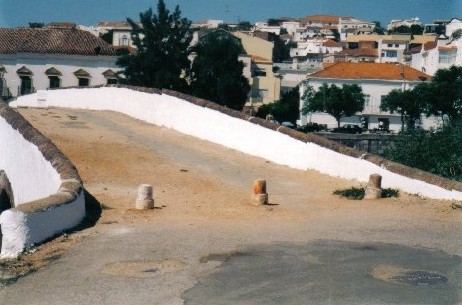 Old bridge in Silves