No Place Like Home ?
For some time now we have been discussing our future; where we will eventually spend our retirement years. Having married young we have, in our time, had many homes. Born in London we spent all of our youth and early married life there. Then when the children were young we moved to the Kent borders. After that we had a short stay in Essex, followed by a move back to Kent and the village of Benenden, near the Sussex border. But I believe our big move to Portugal for those few years in the early 90s, did something to us, and since our return to the UK we seem to have become quite restless. However, I've come to the conclusion, that wherever you live, you do in the end take that place for granted and that no matter how beautiful it may be, we are always in search of 'where the grass is greener'; never quite satisfied.

Before my recent holiday to Algarve, Hub had said to me " Go and have a nice rest. Relax, look around and think of where you'd like to live; where you could see us in retirement, where you think we would be happy?"
Unfortunately, 2 words I dislike in the English language are 'retirement' and 'settling down' (sorry that's 3 !) . I don't know why but they give me the 'heeby jeebys', a scared sort of feeling. I can never see myself as totally giving up my garden work and the same goes for settling down; its like saying its 'the end of the journey'.. sitting in the old rocking chair with my knitting. No! That isn't for me.
But one does have to be sensible and I know from the problems I've been getting over the past year or so with my knee and leg, that my garden work will gradually become limited. I have to accept that. Then again, writing is becoming more of a passion for me. So as one stage of life inevitably passes, thank goodness another and equally exciting one can take its place.
On my recent holiday I had plenty of time (as the poet said) to 'stand and stare', time on my hands to sit in Carvoeiro's little bay and think on 'where next'?
On my trips into Lagoa, I walked and walked, looking around the town, wandering the back streets and further, exploring new developments and doing so much thinking, 'Could we live here again? It's a place where I feel comfortable and I know Hub feels the same. But would there be enough to do? Would we become bored? '
Of one thing I was certain, we would socialise so much more. Go out to dinner or lunch. Meet up with friends we've made over the years. Have nice walks and maybe get another dog?
 
I sat mulling this over in my head one day in the park's café. As I sat there a strange thing happened. An elderly couple came and sat at the table in front of me, both smartly dressed, the Senhora in pretty summer dress, the Senhor in smart shirt and trousers, the Senhora chatting amiably to her husband; smiling, laughing. She looked over to me, gave a smile, which I returned. It was then that I recognised her and her tall shy-looking husband. It was the same Portuguese couple that Hub and I had seen on our holiday there three years ago. They had caught our attention that summer afternoon, as the wife had played 'footsie' with her husband under the table, flirting with him as he tried but failed to ignore her actions.
As I watched them this time, she was still flirting with him with her eyes and sweet smiles and engaging manner. I thought, as I did 3 years ago, how lovely! They were both well in their 80s I would say, yet she had eyes for no other person and his look of contentment said it all in one word, happiness.
It was then I thought 'Yes. I think we could be happy here again'.

But there is another place that we have always liked; a city that we always enjoyed visiting and one which we made many visits to during our time of residency. Not only to carry out carpentry jobs and where for a short while I had a small bookshop but it was the place Jamie went to school and which he visited it on a daily basis…that place is Silves !
We always thought this city had a 'magical' quality to it and I never failed to be impressed by this old Moorish capital as we approached it from either the road from the workshops at Algoz, or the old route from our home in Lagoa. It is indeed, in our view, a jewel in Algarve's crown.
On holiday and very hot days of summer, it's a treat to drive there and sit beneath the shade of the tall trees along by the river Arade on a bench close by the old Roman bridge. A place to reminisce, thinking on the many times we had done the very same during our time in Algarve when on a break from our work.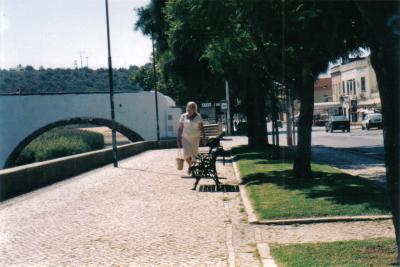 Roman bridge in Silves
Of course there have been changes. Across the road from the river there is now a splendid park with water features, the fountains and statues. I have an old photo that was given to me of that very site some 20 years ago. Then it was a red dusty area once used merely for parking; now it's a pretty place to sit and relax and just a short walking distance to paved walked ways and little cafes to have drinks and refreshments. If you feel energetic, take the steep walk up to the Cathedral and to the red-walled castle. Explore on foot; the best way to see any place of great interest. But I find wherever I walk or stand or sit, you never get away from (to me) the overwhelming 'Moorishness' of the place and whenever I sit by the Arade imagination takes over and I can see in my minds eye the crusaders, as they came in their boats to conquer Silves and can quite understand how they fell under it's spell, smitten by its beauty.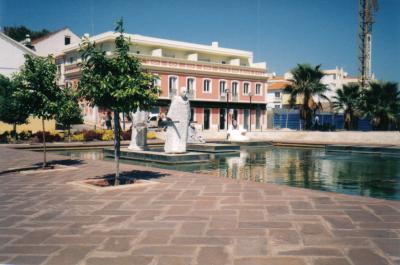 Silves Park
One day as I sat waiting for a taxi into Lagoa, I suddenly thought, in the 2 weeks I had been in Carvoeiro, I hadn't had a sardine lunch. My next thought was 'where to go'? Then the answer came. There was only one place to go for a really good 'sardinha' lunch and with the right atmosphere and that was the harbour side at Portimao! The taxi fare would make it a little more expensive but then I was only going to have it the once, so why not? That day Lagoa was forgotten!
I asked the taxi driver to take me the Ferragudo way, as it's far more scenic than along the 125. As we drove up to Monte Carvoeiro and passed Vila Nova (where Hub and I had holidays in the past) I was very surprised to see that the little 'wilderness' close to Vila Nova complex, was being built upon. I'd often walked there and admired the wildflowers that blossomed in the spring, seeing the odd, empty Portuguese dwellings and wondering how it must have been and looked many years ago. In fact 5 years ago and a few months after my mother died, I had taken refuge in that place. Alone with my thoughts, trying to come to terms with my loss, I had found comfort, a solace in walking amongst nature's works of art. But now it seemed that this little nature reserve was going to disappear beneath a pile of bricks and mortar.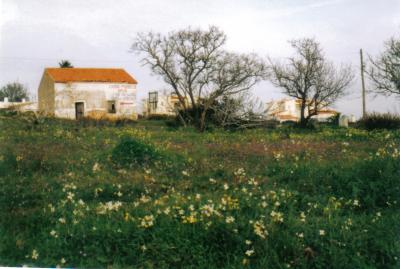 Vila Nova wilderness
I know we have to progress but to see pieces of countryside disappear always saddens me.
Ferragudo is a pretty place and although I don't know it very well its always a pleasure to take this route and driving over the old bridge into Portimão again brings back fond memories of the times Hub and I had driven there to buy furnishings at a special hardware store for our carpentry business.
I was pleasantly surprised by the cost of my taxi ride, being just over 11 euros it was 5 euros cheaper than the same trip 2 years previous; before meters had been installed!
What a wonderful place it is to sit and eat! What better ambience for a fish meal than beside the lapping waters of Portimão harbour ? I made my way along the harbour side under the bridge, where African vendors tried to tempt me with their carved animals, jewellery and other wares. But I was hungry with thoughts of grilled sardines uppermost in my mind!
It seemed like I stopped at the very same restaurant as before and I made my way to a shady table at the back. The service was quick and soon I was tucking into starters of fried sardines (a new one for me), then came the real McCoy, 4 large grilled sardines, accompanied by the traditional small boiled potatoes in their skins.. a 'salad simples', dotted with my favourite black olives, bread, butter, fruit juice and water completed a meal fit for a king and I couldn't eat it all ! But with sun sparkling on blue waters as I munched away at my feast, it was a little bit of paradise. Lovely.

But as I sat eating, my thoughts were busy. Portimão had everything to hand; plenty of shops, a beautiful harbour, parks, many eating places to suit everybody's choice of food and just a short distant to beaches as well as open countryside. Could we live here? Portimão has expanded a great deal since our time of residency; there would probably be a wide choice of living accommodation. But could we feel at home here?
As I sipped my 'café com leite' I pondered on this idea.
A stroll by the water's edge and music caught my ear and approaching the square where fountains play and folk are eating a late lunch, I saw once again, the 'music of the Andes' musicians. I stopped awhile to listen before taking a short walk in the small park and then made my way to the taxi rank for my journey back to Carvoeiro. The sun was beating down and with a full tummy, I felt the need for a little siesta.

A few days later and after a very lazy morning soaking up the sun on my little balcony, I made up some ham and tomato sandwiches and tucking these, along with fruit juice and water into my shoulder bag, I took myself out for a walk. Stopping at one of the shops close to the square, I bought some postcards, large ones of various places showing Algarve's beautiful coastline. My good friend Sheila, who has lived in Belgium most of her life, had written to me just days before I had come on holiday, so I needed to reply to her. She has never been to Algarve and always takes a great interest in hearing about it. But where to sit? Standing in the square I looked up to the cliff tops and thought 'Yes. Up by the little church'.

It was early afternoon and the sun was very hot as I trudged up the hill. The seats by the church were in full sun, so I opted for one of the white benches that overlooks the bay and are in the shade of tall pines. I made myself comfortable then began to write. Strange isn't it? You always think there isn't much to write about but looking at that gorgeous scene laid put before my eyes, all I had to do was describe it!
When we lived there, we never used the beaches much at all. Most of the time we would walk the cliffs and specially those at Rocha Brava; another little wilderness paradise.
But once again I was deep in thought. Carvoeiro seems as much like home as Lagoa now; perhaps even more so after all my regular visits. I know many of the people there, not only in places like Colombos but the little shops and small supermarkets and bars like Hemingways. I feel comfortable there; safe.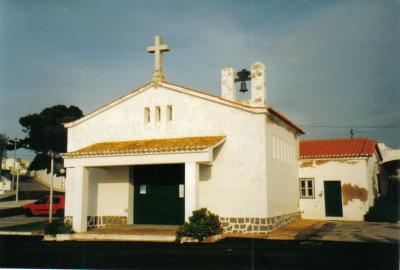 Carvoeiro church
As I packed up my bag and made my way slowly downhill, I pondered once more of where we could live? A movement to my right had me looking up. It was one of the policeman coming out of the GNR station. Our eyes met and he gave me a very charming smile and nodded in reply to my 'boa tarde'. Well, that took me back once more, to our time in Lagoa when we got to know the local policemen and they knew us. They always smiled and spoke and now it was happening again. I walked back to the apartment with a spring in my step!
But not before I called into the little grocery shop just a little way along the out road (before the post-office).
I chatted with the young woman in there and had our usual laugh at me buying just 1 custard tart. She would say 'Just 1?' I would say 'Sim, its only for me. If I have more I will get 'Gordo'! (fat).
I was just about to pay her, when a couple came in the doorway. The man started talking to the Portuguese girl in French! She looked puzzled and replied in Portuguese that she didn't speak French. I intervened and found myself translating for both sides!
Now neither my French, or Portuguese is fluent but somehow we all managed to understand each other! Actually it was a very funny incident.
It was a Saturday and the elderly French couple had hoped to pick up their photos from the photographers nearby, but being Saturday afternoon it was closed and they were going home the next day, Sunday!
The Portuguese girl came to their rescue. More translating and soon they were giving her their address and she promised to take it to the photographers on Monday morning, so they could have their photos sent on to them in France.
Back in the apartment and having a hot cuppa with my one custard tart, I thought of what had just occurred; how kind the Portuguese girl was to take that trouble. With that very much in mind I thought 'Yes, I could definitely live here again, for sure!'

But where? Lagoa, Silves, Portimão, Carvoeiro………..