Lagoa – London
Maybe its because I'm a Londoner, it will always be a very special place to me. I've recently spent 10 days there. The main reason being my daughter's wedding and to also take care of my young grandson while she and new husband went off on honeymoon. This also gave me the chance to look around and visit old places where we had lived and to see some of the sights. Of course there are many changes and so much building going on that this great metropolis is not only spreading but also reaching for the skies and as I looked across the Thames from The Globe theatre to St Paul's opposite the great structures surrounding Wrens cathedral seem to resemble a Manhattan skyline!
But I come here to speak of Algarve and my introduction is simply to 'tie up' with events that occurred during my recent holiday.
It was Monday morning. I had been in Algarve 5 days and though I'd settled in well (Beverley and her son Anton had made me so welcome that I soon felt at home) for some reason I woke feeling melancholy and a little lonely. But as I wandered into the kitchen and looked out of the open window onto the terraced greenery and lemon orchard at the back I soon felt better. The sun was shining and I could feel its welcome warmth on my bare arms. It would be another beautiful day. I made a packed lunch and went on my usual walk into Carvoeiro. This is a 15-20 mins walk from the old Portuguese farmhouse; quite hard on the feet but also very pleasant as there are some lovely gardens on the way and always the wonderful scent of orange blossom from an orchard along the roadside.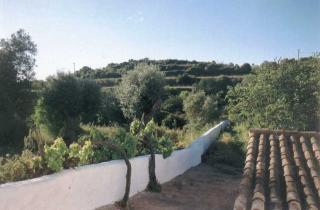 My holiday cottage garden near CVO
After giving Hub a quick call I bought a newspaper and sat on the beach to enjoy an early lunch. I watched some families at play, having fun and chatting and I found my lonely feeling returning. So around 3 o'clock I treated myself to a taxi drive to Lagoa; the plan being to look up some old friends. The weather was really hotting up by then and so I walked to Maria's pastelaria with the intention of buying a cold drink but to my surprise I found it was closed. So instead I went to the cafe in the park. I wasn't sitting there long when Sonia came over to greet me with a kiss. In Sonia's company you cant be sad or feel lonely! This young lady fairly bubbles with life and she soon had me laughing and engaging in lively conversation! First, she told me she'd read and enjoyed "Lagoan Girls" on the Corner. Then we talked of her Christmas in Argentina with boyfriend and kiddies. As she went off to get my drink I felt happier and my good humour fully restored.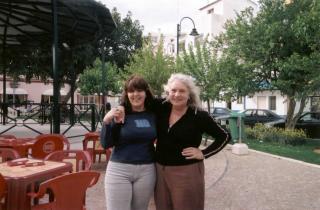 Sonia & Ellie in Lagoa Park cafe
As I sat there enjoying my large milky coffee I decided to write up my journal. Looking up I noticed some people watching me at a nearby table. The man nodded to me then said "You a writer?"
A conversation followed as I told him and his companions about Carvoeiro.com, the site and its contents. They asked where I was from. I said England and originally London. At this, the younger taller man with his back to me, turned around.
He smiled and said "I bet I know London better than you!". His English was faultless." I lived in London for 30 years, serving in the Met. Police force"
I was absolutely amazed! I replied that he probably did know more of London than myself and we chatted for some time about different places there and where he'd been stationed.
Luis Mora is a retired policeman now and as we spoke he told me that he was about to open a new restaurant in Lagoa. They were working hard to get it ready for the opening day on May 3rd. It is called 'Taberna 31' and is on Rua Mauzinho Albequerque. It would have a 'beer garden' and he would have a fine selection of meals and drinks available. When he left, I wished him luck and said I would mention the restaurant on CVO. forum just to give the business a boost!
I was then invited by the others to go with them to their friends' pastelaria. By coincidence, it was just past the road where we used to live; going out of town about 100 metres from the 'Nossa Senhora' shrine. There, I was introduced to a family of father, Joaquim, his Cuban wife Maite, enchanting daughter Jessica and handsome little boy Giovani. Joaquim is owner of the 'A casa do Pao' in Carvoeiro. I said I didn't know the place but would like to go there for a meal and then write about it. So this was arranged. Meanwhile I was being introduced to others including Adearley, the Brazilian pizza and pasta cook at the 'casa do pao' and plied with 'cafe com leite' and small pieces of spicy sausage.
I couldn't quite believe it. I'd woken that morning feeling a little sad and lonely, yet here I was a few hours later, in the middle of friendly smiling people who were strangers to me, yet I felt 'at home' and completely at ease.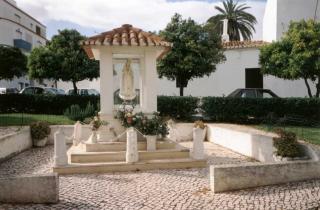 Nossa Senhora shrine
But this was Portugal and I recalled, even when I was alone during our residency, something I never ever felt was lonely or afraid. I relaxed and soaked up the atmosphere, listening to these nice interesting folk as they told me a little of their life. The time just flew by and it was now early evening. I said I would have to go soon as I had to get a taxi back home.
Then one of them said "You must come and meet our mother" and before I knew it, I was being led across the road and up a narrow side street to a pretty Portuguese cottage. I was shown inside and introduced to a small dark-haired, dark eyed lady. Offering me a comfortable armchair, she left the room and returned with a bottle of port, homemade cake and a dish of sugared almonds. I must have sat there for at least another hour and with her son translating we managed to have an interesting conversation as she sat shelling broad beans into a bowl on her lap. She told me they were for a special meal she was preparing for the following day using the 'favas' (beans), traditional Portuguese meal made with bacon and spicy sausage. It sounded rather delicious and I told her I would try it when I returned to England.
It was now starting to get dark, so I reluctantly said goodnight to this lively little lady and said Id like to see her again some time. But I didn't leave alone. My 'newfound friends' accompanied me to the bus station and waited with me till a taxi arrived. As I got into the cab, Joaquim said something to the driver. I waved them goodbye and in less than 15 minutes I was home. But as I went to pay the driver he shook his head, saying "No. Its okay. Joaquim, he pay. He's my friend"
I went to bed that night with a smile on my face. A bad day had turned out good, very good and I now had a new set of Lagoan friends!
It was a few days later and after doing my morning chores of washing and ironing I set out on my usual walk to Carvoeiro. Despite a few blisters on my feet I did enjoy this daily stroll and each day I tried to do it 'just that bit quicker'! However, this particular day I think I did it in almost half my usual time! On route I had to pass a quite large house and gardens. At the entrance were huge iron gates and as sure as 'eggs are eggs' the owners dogs would race up to the gates on my approach and scare the living daylights out of me! I never did seem ready for them but this morning I steeled myself well before I reached the gates. As I got closer however, no less than 5 dogs came tearing out through the now 'open' gates; two of them very large and aggressive. As they came towards me growling and barking ferociously, I had one eye on the passing traffic and one on the dogs. No way was I going to walk near to or pass them. Soon as there the road cleared I was across to the other side and did my quickest walk ever into Carvoeiro town!
I spent some time on the beach that day but as it reached early afternoon I noticed a chill in the air and thought Id make a move. A 10-minute taxi ride soon had me in Lagoa and the park. Although the sun was shining the chill wind had picked up so I headed under the awning of the park's cafe. As usual Sonia came over to ask what I would like. I was feeling very thirsty and she recommended some 'Tilia' tea. I wasn't quite sure at first, but on thinking I remembered that this was made from the flowers of the 'lime' tree and on drinking found it to be quite refreshing. While I chatted with Sonia I couldn't help noticing someone watching me from a corner table. As I looked up I saw a young girl sitting with two men and catching my eye, she smiled. I smiled back. As I sat there drinking and writing I saw her get up and still smiling she gradually wandered over to me and shyly hovered by my table.
"I heard you talking. Are you from London?"
Pretty, dark-haired and eyed, she was totally Portuguese in appearance so her clear English with no trace of accent took me completely by surprise. This was a 'London' voice, similar to my own!
I answered her, saying where in London I came from, then she told me she had been born and brought up and went to school in North West London. As she chatted I asked her to sit down and we ended up having quite a long conversation. She told me she lived with her mother, who was Portuguese and that she was studying hard at school and hoped to go to university. She told me her name and that she was 11. Again, I was totally amazed at this. I thought her at least 14 as she was so engaging and confident. I think we talked for at least half an hour maybe more. She was staying in Lagoa with her auntie and uncle and cousins for the Easter holidays. I asked her where she preferred to live and without hesitation she said 'Lagoa'!
I could have talked for much longer. A truly charming and interesting young lady and one I am sure will have a promising future. But her uncle came over and said it was time for them to leave so I said 'Adeus' and wished her lots of luck.
As they walked away I thought of the question Id asked "Where did she prefer to live. London or Lagoa?"
If I were asked the same question it would be difficult. London will always be a part of me but if 'pushed' I think I would give the same answer as Karolina. It would have to be Lagoa!