Irish Times – Here and There
We live in a tiny 'edge of the Wolds 'village, surrounded by beautiful countryside and lead a fairly quiet life. We don't have any shops here, not even a post office or a pub so contact with people is a bit limited and this is where Carvoeiro.Com comes in!
To me this site is not only invaluable for information on everything regarding Carvoeiro and the Algarve, its also a 'lifeline' to the outside world, a place to make friends and I've lost count of the number of friends that I have made here since I joined the site more than three and a half years ago; my world would be a sad place without it.
I was well into my recent holiday and enjoying the wonderful weather, catching up with old friends and making some new ones and eating out! This is one of the great pleasures of my holiday, for at home I do all the cooking and to have something cooked and served to me is a luxury indeed.
One day, after a very lazy morning and not bothering with much lunch, by the time afternoon came I was feeling very hungry! I suddenly had a vision of fish and chips in my head and thought 'I know, I'll go and see Ann at the 'Fish and Chix' shop, which is next to Safari bar and have me some of her delicious Cod and chips, along with a pot of tea ( which is always a good one).
Freshening up, I first walked down to the square for my usual deep breaths of sea air. On the way I passed the donkey who was tethered near the small supermarket, and stopped to give him a stroke. I had seen him earlier that week giving some kiddie a ride around the streets and that took me back to my own childhood and donkey rides at the seaside.
After a stroll on the sands, I made my way to Ann's place, my tummy now rumbling with hunger! To my dismay the whole of the inside seemed to be covered with dust sheets and men were painting and decorating; the place was closed ! Although I was very disappointed, I guessed that Ann was just having the place spruced up and I'd have to postpone my longed-for dinner.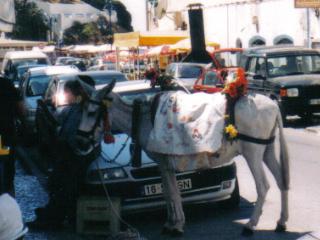 A few days later I walked up to the Anteak bar to have me some lunch, again I had in mind some of their delicious Broccoli and Stilton quiche, which I had enjoyed a few times on my last visit but once again I met with disappointment, as this bar too was closed. However as Le Doce cafe is right next door, I opted for lunch there instead. Feeling quite hungry I ordered a cheeseburger and a milkshake, really fancying the Mango-flavoured one on the menu. However they had run out of that and the only ones on offer that day were Strawberry, Chocolate and a name I'd never heard before.
I didn't want Strawberry or Chocolate, so I asked what was the other flavour? Well, this started a conversation between 3 of the staff, myself included. They kept saying the strange name to me but I was completely puzzled! Each of the Senhoras was saying different things. One was asking whether I was Dutch or German and when the one serving me said 'Inglese', the other lady behind the counter pulled a face (I hoped it was for the language and not my being English!).

Meanwhile I was gasping for a drink (of anything) and would have opted for a simple 'agua sem gas' simply to quench my thirst! Then I had an idea. I pointed to a picture on the menu and the Senhora behind the counter said 'Ahh sim', and beckoned me over. She pulled out a tray which contained packets with different pictures on the front and began to rifle through them, then pulled out one and held it up to me. The mysterious milkshake flavour turned out to be 'Passionfruit' ! Please don't ask me what the Portuguese word was as I didn't make a note of it and I can't find it in my Portuguese dictionary. But all I will say is, it was absolutely gorgeous. What with that and the fab burger (a real big beefy one), it was lovely grub (as they say in Peckham) and you'd never taste the like of it in any McDonalds, that's for sure.

On another occasion at Le Doce, I had a simple cheese and tomato toasted sandwich, but it had a special flavour; very tasty! I opened the sandwich and saw that the cheese contained herbs; once again it was a very nice lunch and I would recommend this café to those who haven't been there.
It was an early Saturday evening, so I wandered down to Ann's place; I was ready and eager for my fish and chip supper. As I entered I noticed a large board with the heading 'Irish Times' and although slightly puzzled, I thought maybe Ann was having an Irish night, so I sat myself down and looking around me I thought how nice it all looked after its redecorating. A young lady came up to my table and asked what she could get me? I said "Cod and chips please and a pot of tea" with a smile, in anticipation of my 'gourmet' feast!
She smiled and said " I'm sorry, we're not doing that and there isn't any food until tomorrow. Can I get you a drink?"

Disappointment was not the word. For days Id thought of a fish and chip dinner and now it seemed it was not to be, as I was told, at a later date, that Ann had returned to England and the restaurant had new owners and there would now be a wider variety of meals. I felt a certain sadness at the thought of not having anymore cheery chats with Ann and of course, no longer being able to have my fish and chips.
However from what I witnessed, the Irish Times seemed to be doing very well, with a variety of roast dinners on offer and a varied lunchtime menu too. Some new found Lancashire friends that I met on holiday, went along for a Sunday roast lunch and told me they really enjoyed it. Although I never eat roast dinners whilst in Algarve (preferring Portuguese food) I think I will have to sample a roast dinner there on my next visit and I do wish them lots of luck with their new venture.

As I said in my first paragraph, I have made so many friends during my time on Carvoeiro.com, and to me that's the best part of it; one of those friends being Dalcassian, or as we know him, Joe.
I met Joe and his wife Nell on a visit to Carvoeiro last year, and we got on so well. Well who wouldn't, seeing as Irish people are probably the most friendliest, easiest to talk to people that you could wish to meet. On our first meeting, we had talked of 'The House on the Hill'.. the old derelict place on the cliff tops in Carvoeiro, that Joe had dreams of refurbishing and owning one day.

Joe and Nell are Dubliners and Dublin is a place I've always wanted to visit. We've never been to Ireland, so when I heard that Ryan Air were flying there from Humberside, my mind started ticking on a planned visit to the Emerald Isle.
Hub needed a break and soon I had the air tickets and a B&B booked in Dublin's City centre for three days in early May.
Joe kindly picked us up from Dublin airport and took us direct to our B&B accommodation; this was close to O'Connell street and across the road was the famous Irish writer's museum. Of course this was of great interest to me and both Hub and myself enjoyed every minute of our 2 hour visit.
During that brief visit to Dublin we took in so much and walked a good few miles too, through O'Connell street, over the river Liffey, and then on to Trinity college where we saw the ancient Book of Kells. Onto Grafton street which is a shopper's paradise and with some great street artists, buskers, playing everything from Irish jigs to Beethoven.

After having our photo taken on the Molly Malone statue opposite Trinity, and watching, listening to the small man that is in charge of the statue play his special Bodhran drum, as he accompanied the lively Irish music that played on his cassette-player, we then went off to meet with Joe and Nell for a pub lunch and maybe a Guinness? Then from there, Joe gave us a little tour of Dublin and we ended up in Phoenix Park. What a wonderful park this is; it is huge! and you could imagine yourself as being in the countryside. I think Joe told me that it's the biggest public park in Europe and I can well believe that!
On both of our evenings, we were invited to supper by Nell and Joe and a great time was had by all, as we ate great food, drank good wine and had the best of company, with laughs all the way!

Without meeting Dalcassian/Joe and Nell, I don't believe I would have had the incentive to visit Dublin. I'm so glad that we did and were able to enjoy the great Irish hospitality and places of interest… but more importantly, without CARVOEIRO.COM, I wouldn't have met 'Dalcassian' and Nell !