Memoires Françaises - part 1
Leaving St Valery Sur Somme, I felt a certain sadness. Raymond had become a real friend to us and he was obviously missing his wife after so many years of marriage but we had reluctantly taken leave of him, promising to phone as soon as we were settled back in England.
That day, as we drove towards Calais and the ferry home, Hub and I got talking about the very first time we had come to France. The children had been young and it was the first time Hub had driven 'sur le continent'. We had hired a Bedford camper van and made our way towards the south coast and the Folkstone terminal ready to embark across the channel.
I well remember my excitement on arriving at Calais but Hub was very nervous of having to drive on the right-hand side of the road; in fact he 'accidently' went onto the wrong side as we drove through the town of Calais. We drove through the outskirts of Paris, visited the palace at Versailles and then planned the route to follow the river Loire with the intention of motoring down to the Riviera.
We stopped over at a campsite near Boulogne, intending to stay for just one night. My daughter, who was about 12 at the time, went over to the toilet block. A short while later she came hurrying back her face somewhat flushed. She said "Mum, "I've just seen some men going to wee outside in basins!"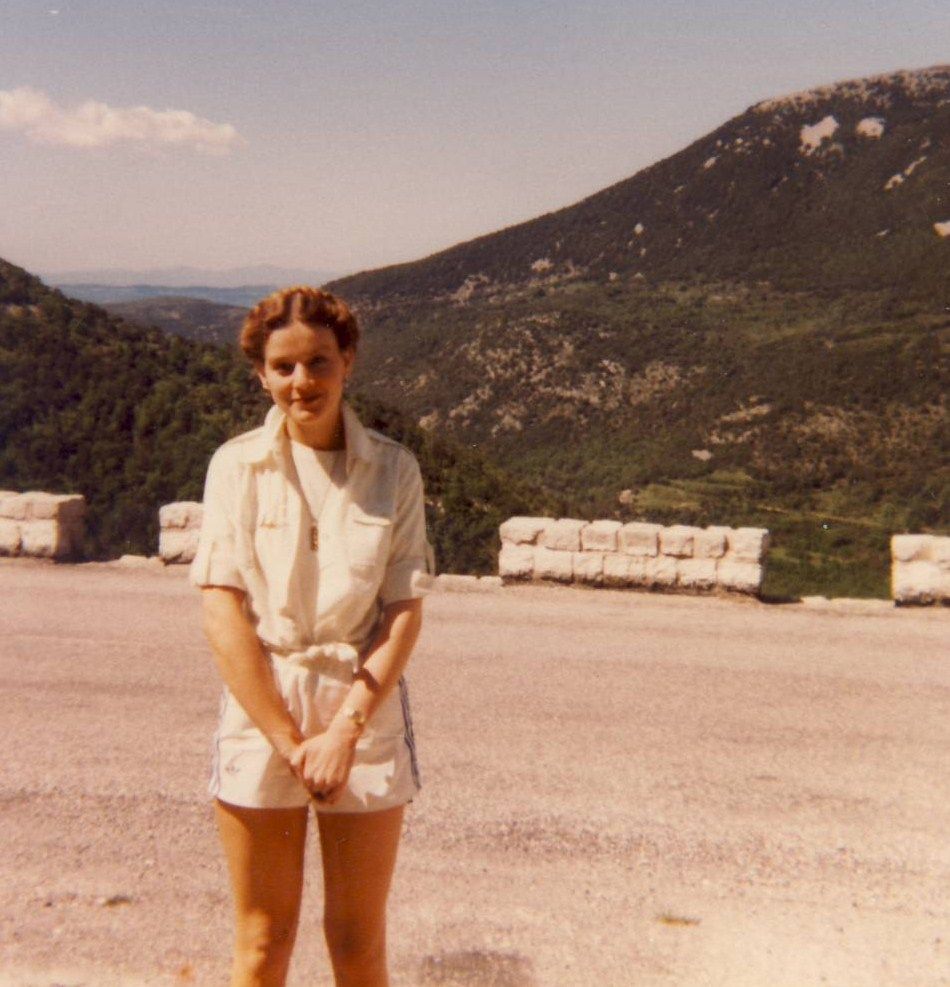 Lesley
I went back to the block and sure enough, there were men going to the loo on the outside in basins and not at all bothered of people passing by! I had to smile as I went in to take a shower, thinking of a TV series I had seen called 'Clochemerle' and about a village where they were going to build a new toilet for men and women.
After a good night's sleep we set off the next day to follow our planned route. I recall that we stopped at a campsite near Nevers and that we went shopping in the town. I bought a small booklet about the town and found out that the preserved body of St Bernadette lay in a convent in the town. I had always been interested in the life of St Bernadette, the simple peasant girl who had visions of Christ's mother Mary at Lourdes and recalled reading a biography of this young woman. At the age of 22 Bernadette joined the Sister of Charity convent at Nevers, where she eventually died aged only 35.
We stayed near Nevers for a couple of nights and then went on our way. I recall that we got caught in a thunderstorm and as I am afraid of storms I kept urging Hub to pull over. But he said we were quite close to a campsite and kept going.
We finally pulled into a campsite just as night was drawing over the sky. We had provisions on board, so I made us all some supper and then, although it was quite early, we turned in for the night. I was fast asleep when suddenly some loud bangs woke me; they were definitely gun shots which seemed to come from the wooded areas across the river from where we were camped.
The next day, I got talking to some other people who were English and they told me that the bangs were from French folk who were out shooting wild boar.
The next day saw us heading towards the Massif Central but we approached it just as daylight was beginning to fade. As we drove along I felt a bit strange. It was very eerie and going along a track on the edge of the canyon we suddenly saw the statue of a white angel at the side of the road, which quite spooked me! I didn't like this place one bit and urged Hub to drive a bit faster to get away from the place. Eventually we found a campsite but was astonished to find that as well as paying for the night we had to pay for water too!
The next day we carried on with our journey, heading towards the Riviera. As we drove along we passed through some beautiful countryside and then saw a haze of purple; they were lavender fields. Lavender is my favourite herb, so we stopped at a roadside stall and bought some dried Lavender and some bottles of lavender water.
As we cruised along we entered a small village and just as we left it a line of ducks suddenly wandered across the road so Hub slowed down to let them pass. Then a man came out of the gateway to the farm where the ducks had entered and I suddenly felt my heart leap; the man was the image of my late Father! As we drove past he acknowledged us for slowing down and I turned to Hub and told him "That man could have been my Dad!"
My Dad was from French roots. His grandmother called Ellen had been a dancer in Paris. Dad was very 'French' looking, dark hair and eyes and he loved his wines. So seeing this man brought memories of Dad flooding back. But I digress….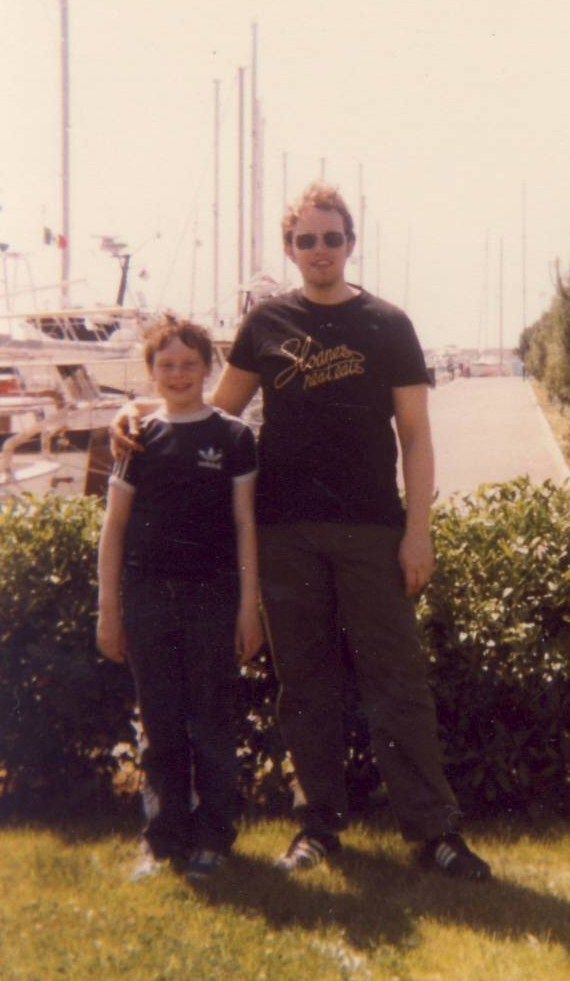 Jeff and Jamie
Soon the signs for Nice were appearing and before long we were driving along the main road of that town. We were looking out for 'Le camping' signs but didn't see any so Hub pulled over. Someone called out "Are you lost?" and there alongside us was an elderly English man in open top sports car. Hub said we were looking for a campsite and the old chap said "You'll find one at Cagnes sur mer" and he pointed us in that direction.
Soon we were pulling into the campsite which seemed to be situated in an orchard!
We booked into the site for a few nights and as I wandered around beneath the trees I saw that I was right about it being an orchard because many of the trees were hung with large luscious cherries…
After a few days of being in the Riviera and exploring the seaside we decided t move on again.. but first we went to the butchers. I tried out my school French and asked for some fillet steak. The lady went out the back and brought back what looked like half a cow! She cut some fillet for me and it came to about two and a half kilos. I bought that and some French beans which were in the butcher's freezer and we went on our way…
At lunchtime we were driving through some very pretty countryside and decided to pull over for some lunch beneath a broad pine tree with huge pine cones; we had steak, French beans and home made chips. Hub and I had some red wine, the children had lemonade…
Then we made our way to the lower Alps ….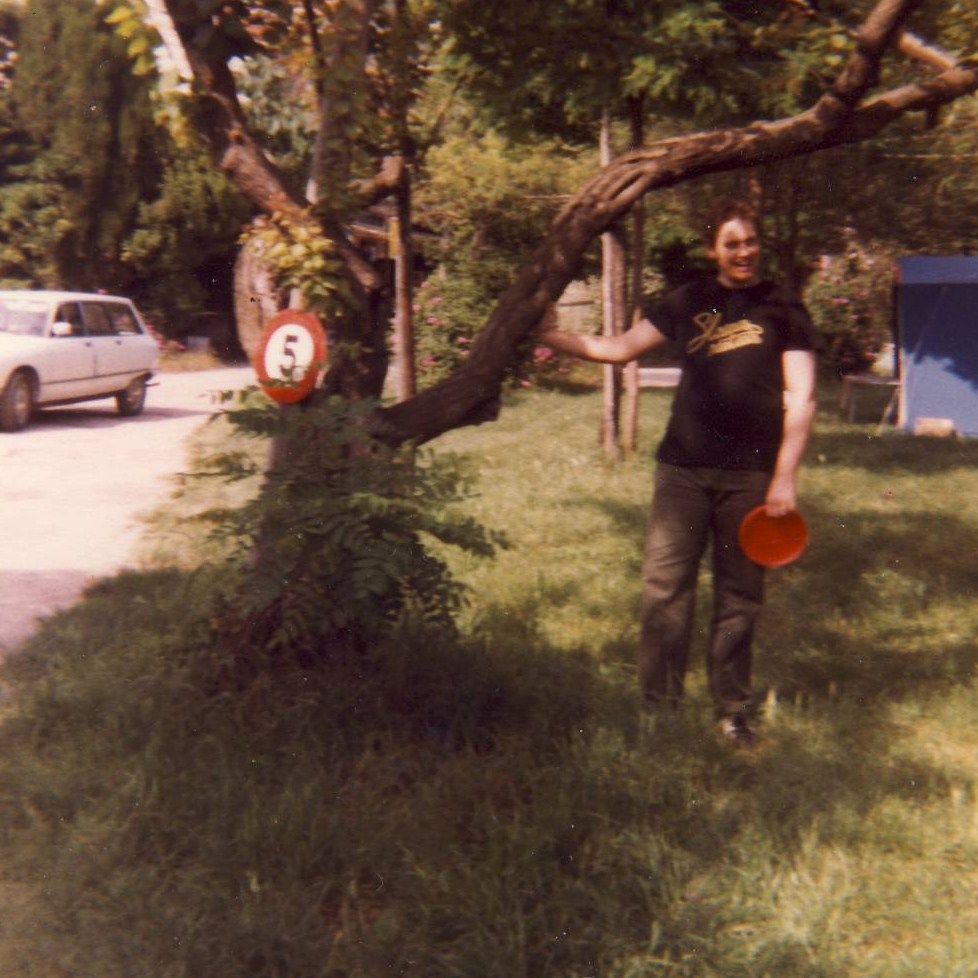 Jeff in campsite at Cagnes sur mer; The Cherry Orchard