A Garden Home!
Sally was as astonished to see me as I was to see her!

We kissed each other and when she asked if I had time for a coffee I readily accepted. As we sat in the park's café, I said how surprised I was that the agency had closed down. Sally then went on to explain that the recession had affected the business and it had got so quiet that they had no alternative but to close it.
She then had another surprise for me, during our absence she and her boyfriend had married; it had been a quiet registry office affair. Although business had slowed right down, Sally told me she was still looking after a few places for people, their holiday homes whilst they were back in the UK and elsewhere.
"What are you doing?"
Her question caught me off guard.
"Not a lot I'm afraid"
I felt almost embarrassed when she asked me where we were living and I had to tell her we were still living in the campervan that we had travelled out in. I said that I was getting fed up with it and that I longed for some work.
"You know the villa where you worked the garden? Its still up for sale; there hasn't been anyone interested in it for some time"
She had my immediate attention! But I wasn't quite ready for her next statement,
"Would you fancy a bit of garden work again?"
It was too good to be true and I felt I was dreaming as she went on to say,
"Could you live there? I know the annexe isn't that big but its quite cosy"
Better and better I thought and my mind wandered to that place as I recalled 2 bedrooms, a bathroom, a small but cosy living room with a log burning stove, tiny kitchen with the most gorgeous water I had ever drunk in my life from the bore hole.
"Could I live there?" I repeated "After weeks of a campervan it would be pure luxury!" I smiled back at her.
Sally said she had the keys to the place but would call the owners in South Africa to see what they thought. Having someone on the premises would solve many problems of security and especially if I could take on the garden again it would be even better. They'd had an elderly Portuguese man come in to tidy it but he had recently given it up saying it was too much for him. What was really needed was a gardener. If Hub and I moved in as caretakers this would all be solved and the plus would be there wouldn't be any rent to pay!

When Hub picked me up, we had a drive up to the little wilderness near Rocha Brava Lighthouse and sat beneath the Pine trees to take in the wonderful sea air. I told him about meeting Sally and the possible chance of us living in the annexe. He warned me not to get my hopes up, saying that the owners might not agree to it. But I didn't really listen and kept hoping in my heart that it would happen.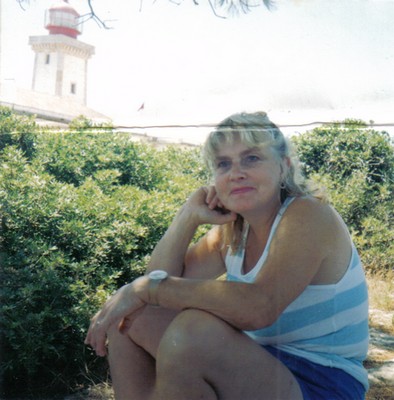 The days went by then, one afternoon as I swept the floor of the workshops office the phone went. Answering it I heard Sally's voice,
"Okay, its all systems go"
Relief washed over me as she went on to say the owners of the villa had agreed to our living in the annexe and be the caretakers. When Sally asked them about my taking up the garden work again, they'd readily agreed to that too and appeared grateful to have a gardener back in charge of the place again. There was a bonus as well; Sally said they would pay me for the work! In escudos it worked out about £25 a week, not a fortune but it would give me some money of my own again.
It was wonderful to move into a proper home once more, to hang my clothes in a wardrobe and have rooms to walk around in at last. I had experienced another attack of sciatica in the campervan and so it was lovely to stretch out in a real bed once more.
Of course the first person we told was Jamie and he was really pleased for us. He would be coming out for the summer holidays and would have his own room to stay in.
 
As our new 'home' was in secluded countryside, there were no shops around so Hub had to take me into Lagoa for shopping. This was something I missed greatly. I had loved living in Lagoa. We'd had a lovely apartment and I got to know all the local shopkeepers and they knew me; I also had Maria a short walk away.
One day, when Hub had gone off to the workshops, I sat outside under the pretty Mimosa tree, planning what to do with the garden. It had been very neglected and there was lots to do. But the warm sun made me drowsy and as I sat there I began dreaming of times past. In our previous life there, Jamie had helped me with the lawn mowing. I looked around and recalled him sitting by the pool with a large Praying Mantis on his arm and how he had thought of them as pets; I smiled to myself. Then I remembered the day the gypsies came and how they had collected the Carobs off the trees; they made a feed from them for their babies. I suddenly became very melancholy. I looked around that huge empty garden and felt a great need for company and I was missing my family.
It was such a quiet place much quieter than at the workshops. The only sound I heard now and then was that of the cockerel crowing at the Portuguese lady's little farm further along the lane and the odd vehicle that passed now and then. With that in mind I went indoors for a bag then made my way up the lane with the intention of buying some fresh eggs and to talk to another human being.
We were moving into summertime now and soon Jamie would be flying out to spend the school summer holidays with us; oh how I looked forward to that! As a family we all got on well and Hub and I missed Jamie's witty and sometimes naughty sense of humour.

One weekend, Hub, Carlos and Joao had some special orders that needed to be finished for a business friend up at Monte Carvoeiro. We had made garden furniture for Bob before and he needed this one of sun beds pretty quick as the holiday season was beginning, so the boys were working overtime. I invited Maria and her boys to tea and when Hub picked them up there was her youngest Ricardo, a football tucked under his arm, ready to be let free in the villa's vast gardens!
Our campervan was parked under the awning and after having tea in the gardens Maria asked if she could have a proper look inside it. So, leaving the boys to their football, we got into the van. Maria said it was like a 'pequino casa' (little house). She gave a big sigh and when I asked why, she said that she sometimes missed her own family; then proceeded to tell me about their home in the countryside near Lisbon. I asked when she had last seen them and with a sad look told me it was a long time ago. When I asked if they ever drove up there she said Carlos never wanted to go and that he never wanted to go anywhere, he only liked being in Algarve and doing his carpentry work.
Then she smiled and said "We could go see my family"
When I asked who? She said all of us could go, her, Carlos, the boys, myself, Hub and Jamie too if he was here. She smiled again saying "We go next year at Pascoa"
 
My Portuguese had got rusty during our absence from the country and I gave her a puzzled look.
Maria replied "You know, when God died"
Of course, the penny dropped. She meant Easter!
Maria was getting excited about this idea and suggested that we could all go to see her family in the campervan. I simply nodded and suddenly had a funny vision of what Hub might think of the idea. When I told him that evening his face was a picture and in so many words said no, it wasn't a good idea!
It was great having Jamie with us again and although he was well, his pasty face looked in need of some hot Algarve sun.
It had been his birthday just before he came out to us, so we had a special birthday tea and cake. When we told Carlos & Joao about it they insisted that they take him out for a meal and a drink one night. The boys were fond of Jamie and I think they felt a kind of responsibility towards him. He had often gone out on jobs with them in the past and I think they liked the fact that he always spoke Portuguese with them. Before we had retuned to the UK, he had become almost fluent in the language; his private education which included private tuition in Portuguese had paid off. Now he was back and talking to the boys as if he'd never been away.
The evening meal was fixed and off he went in Carlos' little Renault. Sometime around Midnight there was banging on the door and on Hub opening it, Jamie stumbled in; immediately collapsing on the sitting room floor and lay there in a heap laughing his head off.
In the cold light of the next day, Jamie said he'd had a great time at a fish restaurant, eating crab and other sea food. When Hub joked about him being a little the worse for drink, he told us that for every 'Sagres' beer that Carlos and Joao had drunk, they had put one in front of him. We always found the Portuguese beer to be quite 'light' and I suppose you can drink quite a few before they take effect!
I needed to buy some new crockery; well at least that was my excuse for visiting 'Casa Grade', a lovely place along the main highway near to Porches. We had been there often in the past and I loved to wander around the big shop which sold everything from egg cups to huge pots the size of a garden shed.
"I wonder if Len's place has been sold yet?" Hub asked
This was the beautiful villa we had lived in before we had returned to England. Through mutual friends in Algarve we had heard that Len had passed away. He had suffered cancer and despite a lot of chemo treatment, his condition had deteriorated. This news had made us both very sad. Len was a lovely man, always smiling and welcoming to us and although in the end his death had been expected, his wife Janet was devastated. Not wanting to return to a place without her beloved husband, she had put the villa up for sale. If we took the back road to Casa Grade we would pass the villa, so this is what we did.

It was very strange driving along the back road towards where the villa stood; a road we had used for months when living there. I wondered if the goat herd still came this way, if his wife still let the goats loose and he would have to come to round them up. Memories flooded back of Pedro who came to clean the pool and was usually slightly the worse for drink! As we drove up to the gates it all looked pretty much the same, although the garden had a somewhat neglected air about it. We stood there for a while looking over the white wall, at the gazebo where I had often sat and where I had been sitting when Peter had called out to me; Peter who had lived in the cottage way to the back of the villa, who had made pickles to help supplement his pension.
The villa looked empty and sad. In the past whilst we were working at the Manor house, I always thought that one day we would come back to Algarve and see Len and Janet sitting there, in their villa garden in the sunshine. But it wasn't to be. Len was gone now and Janet would never return and some day soon strangers would be living in that lovely villa. I was glad to drive away from the place.
 
One day as we left Bob's place up at Monte Carvoeiro, having delivered the sun beds, which he was very pleased with, we decided to get some groceries in the nearby supermarket. As we were putting the goods into the van I heard a voice call to us and looking round found it to be Julie. It had been a long time since Id seen her. She had worked in one of the offices at a holiday complex, where we had carried out repairs and we had got to know her quite well.
"I wasn't sure it was you" she said smiling broadly
When we explained about our return, she looked quite pleased. Then went on to tell us she and husband John had bought a villa on the outskirts of Alvor.; one they had built. She asked Hub about some work she wanted carried out, cupboards, door furnishings, which he said he'd be glad to do. Then turning to me, asked if I would be willing to help out with the garden. She gave us her phone number and we promised to call and arrange a visit.
On the way home Hub asked me if I wasn't taking on too much; that the villa garden was hard work and quite enough for me to handle. But I felt excited about Julie's garden. It would be brand new and a blank canvas. She wanted me to design it. This would be a first for me and it would also earn me extra money. I couldn't wait to start!