Meet Marilyn
It was a very warm Sunday evening and having had an early dinner at Colombos I then went home to my apartment to freshen up, before taking a stroll over to Hemingways bar to part-take in a night cap or two!
This cosy little bar is now run by a delightful couple, Hazel and Murray and more welcoming hosts it would be hard to find as each visitor is greeted with warm words and after only a few visits I began to feel very much part of its cheerful scene.

On this particular night I sat at the bar, Hazel having made me a rather nice rose wine spritzer, and listened to the quiet buzz of conversation around me. Before I knew it I was slowly drawn into the topic of discussion, when suddenly a voice said "Hi Ellie !" and as I turned I saw Susan, "We'll have to stop meeting like this" she chuckled. Susan is a member of carvoeiro.com and we've known one another for two years now. We sat and talked, mostly about our families and plans for the future. But as the time drew near nine o'clock Su had to go and meet her dinner date and the stool next to me became vacant.

The warm balmy evening had me dreamily sipping my iced wine, my thoughts miles away when, "Excuse me, but is this anybody's seat?"
The quiet but distinctive voice had me look up to see the questioner. A small slim blonde lady stood by my side and gestured at the empty stool. I said no, that's fine. She sat down and in two minutes we were engaged in friendly chitchat. We introduced ourselves and that is how Marilyn and I first met.

As we sipped our drinks, Marilyn with her favourite red wine and me with spritzers the conversation really took off. I spoke of my trip out to Algarve in pursuit of a good photo for my book cover and Marilyn said "You've written a book. What about?"
When I told her, she nearly fell off her stool in surprise! Astonished that I'd written about two and a half years of living in Algarve. When she had been a constant visitor for at least twenty one years! Admittedly, put like that it did seem almost pretentious on my part. But we laughed over it and I said I was as surprised as she!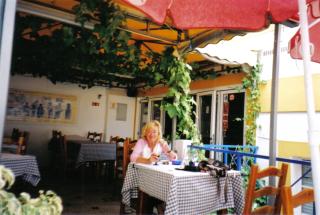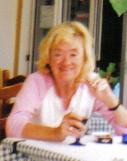 However, as the evening wore on I was in for a few surprises myself, when this little lady talking quietly next to me, turned out to be a journalist of long standing. Columnist Marilyn Cunningham, she had worked many years in Fleet street for the Daily Express and Daily Sketch and even now in 'retirement' years, she still works on as a free-lance for 'Slimming Magazine'. I believe we talked on till almost the early hours, my mind keen to learn of Marilyns long and vastly interesting career. It must have been well after midnight and more like 1am in the morning before I finally wended my way home to bed.

We had exchanged phone numbers and two days later I received an early evening call, it was Marilyn.
"Have you eaten?"
I said no.
"D'you fancy fish and chips"

I had been debating where and what to eat and here was my answer! We arranged to meet outside Hemingways and then Marilyn would lead the way.
Walking through the short alleyway we crossed over to the 'Fish and Chix' shop next to Safari bar and soon Marilyn was introducing me to owner Ann a smiling genial lady that showed us to a table by the corner window. It was after 9pm and there were only a few customers apart from we two. Ann took our order, plaice for me and cod for Marilyn who also said "Just 8 chips Ann please". My reaction was " No wonder you're so slim!"

The fish was very nice indeed, as good as any back home in England and as we tucked into our meal and sipped wine we talked and I learnt more of Marilyn's fascinating life.
Although now a widow Marilyn has been married 3 times and widowed twice her third husband, some years her junior, having died a couple of years ago from cancer. As Marilyn told me this I could see she was still very much affected by his death as they had been so wonderfully happy together. After a most enjoyable dinner we wandered back for a drink or two at Hemingways and carried on with our chat.
As you can imagine with all her years of experience in Fleet street Marilyn has a million tales to tell a couple which she related to me. We talked of the '60s, of the fashions, the music, films and many other things. Laughed at the image of ourselves back then in our mini skirts when swinging London was the place to be, Carnaby street, Beatles music, The Stones. I got around to talking about my favourite film stars, one of whom was Omar Sharif and particularly of his part in Dr Zhivago !
'I've met him"
This time it was my turn to almost fall off my stool.
"You what?" I gasped
"I interviewed him for the paper" Marilyn smiled at me.
I muttered something like "You're not kidding me? You lucky devil!"
Then she told how Omar was charm itself and just as handsome in the flesh as on the screen. Again I whispered dreamily "Oh, those eyes!"
She assured me the eyes were beautiful and being a daring young journalist she said to him
"Would you mind if I described your eyes as being like 'Melted Mars bars?!
Marilyn said he laughed at this saying he had never heard that description before. Half an hour later we noticed there was some tennis showing on the TV in the bar. Marilyn asked me if I enjoyed watching Wimbledon? I said not as much as in the 80s as I preferred the 'personalities' that were around then; people like Connors, McKenroe, Borg, Nastase and others; that I found it slightly boring these days.
"I interviewed Nastase"

The young Marilyn had been given this job for a feature and relished in it as she loved watching the game. Now Nastase had a reputation with the ladies and this Marilyn was to experience first hand. All through the interview he flirted outrageously with her and after it came to an end he brazenly asked for her telephone number. Being overawed and flattered she gave it him. But sadly the call never came. We laughed and joked that evening and as we each went our separate ways I felt that I had been in the company of someone half her age. Great fun!

It was Saturday morning, the week had flown by and I was due to leave for UK that evening. Having lots of things left uneaten in my fridge, I popped them all into a carrier bag and walked the few hundred metres to Marilyn's apartment to see if she could make use of them. It was my first visit and Marilyn gave me a little tour of this smart but homely flat. I also saw photos of Marilyn's last husband Denis. This made me a little sad as they looked such a happy couple and not for the first time I wondered how life could be so cruel. Marilyn along with her second husband had bought the place over 21 years ago so to her it is indeed a second home. Once more we sat and talked about our lives and families and passed a very pleasant hour together.
"What time you leaving?"
I replied about 5 o'clock.
"Lets have lunch. My treat"

About 2pm we were sitting at a table in the nice restaurant on the stairs at the side of the safari bar called 'A Fonte'. It was a cheerful but relaxing ambience and as Marilyn tucked into steak, egg and chips and red wine. I was enjoying my favourite sardinhas with small new potatoes and salad; my thirst quenched by a small beer. The conversation flowed and I was astonished at more tales of Marilyns exciting career, learning that she was once a good friend of Michael Cain the actor; this was in the time of his early and very successful films such as 'Alfie' and 'Zulu'.

Something I haven't mentioned before and I often forgot it in this lady's most enjoyable company is that she is disabled. A few years ago, whilst nursing her husband and going through the most traumatic time that terminal illness can bring, Marilyn was walking along the in road of Carvoeiro when she experienced a sever bang to her left eye. At that moment she thought someone had shot her in the eye with an air gun, as that was how it felt. Her eye filled with blood and she couldn't see. The next thing she knew she was being rushed to hospital for emergency treatment. But it wasn't a pellet from an air gun; the eye had haemorrhaged; there was nothing doctors could do, she was permanently blinded. Last year brought more trauma as a cataract developed in the right eye bringing more difficulty to a woman who earns her living as a writer. But a couple of months ago an operation brought light back into Marilyn's life once more when the cataract was removed. That night, Marilyn said, she wanted to tell the world, throw a party!

Hunger satisfied we made our way to Hemingways to take coffee and for me to say goodbye to Hazel and Murray. Marilyn and I talked some more and when it was time for me to leave I felt a great reluctance to do so. But then I always feel that way on every visit to Algarve. This time however I felt an extra sadness, for in one short week I had made a friend who I felt immediate rapport with and that made it a little harder.

Each visit is reunion with old friends and meeting brand new ones; I love it and I hope it will always be so. I'm sure it will. For this is Algarve!