Return Journey
During my recent holiday I had a couple of good walks along the cliff tops at Carvoeiro. I was blessed with beautiful weather for the whole of my 11 days and to stroll those cliffs is both pleasing to the eye and balm to the soul. The stunning scenery of both rolling Atlantic waves and the bluest of skies, never ceases to amaze me, even after all the years of visiting the area as well as our time of residency in Algarve, it still enthrals me; I doubt whether there are many places in the world that have such a glorious coastline.
I usually ended these walks by sitting on one of the white stone seats above Carvoeiro's little bay, where I would sit and sip cool water and simply take in the sight of people at play, enjoying themselves on the beach below and to breath in the clean salt air; that is what I call relaxation!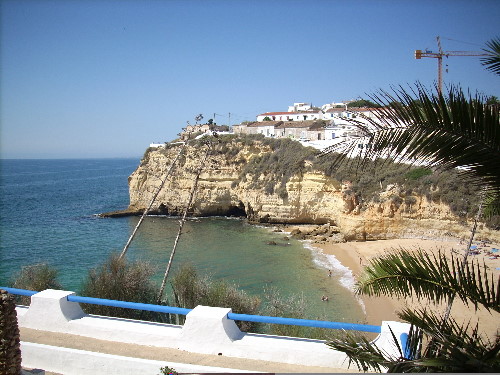 On one of my walks, I was crossing the road at Algar Seco to reach the cliff tops when a campervan passed by me and inevitably, when I sat down to rest, my mind wandered back to our various holidays in campervans and of our return journey to Algarve, at Easter in 1994….
 
We had passed through France, after having the 'adventure' of being locked in a garage mechanics work yard all night, when the campervan had broken down. But we had come to the French side of the Pyrenees, it was nightfall and Hub wanted to drive through them during daylight. So before searching for an overnight stay at a camp site, we pulled into a petrol station cum small supermarket; I recall it was on the outskirts of Biarritz. Whilst Hub filled the petrol tank Jamie and I went into the small shop and after putting a few provisions in a basket I handed it to Jamie, whilst I headed for the door which had 'Toilettes' written over it.
 
When I came out, I heard raised voices and one of those was Jamie's. The elderly shop/petrol station owner was ranting at him. I asked the man, in French, what was the problem? He went off on a rant again, pointing at the 'Toilettes' sign saying "Non toute le monde" (not for everyone). I was puzzled and said I was sorry but with the sign, I thought the toilets were for the use of customers? The man went on again, shaking his head and ranting. I just stood there, feeling rather foolish and waiting for him to check out the food Id bought, when suddenly Hub came in. He asked what was going on and I told him. The French man was still going on about it. I apologised once more (I don't know what for), saying I was 'tres fatigue' (very tired). Hub became angry; we were tired, hungry and needed a rest and I did not need this man lecturing me.
"Come on, we're going" Hub commanded after he'd paid the man for the petrol.
I said what about the food? Hub said "Leave it. If he wants to be nasty with us, we don't want his food. He was probably one of those who charged our soldiers for water during the war".
With that, we left the shop but not before the Frenchman suddenly became 'all nice', asking if we wanted the food? Hub walked out muttering something like 'he can put his food where the sun doesn't shine'!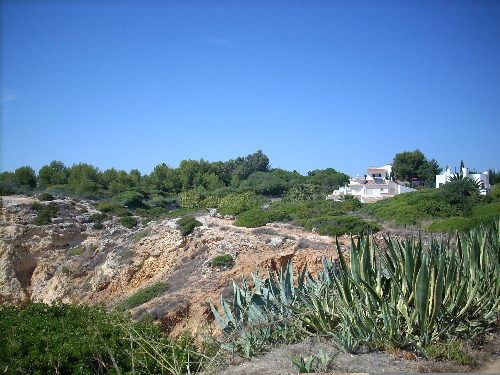 We found quite a posh campsite and after checking ourselves in, we went to find some dinner. Hub treated us to a steak meal but we forgot to ask for it to be 'well done', so consequently we had steak swimming in blood, with chips but we were so hungry we ate the lot, blood and all!

The next day, after passing through the Pyrenees, found us on the road to Burgos, the old Castilian capital. Hub suggested we find a hotel and have a good nights rest in proper beds and then the big push the next day, to get down to Algarve. As we drove closer to Burgos we started seeing signs for a 'motel' called the 'Picon del Conde' on the outskirts of the city.

We were on the N1 coming from France and soon the motel & camping area were coming up on our right at Monasterio de Rodilla. The motel seemed quite new and after booking in for bed and breakfast we were shown to our family room; this was quite a large one with four beds and en-suite bathroom. The motel was in quite pretty surroundings, so it was nice for us to be able to stretch our legs and take a walk around. I was able to phone family from there and also call Maria, to tell her that we would be at the workshops by the following evening; she sounded as excited as I felt!
 
On the road again the next day, we by-passed Valladolid and Salamanca; I was a little sad about this, as I would have loved to have spent some time in Salamanca as we did on our first trip out; its such a lovely city.
Hub decided to cross the border into Portugal further north this time and on passing Cuidad Rodrigo, we came to Vilar Formoso and at last we were on Portuguese soil.

It was early afternoon as we parked up by a large restaurant; the place was still quite busy with people having lunch. Hearing the familiar language, I suddenly wanted to be very much a part of it all again, so we ordered Bacalhau, the traditional Portuguese cod meal, made with potatoes, onions and tomatoes.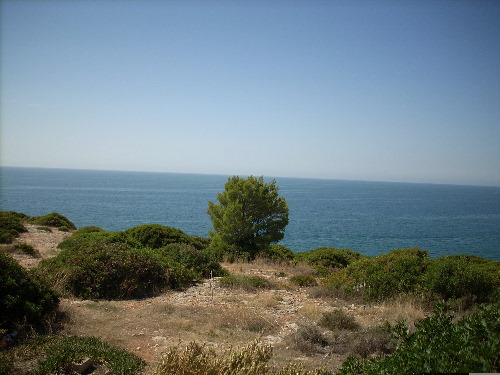 I felt totally relaxed as we sipped our white coffees then, as we got on our way taking the road south, all my cares seem to leave me. We had covered many miles, with me sitting dreamily beside Hub, map open on my lap and Jamie dozing in the back when,
"What the hells happened here?"
Hub's voice brought me abruptly out of my dream world,
"What is it?"
"The roads disappeared!"
I sat up and looking through the windscreen in front of us, saw that he was right; the road had disappeared and we were now bumping along what looked like a wide dirt track.
I checked the map and found that we were still on the right 'road'.
"I just hope we don't get lost" Hub sounded worried "We should have crossed the country and taken the Grandola route but too late now"
But we kept going. The scenery was pretty on either side; it was very green. A memory popped into my head. I recalled an English chap, who we had done some work for, saying that compared to the north of Portugal, the Algarve was a desert.
 
I don't know how long we drove for but suddenly a 'proper road' appeared in front of us once more. Hub and I looked at each other and said almost in unison 'Portugal'! and laughed.

By now we were past the Badajos vicinity and into Portugal's south. It was evening when we found ourselves in, according to my map, the Serra de Caldeiro region. We embarked on what seemed a mountainous road and one that seemed to be ever winding like a helter skelter. As darkness closed in all we could make out were the grey ghostly outlines of trees that dotted the sides of the snake-like road that seemed to go on forever. Even after all these years, I can still conjure up the image of that never-ending road in my head.
 
Then, unexpectedly, the road levelled out a little and a café appeared to our right. Hub needed a break from the wheel and we thought it a good idea to have a coffee to wake ourselves up!

The place was full of men smoking, drinking and Portuguese chatter. As we sat down and waited for our coffees, all eyes seemed to turn to us but we were too weary to take much notice. There was a phone that we could use, so once again Hub called Carlos and Maria and said we would be late but we would definitely be at the workshops that night. Maria said that old Miguel had left the gates unlocked for us, so that was a relief!

When we left the restaurant we continued on the winding road but at long last we soon saw lights of a town ahead of us; they were the lights of Faro.
 
We were on home territory now and very soon we were driving through the town of Algoz. Throughout our journey from England I had felt excitement at coming back to our old home but as we drove out of Algoz I also felt certain trepidation. We had been away over 9 months, enough time to get back into our English way of life. How would we feel being back in the Portuguese way of life? At that moment I had some doubts.

Soon, we could make out the white walls of the cemetery, which meant that we were almost there. Then our headlights showed us the wide rusty gates that led to the workshops; they stood open and Hub turned the camper through them and up the red dusty track to our carpentry workshops.
 
Miguel had also left the overhead lights on for us and we parked the camper beneath them on the hard standing next to the big white barn of a building that held the tools and machinery of our livelihood. We were back!
Hub and Jamie slept soundly that night but for me sleep was elusive. My mind started racing. I suddenly felt a stranger in the place I once called home. I did feel a certain excitement but along with it was a fear; were we doing the right thing in trying to start over again?

I must have slept as I was woken by barking and a glimpse of daylight through the curtained window. It was old Miguel's dogs barking from his cottage by the gates. I lay there and suddenly felt okay. The night had bought fears but now, in daylight, with sunshine coming through the window and with it that feeling of warmth that makes you feel so good, all my fears suddenly evaporated.