Plans and…Pigs !
With Hub telling me it might not be long before I saw Maria again, I couldn't help but get excited. He wouldn't elaborate but said that our savings were building so we would soon be able to make plans.
Replies to my garden advert were coming in; my first being a call from Mrs Kitchener an elderly widow woman. She was surprised to hear that I was a lady gardener but when I went to see her, we got on very well. My first day's work was tidying up and weeding but I found that she was lonely and wanted someone to talk to, so as it became a regular weekly job I often stayed longer than my 2 hours!
Most of the callers were elderly, who usually wanted someone to come in about once a fortnight to keep the garden weed-free and to do the digging. This never bothered me, as of all garden work, digging is my favourite!
Then one day I got a call and the voice on the other end was a young one. Angela was a woman of 30 and she was confined to a wheelchair. Diagnosed with Multiple Sclerosis in her early 20s, her condition had worsened considerably and she needed help in the garden.
Her bungalow was on the outskirts of Southend in the countryside. I didn't know it but Jeff did and so on one of his leave days from the fire service he drove me to see Angela. As we arrived, she was waiting in her wheelchair at the gate and holding it open for us.
She led the way indoors to the kitchen and proceeded to make tea for us. I offered help which was politely declined and I was to find out over the coming weeks just how independent this young lady was determined to be, despite her disabilities. One is always humbled by people such as Angela, as we often take our own good health very much for granted.

Her garden, which was made up mainly of raised beds was neat and tidy and already the shoots of Daffodils were eagerly pushing through the dark soil. There was a large corner plot that needed digging over, where Angela wanted a miniature woodland created of small trees and shrubs. Over the following weeks we would become good friends through our mutual love of gardening and I received as much pleasure as Angela as that dull corner became alive with mainly evergreen plants and planted up with late spring and summer bulbs.
I did find, as with Mrs Kitchener, that people seemed in want of company and my work always ended with a cup of tea and a chat; sometimes a long one!
I still made my weekly calls to Maria and on one afternoon after we had been chatting, no sooner had I put down the phone when it rang again. Thinking it was Maria had forgotten something I responded with a laugh "Ola!"
"Excuse me?" the man's voice was deep and slightly agitated.
"Sorry. I thought you were my Portuguese friend"
"Oh" he cleared his voice "Can I speak to the gardener please?"
"Speaking"
"You're the gardener?"
"Yes"
I was used to this as most people expected a man to reply!
"Right" a pause then "Are you any good with animals?"
"Animals?" I was thinking, 'we've got a right one here!' "I don't understand. I'm looking for work as a gardener"
"Yes I know. I'm a farmer but I don't need a gardener"
We were getting nowhere fast.
"I've had dogs and cats", I could hear the puzzlement in my own voice.
"Not that sort of animal. How are you with pigs?"
My immediate thought was 'this is a windup', .either that or I'm hearing things.
"Sorry?"
"I need someone to look after my pigs and clean up once a week. I pay well. Normally my wife does it but she wants one day off a week"
Again I thought 'I'm not surprised after being with pigs all the week!' But the words 'pay well' caught my ear.
"Its only about 3 hours if that; just cleaning out, £25"
I gulped. That was more than I was earning for the gardening per hour. I was interested and I told him Id get back to him that evening.
You should have seen Hub's face when I told him; it was a picture of astonishment, his words were something like,
"Are you mad? You've never done that in your life!"
I reminded him that I'd never done a housekeeping job for anyone in my life but I managed it somehow at the Manor. But he knew that once I wanted to do something, it was useless to argue. I was stubborn and wouldn't budge.
I rang the farmer that evening and said that we would come to see him that Saturday. We knew the countryside well outside of Rochford, so with his details we followed the lanes to the farm and we found him leaning on the 5 bar gate waiting for us.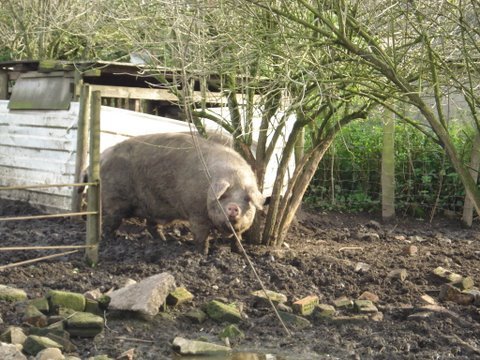 After his jolly-looking wife made us tea, the farmer showed us the 2 pig pens. There seemed to be a lot of pigs in each and never having seen a live pig before (just dead ones, hanging upside down in a butcher's shops) I was surprised how big some of them looked at close quarters!
I told the farmer of my apprehension and he assured me that the pigs would not be around when I was cleaning. He then took us through to a large apple orchard. Being early in the year of course there wasn't any fruit but he explained he farmed organically and during the late summer and autumn, the pigs fed on the fallen fruit and this he again assured me, was where the pigs would be brought whilst I cleaned up the pens.
Big relief on my part! I arranged to work on Saturday mornings. Hub was not keen on my doing this work at all. He thought I did enough with housework and my garden jobs.
He was right. The pig pens turned out to be hard work and I had one hair-raising experience one Saturday, when, as the farmer herded the pigs into the orchard, one large sow broke away and headed towards me. Id heard tales that pigs could be quite aggressive and I felt unnerved and on the point of running, but the farmer quickly brought her back into line.
After a few weeks and as Hub ferried me back home after my mornings toil, I fell asleep in the back of the car.
"That's it. I don't want you to do it any more. It's too much and there's no need for it"
His voice was stern and I had to admit, I had had enough myself.
When I called the farmer he was a bit put out and even offered a little more money. But I said no, that I couldn't do it anymore.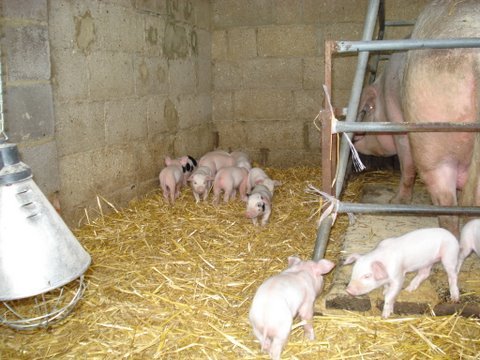 As we sipped a glass of wine one evening after dinner Hub said,
"Shall we have another go at it?"
I gave him a quizzical look.
"What?"
"Portugal"
I grinned from ear to ear.
"Do you mean it?"
He nodded. From that night onwards, there was no more crying or getting upset on my part, instead it was replaced with excitement and preparation for our return to Algarve and the life I loved.
One morning, as Hub came in from a nightshift, he sat down and as I made him some hot tea he seemed strangely quiet. We usually chatted about his work and what Id watched on TV, but he remained silent. I asked if he was okay.
"Something very weird happened to me last night on the train"
His nightshifts began about 9pm, so he normally got the train from Southend at around 7.30pm into Fenchurch street, in the City.
I was a little concerned as he looked very pale.
"What happened?"
He went on to tell me that, as usual, the train was pretty empty and about halfway through the journey he started to doze over his newspaper. The suddenly the train jolted and it woke him. As his eyes opened and looking ahead, he was totally shocked to see 'himself', on the seat opposite, looking back at him!
I said maybe he was dreaming but he was absolutely certain he was wide awake and there was no mistaking what he saw.
That really spooked me. I could tell that he was shaken by the experience, what people in the know call an 'out of body experience'!
How do you explain something like that? I have read of it but never and hope to never experience it myself. It quite badly affected him for a few days.
I didn't like him having to do night work. We'd had years of that, when he was in the Fire service. We had a business in Algarve; that's where we ought to be.
Discussions got underway for our planned return to Portugal and the first thing we decided was, we would buy a campervan. Hub would work until we were ready to leave. The arranged date would be around Easter time; just a couple of months away.
Our one concern was for Jamie. His schooling and studies were important and we didn't want them interrupted. He kept telling us that he was a man now, in his 17th year but he still seemed young to me. However things were going to fall into place and put our minds at ease, when his older brother stepped in; Jeff would move in with him.
Jamie would come with us for the Easter holidays then fly back home to pick up with his studies.
Soon, we were doing the rounds of car showrooms, looking for a suitable, reliable campervan.
When I called Maria, she was over the moon that we would soon be back in Algarve and once more she said " I have surprise for you Ellie"…

Footnote: I would like to thank Lesley Jean for providing the great pictures for my story.