France
I love France so the thought of an overnight stay near Le Mans was very appealing to me and I nodded to Hub's suggestion of finding the Green 7 hotel.
This comfortable hotel lies on the southern edge of Le Mans on the 138 'Tours' road and not very far from the famous Le Mans racetrack. It sits at the entrance to a large wooded area. We had stayed here before and found the management very friendly and welcoming.
Soon we were parking in the forecourt of the hotel and then went to book a room for the night. After leaving our overnight bags in our room, we went seeking something to eat.
We stretched our legs and went for quite a long walk and soon came across a McDonalds- type restaurant and take away. There we bought burgers, fries and drinks and took them back to our hotel room. After our little feast, I indulged in a hot bath and then we settled into the comfy beds and watched French TV. I seem to recall we watched an old black and white French film and really enjoyed it; I've always liked French films, finding them very atmospheric.
The hotel lays on a 'help yourself' breakfast for most of the morning, so after a lazy lie-in, we went to the dining area and feasted on different types of French bread, butter, warm croissants, yoghurts (something else I like in France) and different jams ; we were pleased to see that tea was also available, so we had several large cups.
After our hearty breakfast we were ready to be on the move once more. The campervan was performing very well and soon we were on the road heading towards Rouen.
Rouen is the 'capital' of Normandy and has a magnificent cathedral; it's also the place where Joan of Arc had her trial and judgement. We were quite fascinated by its history and charmed by the place itself.
As we continued motoring I perused the map on my lap and a name 'jumped' out at me, the place was 'Boos'. That took me back a long way. It was a place where we had camped on a much earlier visit to France, when the children were young. I told Hub and he said "Let's go see it, for old time's sake".
Which we did but I couldn't recall what the place had looked like, as it had been a very long time since our first visit. However one memory came back to me of this Normandy village…
We had been travelling towards it in our Volkswagen camper, the children sitting in the back, and suddenly we were caught up in a wedding party!
I remembered that the young married couple were seated in a cart with horses pulling it along and the wedding guests were running along side of it. It was a very merry occasion and as we slowed down and stopped, a young man came up to us and from what I could make out, he was inviting us to the wedding celebrations! But being a bit shy, we thanked him and said we were looking for a campsite. He pointed us in the direction of the campsite and the wedding party went happily on its way.
As we motored through Boos, those nice memories floated back to me and the friendliness of those French people.
Leaving Rouen and Boos behind us, Hub went onto the E402 and after a while he turned to me saying "Know where we're getting close to?"
I said no, I didn't.
"St Valery sur Somme. What say we stop off there and visit old Raymond?"
I nodded eagerly. It would be so nice to see him again. I had sent cards from Portugal but never had any replies, so it would be good to see that he was okay.
On reaching Abbeville, we took the turn off to the left and onto the country road. This eventually led to the familiar roundabout with the large bird statue and from there we took the road to the right. We then crossed the railway level crossing and then went to park by the river. There we had a refreshing cup of tea and a little snack. Afterwards we made our way to the street where Raymond lives.
Parking opposite Raymond's home 'Sunny Cottage', we made our way across the busy road. The gate was locked and I peered through the high railings which surround the front garden. I saw that the front door stood open and I called Raymond's name. As I did so, Pepe, Raymond's yellow canary that swung in the cage by the front door, started to sing.
I called again but this time a bit louder. The door opened further and then Raymond appeared on the doorstep. He adjusted his glasses and peered at us; then he recognised us.
"Ahh, mes amies !"
He walked quickly towards us and came over to unfasten the gate. Kissing me on both cheeks and giving Hub a firm handshake, Raymond welcomed us into his home. There was something different about Raymond and then I realised it was his hair; instead of the familiar silvery colour it was now a light brown!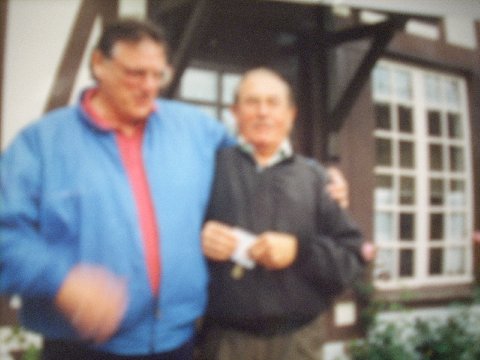 Hub & Raymond
We sat in his sitting room whilst Raymond went to make us coffee. I remember that a political broadcast was on the TV and Raymond said "Its all blah blah blah!", and we nodded in agreement, laughing as we did so.
My first question was to ask after his wife Maude; she had been very ill with cancer when we first met him. His face took on a very sad expression and tears filled his eyes. Then he told us that sadly, Maude had passed away a couple of months after we had met him. We said how sorry we were to hear this and of not having had the pleasure of meeting her.
But Raymond seemed eager to change the subject and went on to ask how long we were staying for. We told him we planned a night at the camp site but he shook his head, saying no, and that we must stay longer. Then he said he would like us to stay at his friend's bed & breakfast just outside St Valery and that it would be his treat. In a minute he was on the phone and after a friendly exchange with his friend, he turned to us saying "Well, that's all fixed then"
He had booked us in for 3 nights at the B&B and then smiling he said "Now I will have time to show you around"
We followed Raymond in his car to his friends place in a little village called Estreboeuf on the D48, on the outskirts of St Valery. It was a very impressive house, like a small chateau, with well laid out gardens to the front. Our room was very nice with an en-suite and views over the back garden.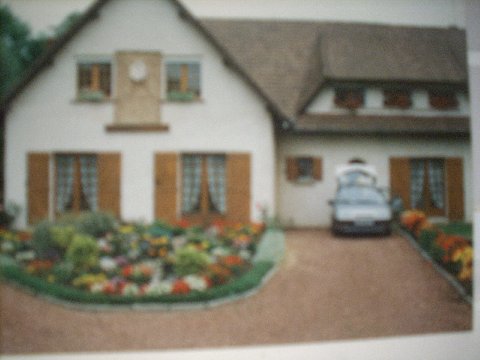 Bed & Breakfast
After a refreshing shower we were ready to go meet Raymond, who was taking us to a restaurant near Cap Hornu. This is a nice little sandy bay and a holiday site but the site was closed except for the restaurant.
We had such a lovely evening and I remember the meal very well, it was lamb but cooked in a special way with a unique flavour. We had a very fine Rose wine with the dinner and for dessert we had mixed fruit in tall glasses. Raymond called for cream and the young waitress brought it in a large bowl; so we helped ourselves. Once again Raymond regaled us with stories of his time in America, punctuating sentences with 'Oh boy!' and 'Holy smoke!' and we had a merry old time.
I told him about my own 'French connections', of my great grandmother having come from Paris. I mentioned my surname and that it was originally Beaudroit. But Raymond told us that it might be difficult tracing it back, as many birth and marriage records had been destroyed in the French revolution.
I recall us going back to the B&B and that we slept soundly but something disturbed me in the night; a whooshing sound in the room. We had left the shutters open slightly and when I mentioned it to Hub, he thought it was probably a bat, as we were surrounded by tall trees. This didn't comfort me very much!
The next day, we had arranged to meet with Raymond once more, but this time he was taking us in his car to a place he wanted us to see. He didn't say what or where it was, so we were very curious. So leaving the camper outside his home we were soon driving into open countryside. Then suddenly we were pulling up outside a large stone entrance; over the top of the gateway were written the words 'Cimetiere Chinoise' ( Chinese cemetery). As we walked into it, there were rows of headstones marking the graves. Raymond went on to tell us, that these were the graves of Chinese who were brought to France as forced labour, during and after the First World war. I felt terribly sad looking at those graves and of how young many were and what a terrible thing it must have been, to have been brought so far from your homeland, only to die.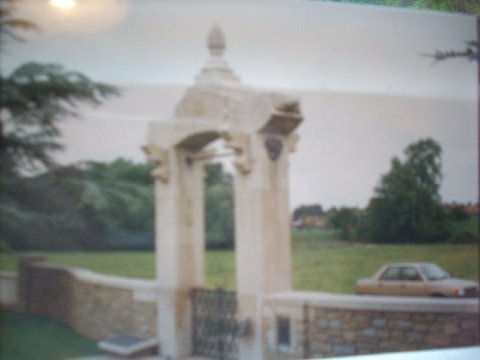 Cimetiere Chinoise
Raymond then took us to a farm-cum-restaurant to have lunch. But before that, he took us into the grounds to see some of the animals and I clearly remember a large colourful peacock, sitting on a low rooftop. Once again the meal was delicious and this time Raymond was our guest.
When we came back to St Valery and after a cup of coffee at 'Sunny Cottage', Raymond took us on a tour of the town. We walked around and I was amazed at Raymond's energy for such an elderly man but he seemed to enjoy it as much as we did. One place he showed us, which was of great interest was a stone tower near the old city wall, where Joan of Arc was imprisoned by the English, before she was taken to Rouen for her trial and then burnt at the stake. Raymond also told us that at one time St Valery was a very popular town and that people like Victor Hugo, Jules Verne and Degas had villas in the area. But then it was time for Raymond's 'siesta', so we left him at peace in Sunny Cottage.

It was our last full day and after having a drive down to the bay at Cap Hornu (this really is a delightful spot), we met up again with Raymond and he took us to lunch at a restaurant on the outskirts of the town, called Le Moulin (the windmill). I say lunch but it ended up a 4 course meal and with a wonderful red wine to accompany it!

For starters we had little pieces of toast with all kinds of pate. Hub and I had steak in red wine for main course and Raymond had Ostrich. It was beautifully cooked but then I have never, in all my times of visiting France, experienced a bad meal. Then some glass bowls appeared in front of us, filled with sorbet; Raymond said it was apple sorbet with Calvados, the apple brandy. He warned us not to drink too much of the liquid as we could end up drunk! He also told us it was to 'clean' the palette, ready for dessert, which as I recall was mixed ice creams.

Where we sat overlooked the marshlands at the back of Le Moulin and we saw sheep grazing there; Raymond said that was where the lamb came from of our previous dinner and that it had the unique flavour because the animals grazed on the salt marshes.

After our sumptuous meal we drove back into St Valery and Raymond took us to the graveyard where his wife was buried. It was a very handsome headstone made of black marble and I laid a few flowers there, feeling quite tearful that I had never met this lady who Raymond had loved so much. In a corner of the graveyard was a spot where some British soldiers lay buried; soldiers who had died in battle during world war two.

That was our last meal with Raymond, as we were leaving the following day at midday. So we said our goodbyes to him but I felt rather sad at leaving him. He had obviously enjoyed our company and he looked a lonely figure as we took our leave; he lived alone and now had no loving wife to return to.

The following day we were all ready to leave the Bed & Breakfast. I presented the owners Jacques and Marie Christine with a potted plant saying how much we had enjoyed our stay and that we would come back some day. They were a very nice couple and along with their two teenage sons had made us very welcome, even making us a pot of tea each morning for breakfast.

We drove away from the B&B and went to take one last look at the riverside in St Valery. But as we left the parking area by the river and before we reached the level crossing, the engine of the camper started to splutter. Before we had gone a few metres, the camper stalled, then stopped completely…..