A Very English Senhora!
Imagine the scene, a young Portuguese girl reclining on her bed, the English dictionary lays open on her pillow as she searches diligently for a word, finds it, writes word into her exercise book and as she does so, repeats the word over and over, her eyes darting back to the dictionary to make sure her pronunciation is correct. Then, taking a break her eyes are drawn to the large poster of Big Ben pinned to her bedroom wall and for a few moments her thoughts are far away and she dreams.. of London.
My friendship with Susana started through the general forum on carvoeiro.com. One day, I received an e-mail with the address 'Nosey Parker'; I had seen this user name on the forum and that it was a member who lived in Portimao, so I immediately thought it an ex-pat living in Algarve. Even after reading the mail and saw it was signed 'Susana', the written English, not only the grammar but style still had me convinced it was from an English lady.
As our correspondence progressed I soon found that Su was Portuguese and had married Stefan a Lincolnshire lad and they had lived a few years in the city of Lincoln. She had seen my posts and that I lived in Lincolnshire; her writings soon told me that it was where she longed to be and I quickly learned of Su's great love for English culture and history.
I have to confess that at first I found it strange. There was I, a middle-aged English woman, fed up with living in a cold wet chilly land, yet there was Susana ready to change places with me! I was due out for a month's vacation in Algarve and so we arranged to meet up.
Its always a bit 'nervy' meeting someone for the first time and this was no exception. Talking to Su via e-mail or PM we seemed to get on fine but as I walked down to Carvoeiro's sea front I felt slightly anxious. Su and husband Stef were young people in their 20s and I wondered if they might find someone, old enough to be there mother, rather 'fuddy duddy' ;maybe a bit 'out of touch'. But I needn't have worried. They were both sitting at a table outside Colombos and as I rushed up they both gave me nervous but friendly smiles. It was a very hot day, so we decided to have our cold drinks downstairs in the shade. After a short ,faltering start the three of us soon relaxed and then Su and I were nattering '19 to the dozen'!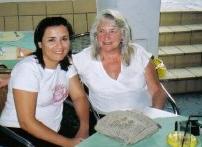 Susana & Ellie
It was their first proper visit to Carvoeiro; both were charmed by the friendly pleasant atmosphere of the little town that, although busy, always manages to retain the intimacy of an old fishing village.
I had a very pleasant afternoon with Su and Stef, one that went on into early evening as we talked about so many things but what fascinated me most of all was Susana's 'obsession' with England from a very early age. She told me that it all started from around the age of 10, when she had a large poster of 'Big Ben' on her bedroom and that anything and everything on TV associated with England became 'sacred' to her and that she would 'daydream' constantly of London.
Su wouldn't learn the English language properly until she went onto secondary education at the age of 13; but in her eagerness to speak it she would tune into the radio and 'pop' music and 'singalong' with all the 'English spoken' songs. She told me that at the time she didn't have a clue what she was actually saying but that people around her thought she was
singing it all correctly! Then she forced herself to learn a whole song with the lyrics in front of her and that song was "Darling leave a light on for me" by Belinda Carlisle. She found it very hard; particularly in getting the 'phrasing' right but for 3 days she practised and persevered non-stop until finally she got it!
Then, starting English lessons 'proper' at school, Su found she was in her element and so thirsty was she to become fluent her progress soon soared ahead of her fellow class mates and with  her 'treasured' English dictionary at home to learn from her progress went from strength to strength! Su had her school teachers wondering where and how she was achieving  such a wider vocabulary? It wasn't just the dictionary at home but listening constantly to English on the TV  and to her favourite pop group Bon Jovi, where she would pick up new words and grammar and listen to their interviews over and over again until the words and phrasing stayed in her mind.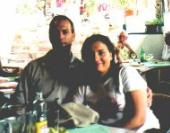 Susana & Stefan
Suddenly Stefan, who had sat listening very patiently to our in-depth conversation, looked at his watch and mentioned 'Toffee' their beautiful Labrador. Su said "Afraid we'll have to go Ellie. Have to get back to take Toffee for his evening walk"
I looked at my own watch. It was past 7pm! We had talked solidly for over 3 hours! Anyway, we walked to where their car was parked and as she left Su said "We'll have to meet up again when you're next out here. Its been so nice and interesting"
I agreed, saying that I hoped to be out in the New Year and it was a date!
But I didn't have to wait that long for, in the middle of the following week I had a text from Su asking if it would be possible to meet again the following Sunday? I didn't hesitate to say yes. I found her story so fascinating that I longed to hear more.
Sunday arrived and was yet another warm day. I hadn't got to bed until the early hours, so after rising late I chilled out for most of the day. Around 3.45 I had a slow walk down to Colombos to wait for Su and Stefan; Su had texted me that they were on their way. I was a bit early for a change and being hot I waited downstairs in the shade with a cool drink. I stood up now and then so they could see I had arrived and before long saw Susana and Stefan making their way down from restaurant hill direction. But this time they were not alone. Holding Su's arm and looking slightly anxious was an older silver-haired lady. I walked up to meet them and soon I was being introduced to Maria, Su's Mum.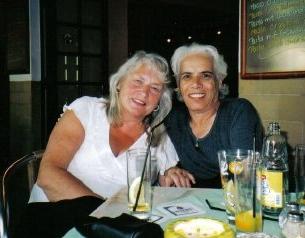 Maria & Ellie
I forgot to mention that when Su asked to meet up again, she also said " And this time we want to sample one of those famous ice-cream cones!"
So, introductions over we made our way over to the Dancone Palacio by the side of the square. Su, Stefan and Maria were thoroughly enjoying their first taste of the 'world's most famous cream cones' . But through the delicious mouthfuls Su and I still managed to 'talk' and talk we did!; our conversation turning to English literature, which is Su's first and foremost reading material. We found that what we most enjoyed reading were books on medieval times and particularly if they were based on a 'true story'!
Maria speaks very little English so we had a 'conversation' via Susana, who told me her Mum was really enjoying her 'Carvoeiro afternoon'. Living as they do, in a Portimao apartment she was really loving the fishing village environment, its friendly feeling of informality and of course to be so close to the sea and wander the sands of the small bay; Maria, having come from the rural Alentejo area near Beja, was relishing in the feel of a close community once more.
The weather was sunny and warm and finishing the sweet creamy ices we felt in  need of a cold refreshing drink, so made our way back over to Colombos once more.
As we talked of books and exchanged details of our favourite authors I began to learn of Su's journey from dreams of England to the real thing. She not only baffled her teachers but also her parents and at this point in our talk Maria said she had been astonished at Su's 'fever' to learn about all things English and often joked that Susana had probably been English in another life!, or indeed have English blood in her veins centuries past. To bolster this thought, Su showed me the spelling of one of her surnames; on looking at this  and by removal of a letter, there was indeed a very English name.. Stevens!!
In 1995 Su acquired many English pen friends and amongst these was Stefan an Lincolnshire lad from Scunthorpe. During 1997 Su's desire to see England at last came to fruition. A young woman alone she bravely stepped onto a plane for  a trip to London and to part-take in a 2 weeks summer course. She told me it was simply an excuse to see England's capital city and to meet English people, amongst these would be Stefan who travelled all the way from Lincs to finally meet-up with her. On her return to Portugal she initiated her 'Tourism degree' at the University of Algarve in Faro and in 1999 Su then embarked on a semester to England as an exchange student at the Bucks. Chilterns University college at High Wycombe. Whilst there, she decided to write to Lincoln University, to enquire if she could finish her studies with them and to her joy, received a positive response!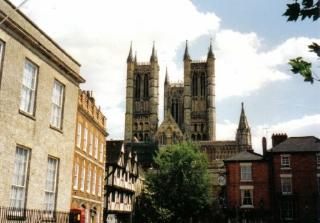 Lincoln Cathedral
Stefan and Susana bought a house in Lincoln and were married at the 180 year old Judges Lodgings which is adjacent to the City's impressive castle. Su not only fell in love with Stefan, she also fell for that lovely city. In fact on her very first visit she turned to Stefan and said
"When we get married, we will live here!"
Susana told me her parents were phenomenal and gave their whole support to her 'dream', which as she emphasises must have been very hard for them. An only child wanting to leave home and live so far away must have been a terrible wrench but she had found a good man in Stefan and was happy so they gave her their blessings and in  2000, Su graduated with a B A Honours. But as we all know, when life seems almost perfect, it can turn around and give you a great big kick!
Su had been in England for about 2 and a half years when she received news that her beloved father was terminally ill. There was nothing for it but to sell up and return to Portugal to give mum Maria all the support she would now need. Although it was very hard to leave a settled happy life in Lincoln and one that she still misses to this day, her decision was the right one. It gave her a full year to be with her beloved Dad. A year which was, sadly, to be his last.
Once more, we talked not only of our common interest in English history but also of mine and Hub's time in Algarve and how I, in similar fashion had fallen in love with Portugal and its people. We laughed at each other, at how she thought of 'Lincoln' as home and how I felt the same way about Lagoa! Then I spoke of how, for a very short period, I had run a tiny second-hand bookshop in Silves. This immediately caught Su's attention as she said,
"Do you know, that is my dream. To have an English bookshop here in Algarve!"
I can now say, that dream is soon to become reality!
Susana, Stefan, Maria, it was a great pleasure to meet and make friends with you all. You helped make my holiday a more interesting and happier one. I can't wait to meet you all once more (plus Toffee!) in the New Year and to purchase at least one new book!
Good luck from me and Hub!