Lisboa
 
"I've got Friday off Ellie. How you'd like to go to Lisbon?"
Beverley's surprise question and eager face had me answer immediately "Yes. I'd love to!"
Before I knew it we were driving to the Galtur shop in Carvoeiro to book our bus seats, only to find the place closed! I said not to worry and that I would walk down in the morning to get our tickets.
This I did and I found the two ladies there (Ana Bela Malo and Vera Costa) most helpful and very patient as they rang round hotels in central Lisbon to find a double room for 2 nights at a reasonable price. It took some time as young Vera tried to explain (to other person on phone) that 'Mrs' was not my first name! This we had quite a laugh about but within an hour I had 2 bus tickets and hotel bookings safely tucked away in my bag. Whilst waiting for my tickets I told Vera and Ana about CVO.COM. They knew of it and Ana looked it up. She saw 'Ellie's Corner' I said I would mention them both here. So Ana & Vera? Hope you get to read this!
It was Friday morning and before 8a.m Bev drove us into Lagoa's bus station. We had to wait awhile but eventually we were on board and pulling out of Lagoa by 8.40a.m.The journey would take 3 hours but I was pleased to find the bus was clean, comfortable and with air-conditioning and I thought the 30 euro return fare remarkably cheap. The driver was doing a leisurely drive and so I had the opportunity to take in the varied and often pretty countryside along the way. There was an overhead TV with film to watch but I preferred to look out the window.
After almost 2 and half hours we started to approach the long bridge that strides the River Tagus. I was excited at the thought of soon being in Portugal's capital and crossing this great river certainly added to my eagerness! As we started to cross, the bridge seemed quite low over the water. Indeed, to me it only seemed a matter of feet as if just skimming the surface of marine blue waters that make this massive river seem more like a sea! But then we rise and there in the distance Lisbon is laid out before us and within half an hour or so we drive into the bus station.
Before long a taxi delivers us outside the Hotel Zurique and we find our 4th floor room to pleasant and comfortable. But we don't relax and are soon on our way to 'Expo 98'. By this time we are starving and we head to the huge Vasco de Gama shopping complex. There we satisfy hunger pains with huge burgers, salad and fries.
The weather was noticeably cooler than Algarve and so we decide to treat ourselves and buy warm jackets. There is every shop you could wish for in this huge shopping mall and soon Bev finds a jacket to her taste. As we stroll round looking, searching for something suitable for me, I look down and notice my shoulder bag has come undone To my horror, my purse is gone! I'm stunned and shocked. It contained all my money, credit and business cards. We quickly retraced our steps to all shops we'd been in, but no luck. By this time I'm very upset but quickly phone Hub in UK to get cards cancelled. Trying to find policemen wasn't easy and when we finally get to GNR station we get no help whatsoever. Bev is fluent in Portuguese and put my case quite clearly. But they could (or would) not give me paper to say I'd been robbed. I would need this for insurance purposes. That afternoon and evening I was in a sad mood. I thought my visit to Lisbon had 'finished' after only a few hours in the city. But Bev was marvellous and rallied me. She gave me money to put in my pocket and though we were very weary on returning to the hotel, we decided to not let it get us down. As we went to bed that night, Bev said "Ellie. Tomorrow we're going to have fun!"
A good nights sleep and we were up and out just after 9a.m. Of course my losing purse meant that we would have to be economical with money but we managed to get a taxi to the famous Terreno de Passo square for just under 5 euro. However, our hotel didn't include breakfast, so before exploring we headed for the Restaurante Martinho da Acarda in the corner of square and had a large white coffee and almond tart each. Afterwards we strolled around taking photos and I was particularly impressed by the huge statue that claims central position of this great plaza. Sebastion Jose de Carvalho e Melo; Marques de Pombal sits proudly aloft his steed portraying every inch the man who helped rebuild Lisbon after the devastating earthquake of 1755. This tenacious, unmerciful but 'cultured' despot also reformed the education system. It was he who began the process of expelling the Jesuits from Portugal. Half an hour later we decided to walk along the waterfront.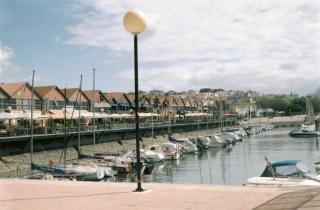 Restaurants Marina

We seemed to walk for miles (to save money) but it was well worth it for as the sun shone, it quite took my breath away looking out over the pretty marina and the vast expanse of pastel blue waters. Row up row of cafes and restaurants line the harbour side and it was at one of these we took a rest and some well-earned refreshment.
We continued our marathon; talking and taking in the fantastic riverside views till we came to the monument called Padrao dos Descobrimentos (Discoveries Monument) which was built in 1960 to commemorate the 500th anniversary of the death of Henry the Navigator, promoter of the discoveries. There are great views of Lisbon and the Tagus from its highest point.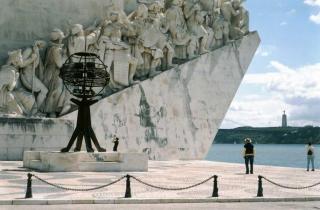 Discoveries monument
As we took in all around us Bev had a message from a friend who lives in Lisbon. When he heard we were actually there he replied "That's fantastic! You must both come to lunch!"
He arranged to pick us up after we had explored the Mosteiro dos Jeronimos which was just across the road from the monument. Taking the underground pass we were soon at the church that is attached to monastery. I found the filigree stone work of the church's exterior a splendid work of art. But the interior of the church was much too dark to take photos and the place was getting rather crowded. So, we retraced our steps and on entering the Monastery, soon found ourselves walking in the exquisitely carved and peaceful ambiance of the cloisters.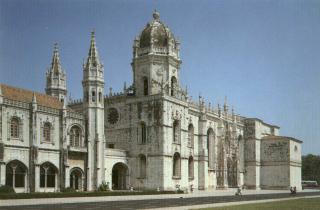 Jeronimos monastery

As we walked, taking in its cool serene beauty I found myself reflecting on the many feet that must have trodden this well-worn pathway of prayer. In my mind's eye I could picture the hooded figures in sandaled feet, offering up their prayers for the good of mankind and with my thoughts I found myself doing the very same. The place evoked it. It was most moving experience and I knew Beverley was feeling the same as neither of us spoke a word.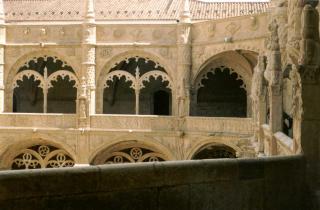 Cloisters of monastery
When I heard 'chanting' I really thought I was 'hearing things'! My imagination probably getting the better of me! But no. As we turned a corner a door had been opened and the sweet voices and sound of lone cello floated through to us. Peering into the darkened body of the church we could just make out a small choir of people on raised platform. The low murmuring psalm and sound of that most beautiful of instruments, so in keeping with this holy place, had us stand still and simply listen. Once again we were moved to absolute silence.
It was strange to leave that tranquil place. To step out into bright sunlight. The noise of traffic. Vendors thrusting their wares under our noses; selling everything from postcards to sunglasses! I could have quite easily turned around and retreated to the quiet, sane calmness of the cloisters once more.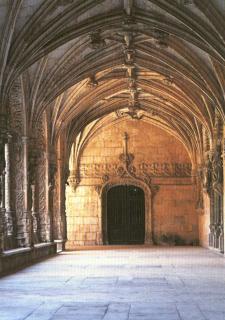 Cloisters of monastery
"There he is!" Bev pointed across the busy street waving her hand. We were soon at his side and after introductions we were soon on our way to his apartment on the edge of the City. There was plenty of building work going on and when we reached the 4th floor apartment we had great views of this new area of Lisbon. The meal was delivered from a local restaurant. Bev and I, ravenous from our mornings exploring were soon tucking into hot spicy chicken and chips, chunks of bread washed down with a very nice local red wine, followed by fruit. It was a most enjoyable couple of hours. Before we left we had bicas (the small strong coffee) at a local cafe and then Bev's friend drove us back to the harbour side.
After the welcome refreshments we were both ready for walkies again!
"Right Ellie. Now you're going to see the Tour de Belem. A small fortress that defended the coast from would-be invaders! Are your legs ready for a few stairs?"
As she spoke a mischievous grin spread over her face. I soon found out why! We entered the tower (it reminded me of a very miniature Tower of London!). I thought it was just a floor or two but seemed to be 4 I think ending on the rooftop! Like the Tower of London we had to negotiate circular stone staircases which seemed never ending. These were quite gloomy and at times slippery. So you had to carefully watch each step. It didn't help that people were descending as we were ascending. But nevertheless we did it and enjoyed each stage. From the crenulated top we had marvellous views not only across the Tagus and the high stone figure of Christ the Redeemer on the far side but also a sweeping view over the City's rooftops. Quite spectacular!
Bev then pointed "See that? That's the Castle of St George! Lets go see it!"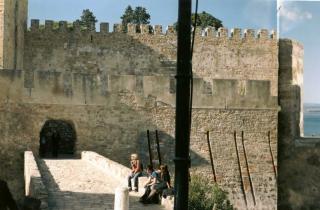 Caste St. George
Once again we walked quite a way in order to save money. Part of the route took us through quite a pretty park but by then our feet were beginning to ache so we headed for nearby taxi rank. I sat next to the driver and no sooner had we moved off I looked at the meter and was astonished to find it read 4 euro 25! and it was taking off at an alarming rate! The drive was only about 10-15 minutes at most and as we stopped near the castle the meter read 10 euro 15.This was twice we had normally paid for that length of journey! Bev asked why? The man made all sorts of excuses and to avoid things getting nasty we simply paid up. But as we left his vehicle Bev said to him in Portuguese "May God bless you!" in a nice sarcastic voice. Brilliant!
Anyway, despite this unsavoury episode we had a very nice couple of hours at the castle. Once again we climbed to the roof battlements and surveyed the city from this birds eye view. The weather was good and we were enjoying our selves. I walked across and peered down the other side and was quite astonished at the scene that greeted me. There, only meters below where we stood was a shanty town. A small sea of corrugated rooftops and rusty crudely built dwellings. Poverty at our fingertips. We both stood watching for a while, thinking and saying how lucky we were to have a decent house to live in and more than enough food to eat. It was proving to be a very thought-provoking day indeed!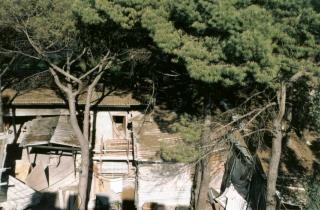 Shantytown
After a pleasant couple of hours we made our way down from the castle, deciding to walk some of the distance in order to make our next taxi drive a little cheaper!
We were very lucky with our next driver. A very amiable chap who spoke some English and we managed to have quite a lively conversation. Once again, I sat next to him as Bev chatted away to him in Portuguese. Suddenly he turned to me and said "Sky Blue". I nodded and smiled trying to think what to say next. I heard Bev's giggles at the back. Then she said "Ellie. I think he's talking about your eyes!".
But then we realised he was communicating about the weather! He knew the words 'Sky blue' but he wanted to know more. Then Bev taught him the word 'cloudy'; it was easier for her to do this as she said the word in Portuguese first. Then the driver told us that he spoke 'Chinese' and was interested in learning 'just a little of every language 'in order to communicate more with his passengers. A very nice amiable man, who certainly made up for the morose, cheating driver that had taken us to the castle!
All the walking of that day had taken its toll! So after hot baths we sat on beds watching a movie channel and indulged ourselves with crisps and chocolate!
A good nights sleep had us refreshed for Sunday; our last day. Had a lazy morning as our bus home to Lagoa wasn't until 3p.m. Bev went to reception to ask if we could leave our bags there and found out that we 'were' entitled to breakfast! Boy were we glad. Money was tight so at least we would get meal without paying. It was a help yourself buffet, which we did, 'twice'!! Delicious scrambled eggs/bacon/rolls/croissants & jam, couple of large coffees, fruit juice and yogurt. We were full to bursting! But it had to last us all day. So why not?
It had started to rain so we indulged in a taxi to the huge shopping complex Colombo. There was so much to see including a DIY/garden center. This is an easy place to walk round; could easily spend a day there as it is made more user-friendly, especially for the elderly and those with small kiddies by the many comfortable seating areas. We had a nice couple of hours, then returned to hotel to have a rest before our journey to the bust station.
Making inquiries for the right number bus we sat and waited until it arrived. During the ensuing half hour or so I was entertained by a young man next to me who had brought with him a set of 'bongo drums'! Dressed hippy-style, he held the drums between his knees, beating out a steady rhythm, his teenage friend next to him humming and swaying in unison. There were elderly folk sitting the other side of me who didn't find it very amusing! But I found it quite diverting and tapped my feet to the sound. It made the waiting time pass more pleasantly and before we knew it we were on our bus and heading home to Lagoa.
As we travelled I mulled over my experiences of my 3 days spent in Lisbon. Okay I was robbed and that was upsetting. But we'd put it behind us and enjoyed ourselves. We'd seen the sights and had more than a few laughs. All in all it would be a very pleasant memory and with Bev I couldn't have wished for better company.
But my weekend didn't end there. 3 hours or so later we were back in Bev's cottage and there she cooked me a lovely meal of fried fish and freshly mixed tasty salad. Afterwards we ate huge slices of chocolate cream cake washed down with a large cup of tea (English style) for me and lemon tea for Bev. Perfect end to a great weekend!
Thanks Beverley for your company and for helping make the 'Lisboa' trip a super one!