Fado Night
It was the last Sunday of my holidays and yet another gorgeous sunny day. For a whole month, from early September I had been blessed with wall to wall sunshine. Not one single day had I cause to wear my 'roll up mac' which most of we Brits tend to pack 'just in case'!

The previous night I had, once again, a late night with some friends from Colombos so spent most of Sunday morning lolling about. In the afternoon I had met and spent a good few hours with Susana and her family from Portimao, so by the time I came home in the early evening tiredness just swept over me once more and I was soon curled up and dozing off in the armchair,

A car, noisily starting up below the apartment had me wake with a start. Focusing bleary eyes on my watch I saw with alarm that it was 9pm. By then I should have been making my way over to the 'Casa da Pao' restaurant ready to see and hear my first ever live performance of Fado!

It was a warm night and as I took a quick shower, utter weariness still weighed me down. In no way was I in the mood for listening to singing; especially Fado. I had been warned by several friends, both Portuguese and Brits, that it was sad stuff; lovers laments. To take plenty of tissues as I would probably need them! But I had promised my friends, the owners of Casa da Pao that I would come along to listen, make notes and write about the evening's events.

As I made my way up the restaurant stairs I could see and hear that the place was full, tables filled with families, couples, friends. My loneliness hit me; everybody was with someone and as I looked around me nowhere could I see a table for two let alone one! Then Joaquim, the owner spotted me, came over, kissed me on both cheeks saying
"Ah Ellie. Its good to see you. One moment and Ill have place ready for you". Immediately I felt better, but as he said this, I looked down into my handbag and saw that I hadn't brought my purse. I told him and he said it was no problem. I could pay "Amanha"! But I said no, I would go back to fetch it. Having been robbed in Lisboa during my last holiday, I was being extra careful and I  wanted to make sure I still had my purse!

In ten minutes or so I was back and my place, at a long and at first glance empty table, was ready. My watch said almost 10.10pm. I don't think Id ever eaten quite that late before but I was hungry and soon I was tucking into olives, bread and goats cheese. Waiter Joaquim opened half bottle of a Lagoan Rose and taking my order for grilled salmon steak, whispered "The Fado is soon to begin"!

Looking around me I saw that it was mostly couple, families or groups of friends. I heard a few English voices but the majority were Portuguese. About six seats away from me a young British couple sat at the end of my table; they gave me a smile, nodded. Suddenly I didn't feel quite so lonely.

Two instrumentalists came to the centre of the room and sat on chairs; Carlos Placido on guitar and Jose Pinto on viola. They tuned-up and then played a couple of melodies; the lovely tunes, along with my rose wine and genial company soon had me relaxed and I simply let the wonderful soporific feeling envelop me.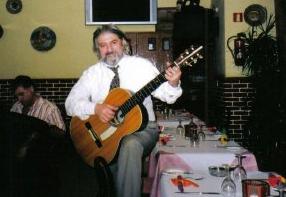 Carlos Placido
Suddenly, there was a movement from the table in front of where I sat and a small elderly man  left his seat and walked over to stand in front of the musicians. He smiled, introduced himself and then Jose Cabrita started to sing Fado  'Coimbra style'!  It was a treat and I sat amazed at the wonderful voice that emanated from that slight frame. My introduction to Fado had begun and I was smitten!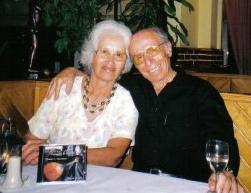 Jose Cabrita & wife.
Jose Cabrita finished his songs and rejoined his wife to continue their meal. The guitarist and viola player continued to entertain us; each doing a little solo. I sat, enthralled at the skill of these true artists. They needed no microphone or 'sound' equipment to help emphasise their natural talent and and they finished to rapturous applause!

The lights dimmed and once again the musicians began to 'tune-up'. From the back of the dining room a small elegant figure emerged. A pretty senhora dressed in sparkling black gown and shawl came to stand before us. Fadista Maria da Saudade, the star turn was here to entertain us. Soon her beautiful voice had us in raptures. It was superb; I had come prepared with tissues, expecting to be sad and melancholy but it was quite the reverse. I was thoroughly enjoying myself. Okay, I couldn't follow much of the words but the voice and music was enough and I was completely immersed in the whole scene! What made it so intimate and enjoyable was the fact that the Portuguese who were listening, joined in with the 'chorus' of most songs and though I didn't know the words, it was so infectious I found myself humming or 'lala-ing' as well!

Senhora da Saudade was just finishing her last song as my dinner arrived. Everyone gave her rousing applause as she went off to join her husband and party of friends.

The salmon steak was huge, filling almost 2 thirds of the plate. It was also very hot, the butter and lemon sauce fairly sizzling! As the waiter refilled my wine glass I asked if it would be possible to take a photo of the Fadista and musicians and would they care to join me in a drink? 

Before long, Senhora Maria and the musicians were standing by my table with raised glasses of beer. Fadista Maria said they would be happy to pose for photos after Id had my dinner. I thanked them and then attacked the pink juicy steak before me!

So engrossed in my delectable meal I was suddenly startled by the sound of a deep baritone voice. The guitarist and viola player had been playing little tunes but I hadn't noticed the large man appear at the side of the dining room and was now singing at the end of my table. It was now Senhor Laferras turn to serenade us and serenade us he did, magnificently so and once again many of the tunes were well-known to the audience who happily joined in each chorus as he moved around the tables, his warm deep voice and engaging manner quite infectious.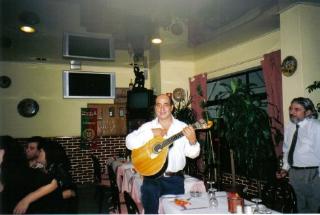 Jose Pinto
But there was a slightly amusing side to his performance. The young English couple that sat the other end of my table, were within about 30 centimetres of Senhor Laferra's large frame and barrel chest! They too, were eating their dinner and I noticed that every time he hit a particularly loud and deep note, the young woman physically jumped! Both she and her husband gave a nervous little laugh but I think they found it a bit difficult trying to concentrate on eating their meal and the Fadista's fine vocal performance!

I was about to tackle my ice-cream dessert when the owner Joaquim came over and said Senhora Maria was ready for the the photos. They were waiting for me, Maria, Jose and Carlos along with a large party of friends! I'm not a very good photographer and with all looking on I suddenly felt rather nervous. But they were all very nice  and friendly to me and some spoke good English, so I was able to tell them of Carvoeiro.com and of my Corner on the site. It was a wonderful evening and with this great company of people all thoughts of loneliness had vanished. But, the evening wasn't over!

I was about to return to my melting ice-cream when I was invited to join Senhor Jose Cabrita and his wife at their table. We had a drink together and I took a photo of this very warm friendly couple. Then Senhor Jose told me how, as a younger man, he worked for many years in south Africa and also of his love for singing fado. I remarked our very well they both looked, obviously a very happy healthy couple. Then he told me they lived in Lagoa and by coincidence, not very far from my former home there; that they walked regularly every day to stay healthy; their walk taking them to beyond the Fatacil area and back. But on weekends they rested!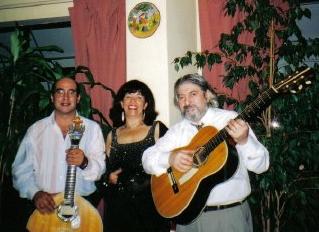 Fadista Senhora Maria da Saudade, Jose Pinto & Carlos Placido.
As we talked I heard the musicians tuning-up once more and as I turned to watch, a slim silver-haired man stood before them and proceeded to sing. I found myself completely enraptured. His style of singing Fado was again different to those who had sung before. Its very hard to explain in the written word but to me it was simply (for want of a better word) so 'clever'! He 'lilted' the phrases and his face held quite a serious expression. I couldn't understand the words but felt this was a more passionate style and I was totally engrossed. In fact I was sorry when the performance ended. I never found out this man's name but I would love and hope to hear him sing again.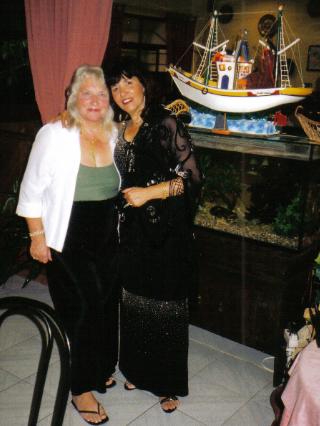 Ellie & Fadista Senhora Maria da Saudade
The evenings singing came to an end as Senhora Maria da Saudade made a re-entrance and once more we were treated to that beautiful voice singing lovely tunes and with everyone joining in. The last tune was a favourite of mine 'April in Portugal'; beginning "I found my April love, in Portugal with you". I don't know the Portuguese version but I sang along in English and had a great time! It was only then that I looked around and noticed that apart from a Dutch couple everybody else was Portuguese but I felt completely at home!

I ended the evening having coffee with Senhor Cabrita and his wife. As we sat there talking the sound of the 'Happy Birthday' song came from the other side of the room. Then two hands appeared through the palm plants that separated us from that side, holding out 2 plates containing slices of birthday cake! It was Senhora Maria's and Guitarist Carlos' birthday!

I took my leave of 'Casa da Pao' well after midnight but not before thanking owner Joaquim, the waiters but most of all my new 'Fado friends' for giving me a wonderfully entertaining evening; one in which I had never had to use one single tissue!
---