Newsletter August 2003
by: Nigel Anteney Hoare
---
July was memorable for a very hot start and an extremely hot finish!
At the beginning of the month we took a look again at CENTIANES beach. A few people were bathing and dodging small rocks left haphazard on the beach following the cliff works and being tossed about in the surf. The beach bar looked still well short of opening and I heard that they were hoping to get open for the beginning of August. An awful lot of money is being invested in the new building and this mirrors what seems to be happening along the coast as many similar establishments have been completely renovated to full restaurant status as opposed to the old wooden, often ramshackle, units they used to be.
With my wife still away in the UK I elected to abandon any culinary skill I may pretend to have and it was down to O FORNO DO FRASER by the Post Office with my children for some pizza. FRASER and LYNN were busy-busy preparing pizzas for both eat in and take away. Good value as usual.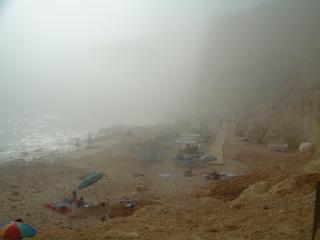 Hot day with sea mist - July 2003
On Friday 4th with my wife safely back from UK and our children staying with a school friend at their house near the Barragem do Arade on a "sleep over", we took the opportunity to join the Friday night "cocktail" gang at SULLYS BAR. Once again it was good to see tourists mingling with locals, gleaning bits of information hopefully to make their stay more interesting. FLAVIO was holding the fort as usual with PAT having a well earned drink herself after another hard day. HOWARD, the proprietor of both Sullys and the CAFE at ROCHA BRAVA popped in and we spoke about the Lagoa Jazz Festival, which I mentioned in last months Newsletter and at which he operated the bar and food facility. It must have been quite a lot of work for him and his staff but he seemed satisfied and we both hoped that Lagoa would put on more similar events within their council area. I was interested to hear that his beer supplier has a specialist outside catering department and they supplied and fitted all the beer cooling equipment and then took it all away after the event. It seemed a good service and things have obviously come a long way from the old days when, come the summer, you had a job to get beer supplies let alone loan and fitting of equipment. Later I was further surprised with a full page ad which appeared in THE NEWS in which SAGRES are offering a PARTY SERVICE. They come along to your home or holiday villa, fit a beer cooler and leave you with a 50 litre keg of beer and 200 plastic cups. You can have it for 8 or 16 days. I don't know yet how much this costs but it seems a great service for thirsty holiday makers and saves lugging bottles of beer back from the supermarket and trying to cool them down. Anyone interested should ring on 808 204771 Monday to Friday to get the details.
Anyway, back to Sullys. After a few drinks we decided to eat at ELE & ELA. We had been warned that as this restaurant has built up a good reputation it is not always easy to get a table. We were unlucky, they were really busy and couldn't guarantee a table until very late. A shame as it does seem a nice restaurant and a valuable addition to what is available. We will make sure we try again. The hunger pangs having bitten we decided to visit CURRIES AND SPICES at Algarve Clube Atlantico. I had been once before for a business lunch and had really enjoyed it. We were not disappointed. The service is very friendly and they offer a different style of Indian cuisine to other Indian restaurants. For any curry lovers I definitely recommend giving this one a try.
After the meal and determined to take full advantage of the lack of children, we went back down to MUNGOS where we met up with various friends, both resident and non resident. ILSE was singing in her usual fine voice. Her brother joined her for some duets and it made for a very entertaining evening. We couldn't pass the ROUND UP SALOON on our way home without popping in. As we entered, BIG WILL was already on stage giving his very own rendition of "Country Roads". With Big Will sporting his huge cowboy hat and IRISH DAVE backing him it was quite a sight. Dave was in his usual (fine?!) voice but with two guest instrumentalists on stage on guitar and banjo they obliged with a request and performed a fine rendition of that haunting music from the film "Deliverance" which I think is called 2 Guitars.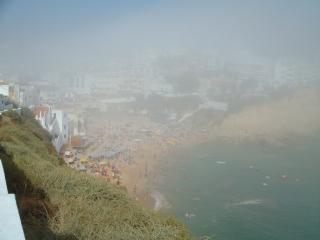 Hot day with sea mist - July 2003

SILVES BEER FESTIVAL began its 10 day stint on the 4th and I have to admit to failing to attend for the 3rd year in succession. I love Silves and am a member of the Silves Football Clube which organises and benefits from the beer festival. They have some class Portuguese bands and singers there but somehow I have never enjoyed it since it moved to the FABRICA DE INGLES from SILVES CASTLE and I just can't raise the enthusiasm to go. Maybe next year!
Even though we didn't visit the beer festival it didn't stop us going to
Silves on the 8th to our favourite chicken piri piri restaurant - KAZY. By now we had a total of 11 people staying in our house and I knew for sure
that the summer had arrived. Kazy is just great in my opinion and it seems
no matter how much we eat and drink it always comes to Euros 11 a head!! For those that do not like chicken there is a fine selection of tasty pizzas. Afterwards and back in Carvoeiro we were again persuaded to call at the ROUND UP where the Karaoke was in full swing. Not for the faint hearted!!
The weather by now had turned very hot and whilst our guests could visit the beach and swim in the pool it was work as usual for me! At least every night when I got home somebody had thoughtfully made a "cocktail of the day" selected from a new cocktail book one of our guests had brought with them. It's a hard life!
On the 10th we were all going to eat at O CANTINHO but it was jam packed! This restaurant is always deservedly busy. With three vegetarians amongst us it is not always easy to simply drop into any restaurant in Carvoeiro so we decided to try the FLAMINGO which has some veggy dishes on the menu. Flamingo is a very attractive restaurant set in garden surroundings around a pool. GUDRUN the owner (but no longer the operator), and whom I have known for over 20 years was there and explained that her partner ROGELIO had planted all the beautiful cactus, bushes and semi tropical fruit trees that border the eating area. We had a very enjoyable meal but I was amazed that the place was so quiet with only one other table of two occupied. I think the problem is that Flamingo is "tucked away" up a side street and passers by do not realise it is there and how pleasant it is. The present operators will have to get someone down on the main strip to do some marketing I think.
On the 11th my wife celebrated her birthday and as there were so many staying with us, we decided to throw ourselves on the mercy of CURRIES & SPICES asking them to prepare an Indian feast. Wow - they never let us down, a delicious array of vegetarian and non vegetarian dishes kept coming forth from the kitchen. Most enjoyable.
The next day, Saturday, one of our guests took it upon himself to visit Carvoeiro market. He had intended to buy sardines for us all but they were
already sold out. However he came back raving about the quality of the
produce and produced 3 beautiful big fish (red snapper he said) which when grilled with salad, accompanied by rough country bread and wine was more than enough for us and made for a fine al fresco lunch.
That evening we went back to a place we had intended to visit for a long time. The BISTRO at QUINTA DO ROSAL on the road from Carvoeiro across to Caramujeira. This is a very good restaurant ranking in my opinion with BON BON at Sesmarias, CHRISSYS in Lagoa or PRIMAVERA in Carvoeiro. The food is beautifully prepared and presented, reasonably priced (about Euros 30 a head) and in an attractive setting. Well worth a visit.
The 13th brought some relief from the heat with a little cloud cover disappointing one of our guests who like to stake herself out in the full sun until she is medium to well done. Late afternoon we popped round to BUBBLES for a beer and to see some of KEITHS new card tricks. Again it was good to see this facility in full swing and so nicely kept.
The hot sunny weather returned on 14th and 15th and again we were tempted by one of our guests who invited us all over to KAZY for more delicious piri piri. This time many amongst us were tempted by the desserts on offer and even so the bill averaged only Euros 15 per head.
It is always interesting to hear comments from people staying with us who go out in Carvoeiro trying different places to eat and drink. Two of our guests dined at BON BON and as usual reported back that they found the food and service excellent. They also went to ELE & ELA where they found the food very good but the service a little slow. I think it is difficult for
restaurants that are super busy like ELE & ELA to keep waiting times down
in the busiest periods.
Our two children have now finished education at the INTERNATIONAL SCHOOL and will be boarding next year in the UK. I had rashly promised them a farewell party but was a little surprised when they wanted to invite everyone from both their classes. With the prospect of a possible 30 children present including our own and two who were staying with us it was decided that the best place for this was a beach. We hit on SALGADOS, because of its fine soft sand and water sports facilities. Friday 18th was selected so it was a day's holiday for me to help organise as well as pay for it! Good job we had 5 adult friends staying as we needed their help too. In the end 25 children from years 6 and 7 of the International School had a great time playing on the beach, swimming in the sea, riding the banana boat and pedalos. It was a great way for our children to say goodbye to their friends and well worth the effort involved.
Exhausted by the beach party we decided to eat at LANTERNA VELHA that
evening. It was packed as usual and very good as always. This restaurant can now seat more than any other restaurant in Carvoeiro I think and it is
amazing how FRANK, ROB their wives and staff turn out consistently good food to so many diners.
The next evening our friends invited us to eat at PRIMAVERA. As regular visitors to Carvoeiro this is their favourite and we were not disappointed. Service and food "par excellence" and well worth the slightly higher than usual bill. After Primavera we stopped by the HAVANA BAR. It was quiet when we got in but it soon started to fill with a mixture of tourists - both Portuguese from "oop North" and foreigners, as well as some residents. I like the Havana Bar, they make some good cocktails and it has a nice feel to it. The ROUND UP SALOON after was absolutely packed and with a great holiday atmosphere.
Hot on the heels of my wife's birthday came my own on the 24th and we had already decided to take a few days off and head down to Spain for a change of scene. We set off early on the Thursday heading for that hot "frying pan" of Spain called Seville. Then on down towards Granada and further still to a smallish place between Almeria and Murcia called Mojacar. We love this place, it is a corner of Spain that has been a bit forgotten and has missed the boom in tourist driven high rise building. It is about 4 years since we were last there and whilst the inevitable apartment blocks are springing up it still has a strange sort of bohemian feel to the place. It does remind me a little of Carvoeiro when I first came back in the early 80's - not the scenery but rather the ambience and the people there. It is about a 7 hour drive from Carvoeiro but worth it. Whilst we were there a heat wave hit the whole of Iberia. I believe Francis Wilson the SKY weather presenter has a house in Mojacar and I know why as the weather is always very good in this corner of Spain. However this time it was absolutely boiling! One day the temperature hit 43ºc which is too much even to lie on a beach! It was 40º at 7pm one evening!
During this time Carvoeiro was also having it hot with regular 36º days - much hotter than normal. On Tuesday morning I received an SMS text message from my eldest daughter who lives in Carvoeiro asking if I had felt the earthquake that morning. She didn't realise I was in Spain but told me how she had felt what seemed like someone shaking her awake at about 6.30am that morning. I checked SKY news but saw no mention of it. It seems that the epicentre was about 150 kms south west of Sagres and the quake measured 5.4 on the Richter scale - a big one. No damage reported thankfully and I have since read that this region suffers many small quakes each week which go unfelt by anything other than measuring equipment. This is apparently good as it means that pressure is constantly being released in small doses hopefully avoiding a big one on land or close to shore.
We returned from our Spanish trip on the last day of July. During the car journey the car thermometer regularly reached 41ºc and 42ºc and as we crossed the border it still read 39ºc. On return to our house I could see the weather had been baking as the grass and plants looked pretty sad. The beach bar at CENTIANES had finally opened just before the end of the month ready for the August rush and looks very smart indeed.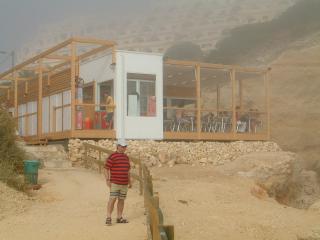 Centianes with sea mist - July 2003
Arriving back early evening and with no food in, we decided to avoid the Carvoeiro crowds and eat at O CASARÃO in Lagoa just over the cross roads at the Carvoeiro turning. This is great spot for good value grilled fish or chicken. Three of us started with prawns fried in garlic oil and I followed
with a mixed meat kebab which was delicious and perfectly grilled by the poor grill chef slaving over a barbecue whilst the air temperature was still around 34º at 8pm. With a bottle of wine, some soft drinks, finishing with one sweet, coffees and a brandy the bill came to Euros 46. Good old Lagoa!
At the time of writing the forecast is the heat wave continuing until Sunday the 3rd August at least. Oh well nothing for it but to get the ice and the cocktail shaker out!
Back at the end of August if I survive!