Weather
A guideline when packing your suitcases, but please don't hold me responsible for the weather :-) Remember in the winter; it may be warm in the sun, but as soon as the sun is down the temperatures drop suddenly and it can become close to zero° Celsius during the night or early morning!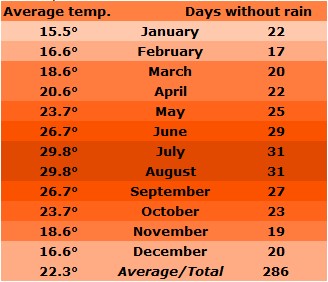 Generate tide tables here.
Visit the The Portuguese Institute of Meteorology.
All year round, the Algarve enjoys the best climate in Europe. With only a short period of rainfall (it normally rains between November and March) and long hours of sunshine (the highest in Europe), the Algarve region is blessed with the perfect weather for tourism.
During the summer months, temperatures are quite high, which greatly favours the so-called "Beach Tourism". The Algarve is a veritable paradise for bathers. It is a region endowed with beaches of fine white sand all along its extensive coastline and a calm sea with water temperatures of around 22°C in the summer period.
 
Seawater temperature in summer: 21ºC to 24ºC
Seawater temperature in winter: 15ºC to 19ºC    
Due to its relief and geographical position, the Algarve is influenced climatically by the European continent, North Africa, the Atlantic Ocean and the Mediterranean.