Escadinhas
Type of walk: Linear
Distance: 2km (0.7km from Carvoeiro centre)
Average duration: 1 hours (there and back taking in views)
Difficulty: Hard
Maximum altitude: 26.00m 
Minimum altitude: 14.00m
Recommended seasons: Spring and Autumn
 The details:
A walk down the little steps of Escadinhas is one that anyone visiting Carvoeiro should not miss.
There have to be a few words of warning though before anyone attempts this short but challenging walk.
Health and safety are not terms that should be connected to the escadinhas - this walk is difficult under foot, with some very steep sections, no guard rails, dangerous drops and needs a strong pair of shoes and a stronger sense of adventure.
Some parts of the walk are dangerous and others are even more dangerous and this is certainly not a place that is suitable to bring young children or those with mobility issues.
To be able to see parts of this area without having to negotiate the steps etc I would suggest going out on a boat trip to look at it from the sea instead.
If you have not been put off this introduction to the walk then it really is well worth making the effort to go down to this beautiful area that is very reminiscent of a scene from star wars or any other science fiction film.  The strange rock formations, holes in the cliffs and little paths make this look like being on another planet altogether.
You would never actually know that this area exists except for a small sign about half way along the road between Algar Seco and the Church.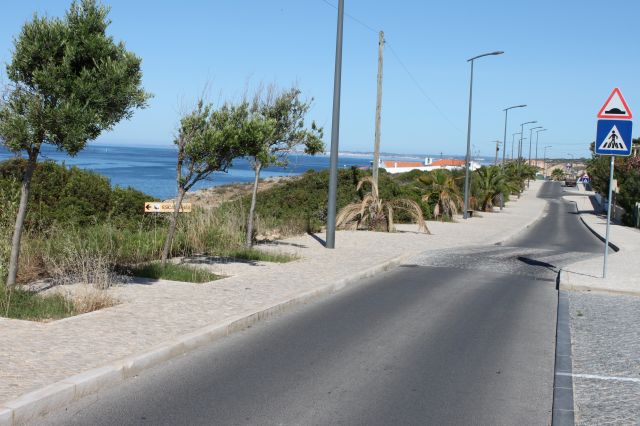 The little yellow sign is on the sea side of the road and if you come off the main pavement at this point this adventure walk begins!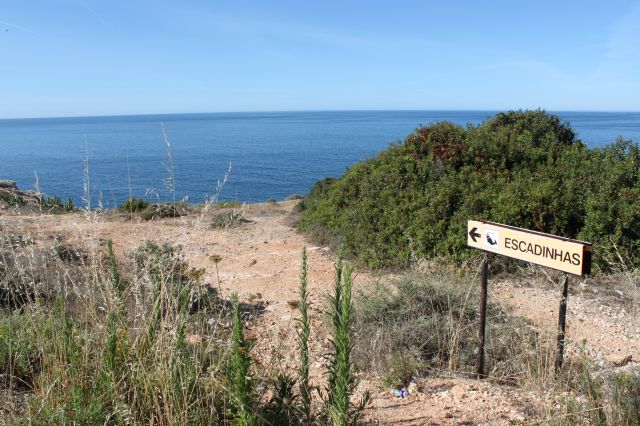 Make sure at this point that you have strong shoes on - flip flops are not advisable and if you are carrying a camera (a must!) and some water then it is advisable to put all of this into a bag that you can carry and still leave both hands free to help with any parts that involve a little bit of rock climbing!
Follow a very rough path down in the direction of the edge of the cliffs
The path is not very good and there are lots of loose stones but you will see more or less where the route is going and by using the picture above as a reference point.
The path leads you down to the very edge of the cliff top and the view from here is amazing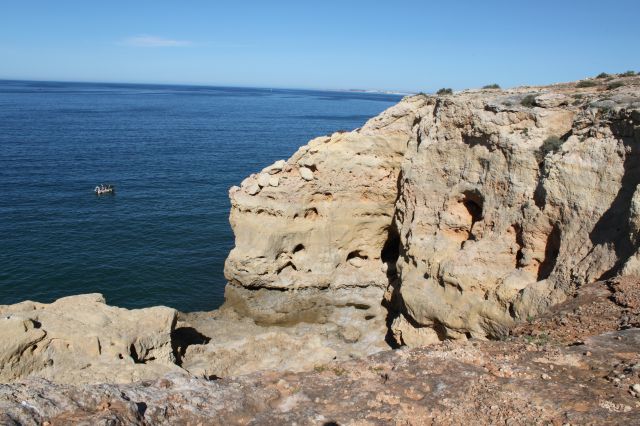 After stopping to admire the view then look for the start of the steps down through the cliffs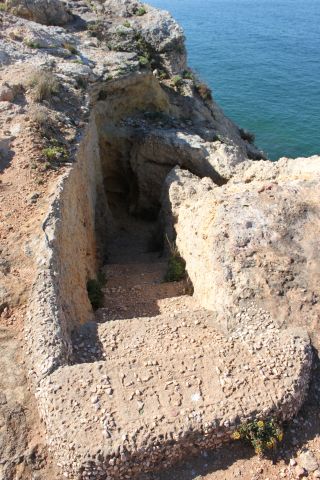 These steps will lead you through the actual main body of the cliff and are very narrow and quite steep but when you reach the bottom of this first set of steps then you will be presented with the following view as your reward for being brave and venturing into the unknown!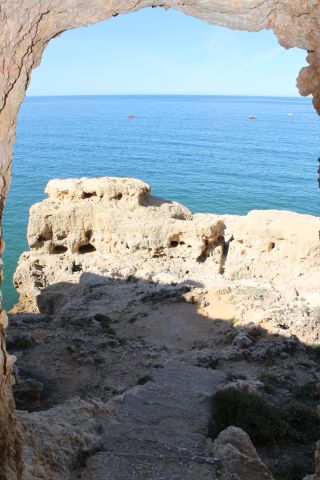 From this point if you look to the right you will be able to see an area that drops down to lower levels while if you look to the left you will see more steps and further little paths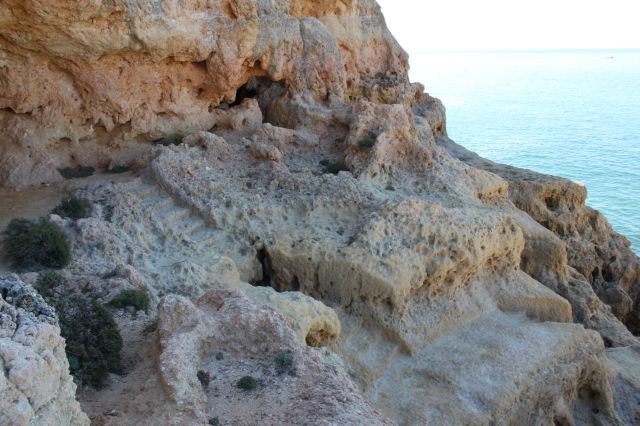 This entire area is a network of small caves, paths and steps and is used as much by walkers looking to explore as it is by fishermen looking for their own catch of the day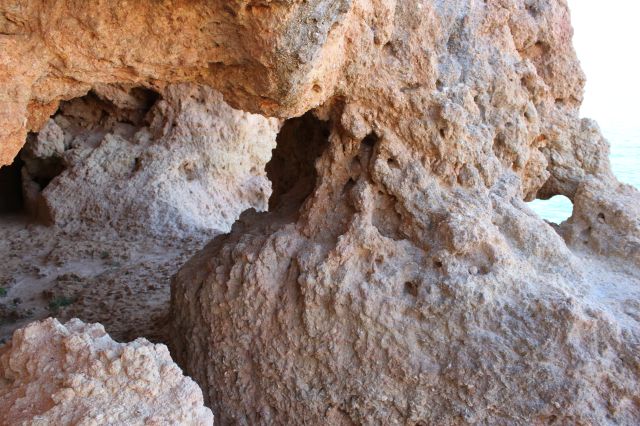 At this point yo can make your own choice if you would like to continue on to explore further or if you are happy to stop here and see the view.  It does become a little more dangerous the further you carry on and some of the steps and parts are difficult to get across.
If you opt to carry on the I would suggest first heading off to the left and following the little steps close the cliff itself through to small caves.
You will eventually come to another tunnel.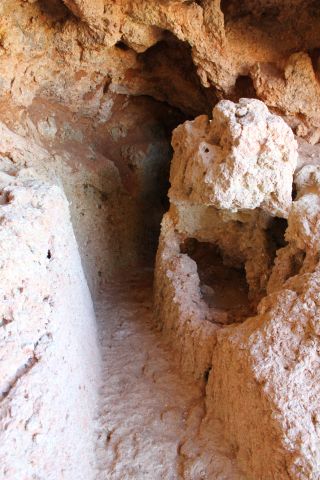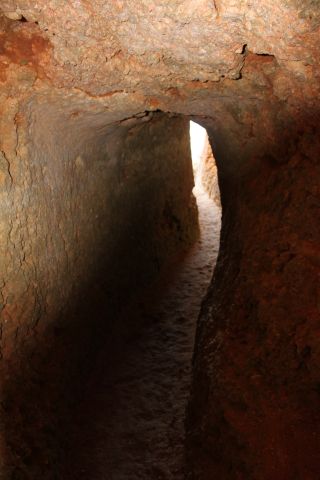 The pictures above show what this tunnel looks like - so don´t be afraid to push on further.
When you come to the end of the this tunnel you will be greeted with this view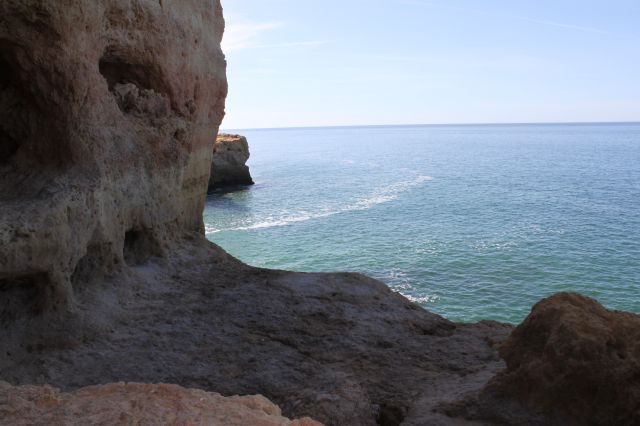 From here you can see across to Boneca at Algar Seco and if anyone is having a look through this look out point you will be able to give them a wave.
Be careful to obviously not get too close to the edge and I would suggest that you only venture down this far when the sea is calm as it is VERY dangerous at times when the sea is rough.
This is a wonderful spot to look for bird life and sea life as well as being a place away from the rest of the world to take some beautiful pictures of the rocky coastline that neighbours Carvoeiro.
If you make your way back to the central point where you first cam down the steps then you can explore further.
This next part is even more treacherous than the part before as if you go down to the left down the next set of steps you will find that after about five or six th next three are missing so yo have to shuffle down on your bottom (my way of choice) or if you are an athletic type then you could make a little jump.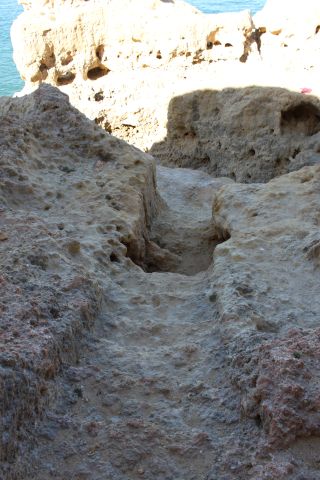 From this point you can then head forward and down where there are rock pools and more great views or you can then head off to the right where you can reach the final set of little caves that are right on the cliff edge.
This is a great spot for fishing but is also a popular hang out with other people who have gone along for a drink or two and you can sometimes find litter in this area.  If you have a spare bag with you then please pick up any litter you find and take it away with you!!!
There is a final little route along this area through a very beautiful archway and along a very narrow path as seen below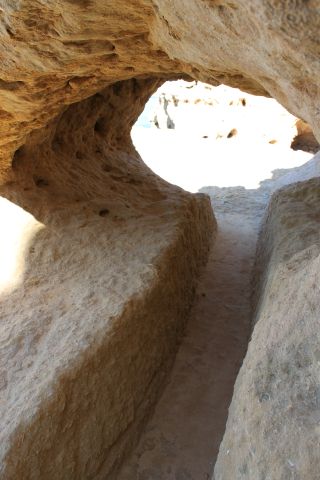 This take you up to the highest point in the area and from here you have fantastic views across the Atlantic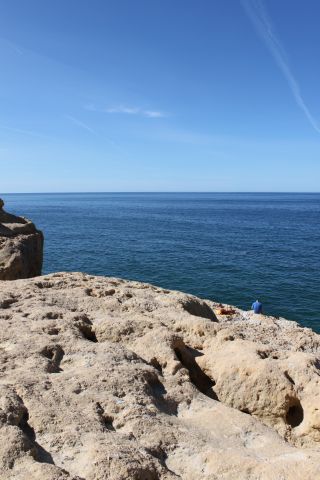 From here you can also look back at the rock formations and really see exactly how beautiful and strange they are.
A walk along the Escadinhas has long been a favourite of local people in Carvoeiro but there are no lights here so do not go at dusk and try to find your way back out again in the dark.
This is a dangerous area but as long as you take care then you should be fine - just take a mobile phone with you if you are going alone in case of an emergency.
The escadinhas are an amazing site, whether you chose to explore at length or just want to have a look from the top they are worth making a stop for while you are in Carvoeiro.