Motorway Tolls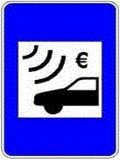 Motorway tolls on the A22 were introduced on December 8th 2011, there are no toll booths on the motorway, passage is registered electronically and an electronic device (DE) needed in order to pay by credit card. Owners of foreign registered vehicles can read about the available options at www.portugaltolls.com
For rental cars you can check the tolls due for payment at www.ctt.pt (unfortunately not available in English at this time), by entering the cars registration number in the first field, and the text on the image in the second one, and clicking "CONSULTAR" below. The list of tolls to pay should appear.
Note for www.algarvedriver.com car rental clients;
All rental cars are equipped with a toll transponder device, upon collection of your rental car you'll be asked for a 20 euro cash deposit (30 euro for mini buses) for the transponder.
This includes 15 EUR (25 euro for mini buses) worth of pre-loaded credit and enables clients to use the toll road without having to visit local pay stations/post offices.
An option to add more credit (by a minimum of 10 euro and multiples hereof) to the transponder is available upon collection or during the rental.
Remaining unused toll can unfortunately not be refunded. 
If you know in advance that you'll not use the A22 a 20 euro credit card slip will be made and kept for 5 days after the return of the car, then destroyed.
---
 The due toll can be paid at the post office or in a PayShop within 5 days (but you need to allow 2 days for the computers to register your passage, it is thus impossible to use the A22 to return to Faro Airport), the nearest PayShops to Carvoeiro are;

Tabacaria Solnascente
Estrada do Carvoeiro,
Centro Comercial Intermarché, Loja 9
Lagoa
8400-557 Lagoa - GPS 37.115213, -8.455508 maps.google.com
Trunfo da Sorte
Rua Marquês de Pombal, nº 2 Loja B
8400-391 Lagoa - GPS 37.13156, -8.45362 maps.google.com
Smol Computers
Rua Cercas de São José, Lote 9, Loja 1
8400-314 Lagoa - GPS 37.137244, -8.451641 maps.google.com
Pastelaria Helydoce
Rua Dr Francisco Sá Carneiro
Urbanização Lagoa Lar, Lote CC, Loja CF
8400-386 Lagoa
Foreign Registered Vehicles
The government have taken notice of concerns and there is now a simpler option for Foreign Vehicles, please see www.portugaltolls.com.
Driver of vehicles without a DE (any type) which are not Portuguese registered can now pre-pay using just their Vehicle Registration Number. This can be done online at CTT.pt (you need to register and it is only in Portuguese at the moment).
Pre-payment is also possible at motorway service areas and Porto Airport, and online (only Portuguese at the moment). It is possible to get a pre-paid 3 day pass for €20 for unlimited use on specific motorways; Spain to Porto Airport via A28 or A41; Spain to Faro Airport via A22.
These are available at;
The border crossings at Vila Nova de Cerveira, Vilar Formoso and Vila Real de Santo António
A22 Olhão Service Area
A23 Abrantes Service Area
A25 Celorico da Beira Service Area
A28 Vila do Conde Service Area
A28 Viana do Castelo Service Area
Airport Sá Carneiro, in Porto
Faro Faro
IKEA in Matosinhos
Post Offices
If you do not have a DE or pre-payment then you will be subject to a fine. Photos are taken of registration plates and bills and fines will be sent to your registered address in whatever country the car is registered. Fines for Foreign plated vehicles using the road without a DE are 10x toll fee, with a minimum charge of 25€ and a maximum of 125€.
Temporary Devices (TD)
These can be leased from motorway service stations or CTT/post offices. The price for the leasing is proportional to the time of use, €6 for the 1st week and an extra €1,50 for following weeks (+IVA). A deposit is also payable of €27. The deposit is re-fundable on return of the device BUT NOT any credit remaining.
When leasing the device, you can choose between two methods of payment:
* automatic payment: debit from a multibanco or credit card for the tolls charges used;
* prepayment: preloading a minimum of 10 Euros (light vehicles) or of 20 Euros (heavy vehicles). In this case, the preloaded and unused balance is non-refundable. (NB:
This was reduced in December 2010 from 50€ and 100€)
They are not registered to a particular vehicle, so are anonymous. They are designed for short term use on the Portuguese toll motorways and so are ideal for foreign registered vehicles.